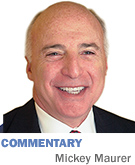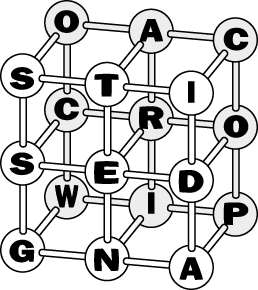 As is the custom of the last few holiday seasons, I am pleased to present a puzzle. This year's challenge, 3-D Word Hunt, is derived from a format conceived by Will Shortz, puzzle editor of The New York Times.
Imagine that the lettered balls in the three-dimensional grid below are arranged in two vertical layers: S-T-IS-E-DG-N-A in front and O-A-CC-R-OW-I-P in back. Find as many words of exactly five letters as you can spell by following the rods connecting the balls. You may return to a letter and use it twice in one word (as the A in CARAT), but you may not "stand" on a letter and use it twice before proceeding. Be sure not to jump between balls that aren't connected directly by a rod. For example, SCENE is not an acceptable answer, because no rod connects the E you would need with a C. Plurals are fine. Proper names are prohibited. Finding 35 words is par; 50 is expert; 65 is genius-level. Our answer list contains 76 relatively familiar words, all from "The Random House Dictionary of the English Language, Second Edition."
If you need assistance or want our answer list, find me at the address below. Happy holidays and thanks for reading my column this year.•
__________
Maurer is a shareholder in IBJ Corp., which owns Indianapolis Business Journal. His column appears every other week. To comment on this column, send e-mail to mmaurer@ibj.com.
Please enable JavaScript to view this content.