You have one question.

That question is: Is the new Buffalo Wings & Rings (111 W. Maryland St., 822-8400) better than BW3?

First, let me say that to me, there are two categories of wings—the edible and the non. The non-edible ones tend to be scrawny and meatless, or, worse, under- or overcooked. The edible ones slide off the bone with just a bit of effort. They hold their sauces and spices well.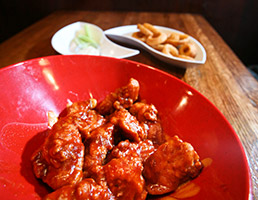 The downtown newcomer boasts nine different wing styles and five heat levels. (IBJ Photo/ Perry Reichanadter)
The wings at the Indy newcomer are safely in the latter category. At Buffalo Wings and Rings, there's an added bonus that the nine flavor variations are each available in a range of five heats. You can get your Ragin' Cajun wings medium or atomic. Same with the Teriyaki or the Garlic Parmesan.

Our first visit included a bowl of Crazy Wings ($4.99 for five), which combines the flavoring of the Sweet BBQ and the Roasted Garlic. An unlikely duo, perhaps, but it works. Sweet & Sour, tested at medium, were tame and shy on sauce. And it would have been nice if there weren't an upcharge of 50 cents for a stalk and a half of celery.

On a second visit (on a 59-cent-per-wing Tuesday), we decided to up the heat, but to no noticeable effect. Both "hot" and "very hot" came across as "pretty mild"—but we did enjoy the thick flavoring on the Lemon Pepper wings.

Supplemental orders were hit and miss. Breaded Onion Rings ($5.99) were big, open Os with just enough breading to cover the veggie but not enough to interfere with the flavor. A Cajun Chicken Tender Sandwich ($8.99) featured two sizable grilled tenders spooning on a bun, with ample trimmings and addictive Saratoga Chips—thin, golden brown potato slices with garlic seasoning—filling out the plate. The meat-resistant diner among us took solace in a Vegetarian Greek Pita ($7.49) that turned a Greek Salad into a satisfying, overstuffed sandwich. A reasonable kids' platter gets your progeny a burger and curly fries, plus drink, for $4.99.

The atmosphere is bright, and the walls and booths are heavy with television screens (although the volume was mercifully kept low). Servers have clearly been prompted for friendliness, even offering take-out cups for drink remainders.

Back to your question, though: Is Buffalo Wings & Rings better than BW3?

Sorry, but I'm going to dodge that one. On Tuesday, try both. And let us know your preference (this story will be posted at www.ibj.com/arts).

Just make sure to wipe your hands before you type.•

–Lou Harry

__________

Second in our month-long series of reviews of animal-named eateries.