WebLink International in recent years buzzed like a bevy of chamber of commerce members sipping cocktails at a networking event.

Chambers from Boston to Las Vegas snatched up its enterprise software to manage their financials, for event management, blogging, e-commerce and so on.

But as the recession deepened, many prospective clients just couldn't afford the product, which ranges from $10,000 to $250,000.

"It became a 'want to have' not a 'have to have' in many cases," said founder, president and CEO DJ Muller.

"They couldn't get their boards to buy it. Nobody was able to pay for the software even though they wanted it."

Muller and his team were faced with, at best, flat sales, if they didn't think of something—and quick. So they executed not just a course correction but an entirely new business model, one that could serve as a case study for technology entrepreneurs facing a slowdown.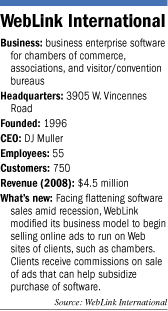 Rather than just continue to produce better software, WebLink also now sells to a chamber's members advertisements that run on the chamber's Web site.

Chamber staff help arrange the meetings with WebLink's ad sales staff and, in return, receive a cut of the commission, which can be used toward paying for WebLink's software.

"The most impressive thing we've done was to find another way to get the value from our software by effectively selling the value to our customers' customers," Muller said.

"Instead of them paying us directly for the software, we get the value from the members through Web advertising."

The concept has other benefits, which in some ways are more compelling than even the core software product.

The ads can drive more traffic to the Web sites of companies advertising on the chamber site, thus improving satisfaction with the chamber. The chamber's own Web site stands to gain more traffic as well, which can help cultivate new members.

WebLink also has designed the ads to maximize search engine optimization. For example, the way a chamber updates the ad, such as by adding coupons or special offers, can cause the site to come up on the first page of a Google search.

This method of search engine optimization, or SEO, is in contrast with other strategies such as buying a space at the top of a Google results page or using blogging software that requires employees to blog to drive better Google results—a tactic that can be onerous for thinly staffed chambers.

Another benefit he touts to chambers for putting ads on their sites is that chambers tend to already have a great deal of credibility in their own markets, especially compared with national Web sites that try to swoop into a local market to sell ads.

"We're sort of their digital media partner. We help [chambers] to be a media property in their local market," said Mike Bryan, WebLink's vice president of marketing and business development.

Since formally launching the ad program last year, WebLink now has revenue-sharing partnerships in about 60 markets, including Cedar Rapids, Iowa; Miami; Martha's Vineyard, Mass.; Santa Fe, N.M.; and—new to the list—Bermuda.

The 14-year-old Indianapolis company now has sales reps in 13 states.

Had it not changed the business model, sales last year "probably would have stayed flat," Muller said. Instead, sales rose 20 percent in 2009.

Muller is projecting double-digit 2010 sales growth. He wouldn't disclose 2009 revenue. Two years ago, company officials said they expected to close 2008 with sales of $4.5 million.

Among those pleased with the progress is Mark Hill, an investor in WebLink and principal of Collina Ventures.

"As an early-stage investor, the most important point of evaluation is the management team. WebLink is a tangible example why that is true," Hill said.

"The team was facing difficulty because their customer base was struggling. They changed their model to one that better served their customers. That is not easy to do."

Muller started the company in the early 1990s creating electronic directories. He developed directory, database and calendar software for churches and then expanded to membership-based organizations such as chambers and visitor and convention associations. By 2002, WebLink had a complete software suite.

In 2008, the company had 40 employees. WebLink now employs 55, with the total expected to rise close to 70 by year-end. The company has about 750 customers in North America.•