Millions of Hoosiers have weathered the recession with extended salary freezes, deep pay cuts or even wrenching unemployment.
But top executives at Indiana's public companies have largely been insulated from the economic crash.
IBJ's review of executive pay found that, although 131 of the 238 executives listed in proxy statements the
past two years saw annual compensation fall in 2009, only 10 experienced cuts of more than $1 million.
MORE FROM IBJ
Click here
for a searchable version of IBJ's
executive compensation database, which includes pay information for the highest-paid officers of all Indiana public companies.
And nearly as many executives—103—saw the value of their packages increase, 17 to the tune of more than $1 million.
IBJ found all but 46 of the public company managers listed in proxy statements made at least $200,000 in 2009, and
89 collected $1 million or more.
"A person can live a pretty nice life on $200,000 a year. When you get up into these astronomical figures, they make
no sense. What is it we're supporting? Five homes? Ten homes? Travel?" asked Indianapolis money manager John Guy,
president of Wealth Planning and Management LLC. "It's absurd."
Many executives, board members and consultants who help companies set their compensation policies don't see it that
way.
They point out that the market for top talent is competitive. Not everyone has the skills or savvy necessary to navigate
a severe recession, let alone gain ground. Management decisions always make or break companies, but the stakes were particularly
high last year.
"Like any position, there is a market for a qualified individual," said Betsy Field, an Indianapolis-based consultant
for New York-based executive HR firm Towers Watson Inc. "If you don't pay at the market, it's going to be
difficult to get those individuals or keep them in your organization."
Climbing out of a hole
By two broad measures, Indiana public companies made significant strides on the road to recovery last year.
Of the 64 Hoosier firms IBJ reviewed, 36 turned a profit. A similar number posted increases in stock price, and
25 bettered the robust 2009 performance of both the Dow Jones industrial average and S&P 500.
But sorting out reasons firms prospered isn't always easy. Take ITT Educational Services Inc., the operator of for-profit
trade schools. Its profit soared 50 percent, to $300 million, and enrollment rose 30 percent, to 81,000.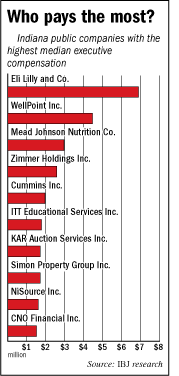 The gains reflect well on CEO Kevin Modany's leadership. But the company also
benefited from the recession, which sent unemployed and underemployed adults flocking back to the classroom to upgrade their
skills.
ITT's board, meanwhile, gave Modany a pat on the back befitting a management guru. It boosted his pay $2.9 million—the
state's fifth-largest raise—to $7.6 million. An ITT spokesman declined IBJ's requests to interview
Modany, citing his travel schedule.
Cummins Inc. CEO Theodore Solso took the deepest cut last year, $2.3 million. The decline reflects that 80 percent of Solso's
pay is variable and tied to performance, company spokesman Mark Land said.
"We view it as a sign our compensation structure is working the way it's supposed to work," Land said.
But pay critics say that, even with the cuts some companies imposed, many packages remain too large.
"I don't see a whole lot of giveback in the executive suite these days," said Ken Skarbeck, managing partner
of locally based money management firm Aldebaran Capital and an IBJ columnist.
"The bonuses are there, the performance awards are there, the directors' fees still seem high. Yet you don't
see executives necessarily reaching into their pockets and buying their own stock with their own money, which I think demonstrates
something to shareholders."
Biggest paychecks
No Hoosier executive took more heat over 2009 pay than Angela Braly, CEO of health insurance giant WellPoint Inc.
Many members of Congress cast WellPoint as a villain as they debated health care reform. Lawmakers became especially indignant
after the company early this year announced plans to raise premiums in California as much as 39 percent.
A House subcommittee in February grilled Braly about the proposed increase—which the company later rescinded—and
contrasted that with her pay package.
Under questioning, Braly said she earned about $1.1 million in salary, plus received another $9 million in stock and other
incentive compensation.
"Well, of course, it makes sense then that you would need a big rate increase," Rep. Jan Schakowsky of Illinois
said sarcastically.
IBJ, which uses the Associated Press' executive compensation formula, found Braly actually earned $13.1
million, or $4.4 million more than the year before—the state's third-largest raise.
WellPoint spokesman Jon Mills pointed out that the company in 2009 doubled earnings per share, despite a challenging business
climate and that, even with her raise, Braly earned less than she had in 2007.
At WellPoint's annual meeting May 18, shareholders approved a proposal allowing them to take a non-binding vote every
year on executive pay. The proposal, made by the Connecticut Retirement Plans and Trust Funds, had failed twice previously,
and WellPoint opposed it.
A shareholder at Eli Lilly and Co.'s annual meeting earlier this spring also tried to pass a company-opposed measure
aimed at clamping down on executive pay, but it fell short.

The proposal, submitted by the AFL-CIO, would have barred current or former public
company CEOs from serving on Lilly's compensation committee. Passage would have booted two of its four members, Ball
Corp. CEO R. David Hoover and former United Parcel Service CEO Michael Eskew.
The union argues that CEOs sitting on compensation committees have an inflated view of how much pay is needed to attract
and retain talent. It also questions their independence, noting that they benefit from one another's increases since
pay often is based on what peers earn.
It's a direct shot at John Lechleiter, who moved from Lilly's presidency into its top job in March 2008. The
AFL-CIO believes his pay—which topped $16.4 million in 2009—is excessive, considering the company's struggles.
Lechleiter was the highest-paid Indiana executive last year, and his raise, $5.7 million, was the second largest.
Lilly spokesman Mark Taylor defended the package, saying the company posted strong performance. But Taylor also said Lechleiter
has asked the compensation committee not to increase his 2010 target compensation. And he noted that part of the 2009 increase
stemmed from a change to an incentive program that will be a wash over time.
The company did return to profitability last year, earning $4.3 billion after losing $2.1 billion in 2008. But it still faces
an onslaught of patent expirations that could cause sales to tumble, and its stock price has been on a downward trajectory
for a decade.
Vineeta Anand, chief research analyst for the AFL-CIO's Office of Investment in Washington, said it was galling that
both Lilly and WellPoint awarded big raises in a year that the soaring cost of health care was in the national spotlight,
and so many Americans were struggling.
"In a bad year, it really is a lot of money to be giving a CEO, and it sends the wrong kind of message," Anand
said. "It sends the message, 'We don't really care how the economy is doing, or how the average worker is
doing.'"
Deepest cuts
Keith Busse, CEO of Fort Wayne-based Steel Dynamics Inc., understands investors' frustration about runaway
pay—especially the rich packages awarded top Wall Street executives whose firms received multibillion-dollar federal
bailouts.
Investors in his company may be disappointed in its 2009 performance—sales fell 50 percent, and the company lost $11
million. But no one can say he isn't sharing in the pain.
Busse took a $2.2 million pay cut last year, third-biggest among Indiana executives, leaving him with a $1.9 million package.
The other four members of his management team also took deep cuts, with each ranking among the state's 15 largest.
"Nobody likes having their pay cut 54 percent," Busse said of his reduction. "But we all understand the
system and how it works. There was no crying about it. We just rolled up our sleeves and worked harder."
Busse said his team had to find ways to preserve cash, even as demand for steel dropped dramatically. That meant stepping
up bill collections from slow-to-pay customers, shrinking inventories and temporarily shutting some operations. The result:
Steel Dynamics returned to profitability in the third quarter of 2009, a nimble turnaround for a heavy industrial firm.
Across Indiana, board compensation committees last year wrestled with how to adjust pay to reflect the recession but also
reward executives who successfully navigated daunting economic forces beyond their control.
"No one in the world could tell how deep the recession will be, how long it will last, or if we'll be in a bad
business climate for years," said Eliza Hermann, who chairs Brightpoint Inc.'s compensation committee.
Hermann, former vice president of human resources for British Petroleum, praised CEO Bob Laikin and his management team for
slashing debt and expenses, while keeping the wireless-phone distributor's operations humming.
"The executives provided exceptional leadership in hunkering down to weather the storm … while at the same time
meeting and exceeding customer expectations to deliver the phones and operate the business very well," she said.
Still, all of Brightpoint's executives saw their pay packages shrink last year. And Laikin's $1.2 million reduction
was the state's 10th-largest.
Pay critics like such cuts, but wish they were even deeper. Even with his 35-percent reduction, for instance, Laikin earned
$2.2 million.
"If a guy takes a deep cut in bad years, at minimum he's being sensitive to the feelings of his employees, customers
and the public at large," said Guy, the wealth manager. "It just conveys a sense of, 'Hey, I'm really
in there with you.'
"They're not, because they're still making … seven figures. But it conveys a connection."•
Please enable JavaScript to view this content.