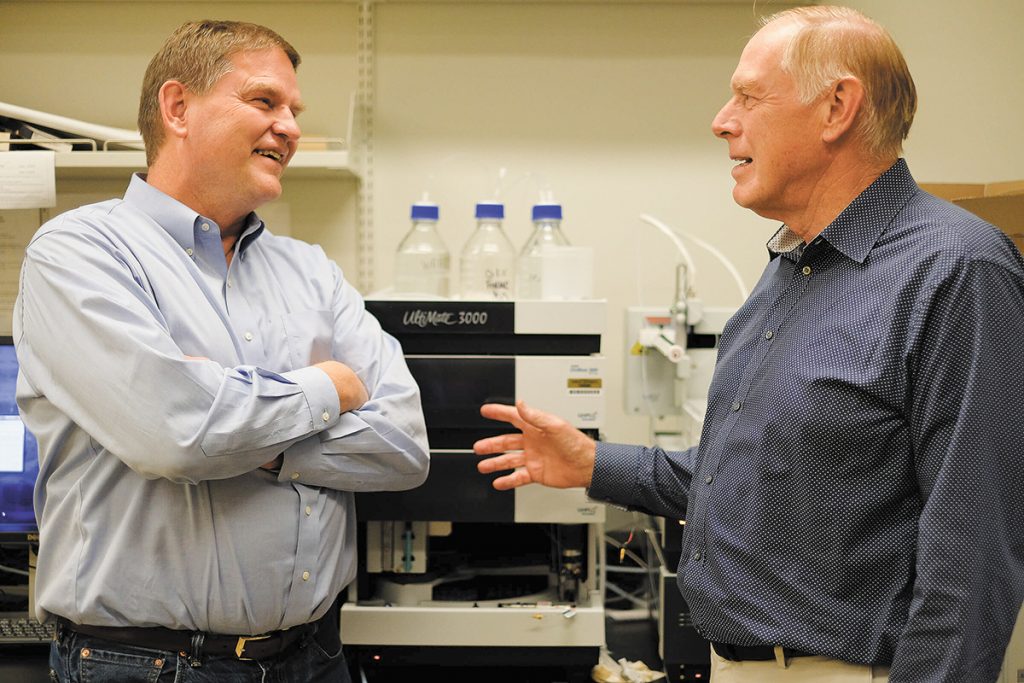 If the newly minted medical technology firm Eradivir were a run-of-the-mill startup, it might be in a great deal of trouble right now.
"We started the company literally two weeks before the coronavirus hit," says its CEO, Martin Low.
But the pandemic that's shredded much of the economy has instead handed the nascent enterprise an opportunity. Eradivir was co-founded by serial entrepreneurs and brothers Martin and Philip S. Low, the Ralph C. Corley distinguished professor of chemistry at Purdue University.
In addition to working as a researcher, Philip has midwifed a gaggle of businesses that are all marketing practical applications of his work. He's spent his four-decade-plus career designing "targeting ligands" (a ligand is a small protein, ion or molecule) that carry drugs or other compounds unerringly to specific cells, like smart bombs singling out a particular bunker.
West Lafayette-based Eradivir was incorporated to develop ligands that home in on virus-infected cells and infuse them with a compound that allows the host's immune system to easily spot and attack them. The company initially set its sights on the influenza virus, but recent events prompted a tweak to the business plan.
"When the coronavirus came along, I think both of us felt an obligation to see if this flu technology would translate to it," Philip said. "We believe the technology cuts across most viruses, but because of the current situation, we're applying it to the coronavirus."
Eradivir will use some of its first seed money, $100,000 from the Austin, Texas-based not-for-profit Research Bridge Partners, to test the usefulness of two ligands designed specifically to go after COVID-19.
But don't expect a quick solution. In the world of medicine, products under development must wend their way through a labyrinth of studies, animal tests and human trials before earning U.S. Food and Drug Administration approval. Even an expedited process moves only slightly faster than paint dries.
"I think if anyone can do it quickly, we can," Martin said. "But I think it will take a while to get a true, dedicated, targeted solution for COVID-19."
"It's a very complex process, and a minefield that can terminate an otherwise very promising technology," Philip said.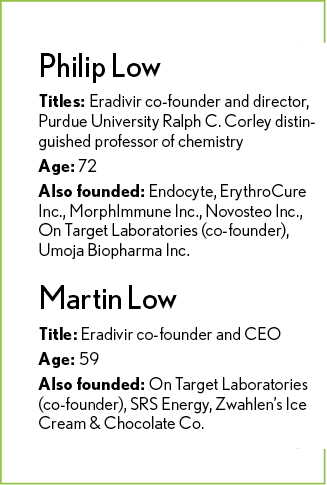 Minting startups
Fortunately, when it comes to turning research into actual medical products, this isn't the Low brothers' first rodeo.
Their many, many projects include Philip's 1996 founding of Endocyte, which was sold to Novartis in 2018 for $2.1 billion; and the brothers' other business collaboration, West Lafayette-based On Target Laboratories, which launched in 2010 and is now worth in the low hundreds of millions of dollars.
On Target is closing in on human trials for products that paint cancerous cells with a luminous compound. It causes them to glow like a Jimi Hendrix poster under infrared light, making them much easier for surgeons to spot and remove. Martin served as On Target's CEO until September, when he departed to take the same title at Eradivir.
The brothers' combined track record makes getting seed money for their latest collaboration easier. Not easy, but easier than it would be for a couple of guys with no track record.
"It helps to have gone through the school of hard knocks," Phillip said. "I think it imbues confidence in potential investors when they see that we've been there and done that."
Though many a familial bond has been destroyed by disagreements over financial dealings, the Low brothers have managed to remain both business partners and amicable siblings over the long haul. Part of the reason is their rather stark division of labor.
"I'm responsible for the science, and Marty is responsible for the business," Philip said. "I spend essentially all of my Eradivir-related time focusing on developing therapies for different viral diseases. Marty does all the rest."
Industry observers say they are a potent pair. Fritz French, another Indiana life sciences luminary, serves as chairman of On Target, which he said made great strides under Martin's leadership.
"Phil has a very strong drive that very few possess," said French, who was CEO of Marcadia Biotech before its 2010 sale to Roche and of Calibrium before its 2015 sale to Novo Nordisk.
"Phil's reputation is stellar. He has extensively published, and he's received a great amount of recognition for his scientific accomplishments. He's a brilliant scientist who is able to combine his knowledge across multiple disciplines to come up with unique and impactful solutions to clinical problems."
Role players
The brothers are used to playing to their strengths. Back in the day, Philip, now 72, and Martin, 59, regularly got into pickup basketball games on the Purdue campus. Philip is an accomplished shooter who played varsity ball at Brigham Young University, while Marty, who uncharitably describes himself as a "hack," specialized in rebounds and defense.
"We would go to the courts where the best players played, and in the years we played, I think we lost once," Martin said. "Because Phil can shoot the lights out, and I can get rebounds. We had a clearly divided set of skills that complemented each other."
The two grew up in West Lafayette, and their father, Philip F. Low, was a professor in Purdue's Department of Agronomy.
"He studied the structure of water on surfaces," Philip said. "It may seem like a pretty unimportant topic, but it turns out to be relevant to everything from building bridges to drilling for oil to designing roads."
One advantage Philip has over his father is that the base concept for his own work is easy for laymen to grasp, which makes for a straightforward elevator pitch to potential investors. Whether the company is Endocyte or Eradivir, it's basically just a tailored iteration of the "program a compound to seek out a particular kind of cell" story—be it cancerous or virus-infested.
"It's simply understood and simply explained," Martin said. "There's an elegance, and it's very unique. I would suggest that Phil's probably the world leader in targeting small molecules to do different duties."
Philip added: "Although many venture capitalists are well-educated, they're spread very thin in the technology they have to understand. The ideas that are simpler to grasp and appreciate are the ones that are easiest to attract funding for."
During his nine years as On Target's CEO, Martin raised a cool $90 million in company funding.
But it's never been easy, even when pitching what amounts to the medical profession's version of a killer app. And it's particularly tough right now, as the pandemic prompts many venture capitalists to rein in making new bets. Even when the product in question might be of use against COVID-19.
Which is why the brothers don't think doing the necessary research or performing clinical trials, convoluted though it might be, is the hardest part of what they do. The hardest part, they say, is funding.
"We're starting to raise money for Eradivir, specifically for the coronavirus work," Martin said. "And even with coronavirus front and center, it's still difficult to raise money. That, and time involved, really gets in the way of developing a bunch of technologies that Phil has. I really believe that that's the limiting factor."
It's not that there's no cash out there. It's that there's so much competition.
"There's a lot of money floating around for coronavirus, but there's also a lot of fishermen," Martin said. "Everybody who has any type of technology that's tangential to it is taking advantage of that."
Blessed with opportunities
Even in the best of circumstances, starting a business and securing funding is a tough slog. So why do the Low brothers keep coming back for more?
"I have been blessed with a number of, I think, very important opportunities to reduce pain and suffering and death," Philip said. "So, as a consequence, I feel an obligation to do my best to bring them to the public, so that they're available to people who may need them."
Philip also founded a company developing targeted therapies for malaria and sickle cell disease. And in concert with his son Stewart, another company that radically reduces the healing time for bone fractures. Yet another startup focuses on reprogramming the immune system to battle different ailments, including fibrotic diseases such as cystic fibrosis.
"In many ways, these are opportunities, but in other ways, obligations," Philip said. "I feel compelled to develop at least to the point where an interested company can buy it from us, take over the development process and offer it to the public."
Philip's focus on commercialization remains fairly unusual for first-tier medical researchers, said Todd Saxton, associate professor of strategy and entrepreneurship at Indiana University's Kelley School of Business and Indiana chapter leader of the Society of Physician Entrepreneurs.
"Actually, I think many researchers are not aware of the path to commercialization, or assume it will happen without them," Saxton said. "Others see commercialization as a distraction. But good and educated researchers recognize that commercialization can enhance their path to having an impact."
Saxton said he has high hopes the pandemic will produce a flowering of medical entrepreneurship.
"We are seeing great interest in innovation in our Business of Medicine MBA program for physicians [at Kelley]," he said. "And COVID-19 will unleash significant awareness of, and interest in, population health and virtual health care. I believe we are in a watershed moment for medical entrepreneurs."
These days, Martin lives in Philadelphia and Philip in West Lafayette. However, they still get together regularly to talk business in person or play a round of golf.
When Martin is in town, he often stays with his sister, one of the six Low siblings. The family has remained tight-knit even though they're in business together.
"I think we were both very concerned about that, but I think we were both very anxious to make sure it didn't influence our family relationships or our brotherly love for each other," Philip said.
"There were times, of course, when there was tension and concern, but we've been able to see through those obstacles to the bigger picture."•
Please enable JavaScript to view this content.