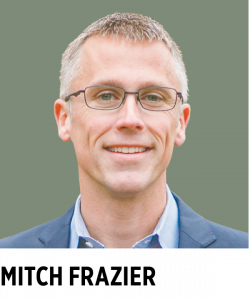 One segment of the economy touches every person on the planet—it's food and the broader agbioscience economy. In Indiana, it is an economy that has surged to an annual economic impact of more than $91 billion (roughly 20% of the state's GDP) and is connected to more than 320,000 Hoosier jobs.
This economy extends well beyond the iconic farm fields of Indiana and includes diverse innovation across:
◗ Value-added food and nutrition, from ingredient development to food manufacturing.
◗ Animal health and nutrition, from vaccine creation to animal feed optimization.
◗ Plant science and crop protection, from seed genetics to solutions to improve sustainability and crop performance.
◗ Agtech, including hardware and software to accelerate efficiency and profitability of operations.
◗ Production agriculture, the cornerstone of the economy, where farmers grow food.
Companies across agbioscience are not only delivering life-essential innovations, they are also tackling many of the world's toughest challenges.
Plant science and crop protection juggernaut Corteva, the largest pure-play ag company in the world and now the third-most-valuable public company headquartered in Indiana, has made giant leaps to advance innovation since establishing Indianapolis as its global headquarters in 2022.
Focused on improving profitability and sustainability of agriculture production, the company has expanded its biological crop-protection portfolio, a product suite that uses the power of biology and natural processes to improve crop performance. And earlier this year, Corteva announced a partnership with Chevron and Bunge to create a new low-carbon fuel powered by plants.
Elanco—the second-largest independent animal-health company in the world—broke ground last year on its new Indianapolis global headquarters at the site of the former GM stamping plant. Since early 2022, the company has partnered to co-launch three startups (BiomEdit, Athian and Belle Pet), unveiled a strategic alliance to bring methane-reducing innovation to the U.S. cattle industry and debuted a breakthrough treatment for a deadly disease in dogs.
Giants like Corteva and Elanco aren't alone in delivering a tidal wave of agbioscience innovation. High-growth venture-backed companies are making moves as well. According to IBJ's list of largest venture capital deals in Indiana in 2022, three of the top five VC deals were agbioscience companies.
One was Taranis Inc., the agtech company that moved its global headquarters from Tel Aviv to Westfield in 2020. Since then, the company has expanded its digital platform that uses artificial intelligence applied to imagery to identify disease or infestation in farm fields with submillimeter precision. Brazil-based agtech company Solinftec, whose U.S. operations are headquartered in West Lafayette, launched an autonomous solar-powered robot last year to scout fields and identify crop stress, and Indianapolis-based Advanced Agrilytics just eclipsed more than 1 million acres serviced by its AI-augmented agronomy technology and team.
Regardless of the size of the company, one reality remains universally true across agbioscience: The innovations created are inextricably linked to meeting the most fundamental need of people worldwide—food. Advances in plant science are making it possible to produce more food on less land with less environmental impact. New innovations across animal health are making it possible for producers to meet the rising demand for protein worldwide while improving profitability and sustainability. Innovation in food is creating new choices for consumers through the power of fermentation, and applications of machine learning and artificial intelligence are accelerating the creation of agtech solutions to enable every step of the food production system to gain efficiency, improve traceability and achieve new levels of predictability.
In an era where the impact of disruptions to the global food system are vivid memories and, in some cases, current realities—from Russia's invasion of Ukraine to famine-fueled geopolitical instability in Africa to empty grocery store shelves amid the pandemic—the criticality of agbioscience innovation to improve food security is acute. Feeding people, protecting the environment and creating the conditions for a reliable, resilient and secure food system have never been more important and needed.
Indiana has a proven record of tackling big challenges. Let's work together—business leaders, entrepreneurs, scientists, academics, elected officials, investors and students—and commit to accelerating development of new technologies and science to secure the future of the food system and our planet. Our economy, our national security and people around the globe are counting on us to make it happen.•
__________
Frazier is president and CEO of AgriNovus Indiana, a statewide initiative of the Central Indiana Corporate Partnership that aims to strengthen Indiana's agbioscience sector.
Please enable JavaScript to view this content.