A couple of entrepreneurs in Indiana think they can take their startup career information web site national.

Timing is certainly on their side.

Long-term unemployment is higher than at any time since World War II, with economists predicting it will hover near double digits throughout this year and come down only slowly over the next couple of years.

That painful reality prompted K.D. Nyegaard and Elliott Parker to launch The Learning Index in January, providing career counselors and job seekers free access to 5.5 million job openings and information on 200,000 career paths.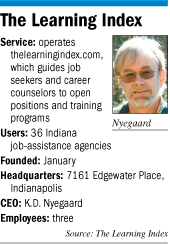 The Learning Index hopes to make money with a YellowPages business model: List all postsecondary schools and training programs free but charge them more for larger, fancier listings. Paid listings on the Learning Index run from nearly $2,300 to nearly $12,000 apiece.

"The timing is absolutely right," said Nyegaard, CEO of The Learning Index. He added, "We're already profitable. I have a feeling we're going to be rewarded."

Unemployment in Indiana stands at 10 percent, a tick higher than the national rate of 9.9 percent. More than 312,000 Hoosiers are looking for work unsuccessfully.

Around the country, the percent of the unemployed out of work for six months or more—defined as long-term unemployed—has soared to nearly 47 percent—far higher than even during the recession of 1983.

At the same time, many Hoosiers have left the labor force entirely as they go back to school to learn new skills. Enrollment in colleges—particularly vocational schools such as Ivy Tech Community College—has exploded.

The Learning Index aims to help both job seekers and training seekers—and the career counselors who help them.

The company has so far signed up 36 agencies—including the state of Indiana's Work One centers—to use the Learning Index.

The "vast majority" of the state's Vocational Rehabilitation Services' 25 offices are using the tool, said Jeff Hughes, coordinator of training and professional development at the agency, which is part of the Indiana Family and Social Services Administration.

"It was one of those things, as soon as I saw it, I knew our staff would love this thing. It really helps us do our jobs so much quicker and so much easier," Hughes said.

The counselors he oversees are helping to match 24,000 mentally and physically impaired Hoosiers with jobs, training programs and other help that fits their abilities. Hughes said that when counselors have to analyze skills required for specific jobs or construct a psychological profile of a job seeker, they must spend hours culling information from numerous sources—or else hire a contractor to do it for them.

Nyegaard, 56, designed the software behind The Learning Index, drawing on his experience developing software products for his previous company, California-based ERISS Corp.

Nyegaard and his ex-wife, Barbara, started that company in San Diego during the recession of 1992 to help career counselors connect job seekers with the right training programs and job openings.

ERISS Corp. grew to employ as many as 150 people, serving 20 state work-force development agencies. K.D. Nyegaard left the company in 2004 and later moved to Indiana, "for the weather, of course," he joked.

Nyegaard met Parker through a mutual friend. Parker, 35, is also a transplant from California who came to Indianapolis to lead Roche Diagnostics' internal venture incubator.

The duo are funding The Learning Index with their own money, and said they don't plan to seek outside investment to fund their national expansion. They plan to start signing up agencies and schools outside Indiana within six weeks.

"We are working very hard right now on Indiana," Nyegaard said. "But we're getting interest from other states as well."•