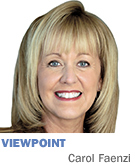 When my immigrant grandparents arrived on Ellis Island in the early 1900s, they experienced a wide range of emotions at the prospect of living in an unknown world, far from their homeland.
As they crossed the threshold that would forever alter their lives, they first had to go through the process of entry, including a medical examination, a literacy test and a litany of questions with respect to how they would support themselves, where they were going and who was there to sponsor them.
Millions of immigrants had this same experience, through Ellis Island and other ports of entry. Many of you reading this know the stories well, because your own parents, grandparents or great-grandparents were part of this vast diaspora. It is a fact that at least 25 percent of Americans living today can trace their roots back to Ellis Island.
These stories never fail to produce a kind of nostalgia within us, as we recall their bravery, persistence and contributions to our country in so many ways. Our art, architecture, culinary choices and literature are just a few of the ways our country benefited from their entry. Other contributions in the form of infrastructure, labor laws and anti-discrimination laws made us more civilized, more just, even at the cost of much loss of life.
Today's sorry state of affairs around immigration seems to have no resolution. Cries of "it's not fair" to any proposed idea come from all sides. And it's true, there is no "fair" solution possible. That, we can all agree on.
Recently, Harry Reid, the Democratic Senate majority leader, introduced language into a defense bill that stated that certain illegal immigrants who would serve in our U.S. military and attend college should be given a path to citizenship. This caused an immediate backlash from those who found fault with his including this in proposed legislation about defense. Whether this statement should be part of a defense bill, I will not comment on. The bigger question is, is it a worthy idea?
My grandparents encountered a structure, a process and a path to citizenship that was not perfect, but nonetheless gave them a way "in." They endured racist behavior from Americans who felt threatened by their foreign ways, but they persisted and made lives for themselves and for their children. For that, I am very grateful.
During World War II, Italians and, to a larger extent, Japanese, living in the United States were unjustly rounded up into internment camps because of one thing: disproportionate fear.
The recent surge in anti-immigrant sentiment is again due to fear. We are afraid the economy is not going to get any better, so instead of acknowledging that many illegal immigrants do many of the jobs we don't want to do, we start labeling them as "moochers." Our fear of terrorism causes us to be suspicious of anyone who doesn't look or behave "like us." Many are taking the position of "win/lose" and there is no room for "win/win."
We have to start from where we are. And "where we are" is that we are continuing to make personal and public decisions that are based on fear and what we might lose. This course of action means we are never going to find our way back to what this country stands for. "Give us your tired, your poor, your huddled masses yearning to breathe free," has turned into "Get them the hell out of our town, state and country."
The truth is, we are nearly all immigrants or descendants of immigrants. There is no "us" and "them." And yet there is little compassion or forward thinking in most of what is being said about this subject.
We need to draw a line. I say we give all illegal immigrants a path to citizenship as long as they have not engaged in criminal activity and especially make it easy for those who will serve in our military, have paid taxes, or otherwise have contributed positively to society.
Oh, but that's not fair, you say. No, it's not. But it would stop the merry-go-round. It would produce a tremendous and collective sigh of relief in this country. Millions would stop living in fear. We could then focus our efforts on the process and, yes, a fair path to citizenship and the means to enforce it.
Too simplistic, you say? I say, it's high time we start cutting through all the posturing designed to make everything in our lives more complicated than it needs to be. Simple solutions to complex problems are possible, as long as we are operating from both our heads and our hearts. The problem is, the collective ego in our society makes no room for that.
The plan has to come first. That's what we should be talking about first. Not who gets to stay, who is sent back, who is not allowed in. Instead, we should be asking, "What should a path to citizenship be?" What should we do to make the assimilation process work well? How should we enforce the plan?
The past is behind us, yet we are still living in it. Likewise, we are allowing fear of the future to cause us to place blame instead of using the present to create something new, something positive.
The pervasive belief in this country that there is not enough for everybody does nothing but create more of the same: not enough for everybody. How do you stop this insane cycle without making some kind of clean break from the past?
We have to engage both our heads and our hearts. Of course, we need legislation that creates the path I speak of, which would include learning the English language and other assimilation necessities. But we also need to recognize that, in the first place, nobody truly wants to leave their homeland. How bad would conditions have to be in your world for you to feel forced to leave your home and possessions?
It is a tragedy that so many Americans today will not allow themselves to empathize. If having empathy were rated as highly as needing to be right, we might make some progress.
To those of you who still see yourselves as removed from immigration, I invite you to look over your shoulder and see your own immigrant ancestor right there behind you.•
__________
Faenzi is the author of "The Stonecutter's Aria," a novel based on the true stories of her immigrant Italian ancestors. She can be reached at cfaenzi@aol.com.
Please enable JavaScript to view this content.