There was a moment when Donna Gadient knew she wasn't in Kansas anymore.

It was a late night, four years ago. The 1976 Washington High School graduate, whose unfamiliarity with financial-aid paperwork had intimidated her out of attending Ball State University, who had never set foot outside the United States, had just landed—alone—at the airport in Abu Dhabi, United Arab Emirates.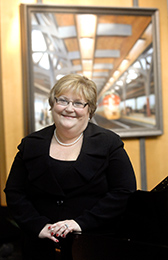 Donna Gadient is the only woman at R.W. Armstrong who is both an owner and director. (IBJ Photo/ Perry Reichanadter)
Gadient had been charged with making sure the human-resources operations of the brand-new UAE office of R.W. Armstrong were up and running smoothly. She was surrounded by people in decidedly un-Hoosier-like garb.

"I was blown away," she said.

Few people who've climbed the corporate ladder have done so on quite the same rungs as Gadient. She is now vice president of global human resources at R.W. Armstrong, a 550-employee engineering firm based in Indianapolis. She started at the company in 1993 as assistant to CEO Jim Wade without a college degree or so much as a single course in human resources.

What she brought, though, was a strong work ethic, a love for people and a willingness to learn "on the fly."

All three traits have served her well. Gadient, 53, said she was overwhelmed at first by engineering lingo and acronyms and by being the new kid at a stable company of 85 employees whose average tenure was 10 years. But she and Wade shared a cramped office where she couldn't help but overhear him discuss company business. She absorbed the engineering and design and construction world and R.W. Armstrong's emphasis on empowering employees.

In 1996, Gadient was the victim of a steep company cutback. "But Jim said when I left, 'You'll be back.'"

And she was, two years later. In the interim, she'd done some human resources work for a hospital. On her return to Armstrong, she asked Wade for the chance to improve on what she thought was a poorly executed job by a human resources employee. She was granted the opportunity, and never looked back.

She now supervises a team of about 15 HR employees spread throughout the company's 18 offices, including four Middle Eastern branches. Three years ago, she was offered an ownership position, a decision that Wade said was a no-brainer.

"When you start learning more from somebody you work with than you can teach them," he said, "that's when you make them a partner."

This month, Gadient also was offered a seat on the company's seven-person board of directors. She's now one of 19 company owners, only two of whom are female, and the only woman in Armstrong history to serve simultaneously as owner and director. All of which Gadient says is an honor, a word she uses repeatedly to describe her job experiences.

Gadient spent five months of 2010 in the firm's overseas offices—keeping abreast of local labor laws, evangelizing the company's culture to new managers, helping them integrate that culture with Middle Eastern mores, organizing social events with staff, and generally making sure employees had their questions answered.

"The most important part of my job is to make sure people feel valued," Gadient said. Employees are "hungry for [employers] to recognize who they are and what they can bring to the world."

Gadient's demonstration of that conviction takes the form of accepting calls 24 hours a day; attending employees' family birthday parties, weddings and christenings; arriving at work at 5 a.m. to discuss candidates for an HR opening in Abu Dhabi or to review hiring-compliance guidelines with the new guy in Libya; and not switching off her office light most nights until 7 or 7:30.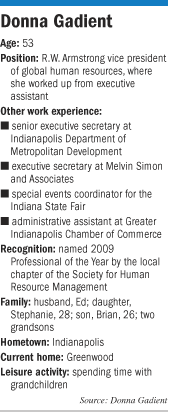 "Our employees in all parts of the world need reassurance that they have someplace, someone to call" anytime, no matter what, Gadient said.

That depth of dedication to people has been the secret to her success, Wade said.

"She has almost a supernatural way of empathizing with people," he said, and understands that the business of human resources is human beings. "There are people involved, families."

From the beginning, Wade said, Gadient has meshed with his company's belief in its employees, and she knows how to "make everybody around her better."

Jennifer Voreis agreed. She works for Gadient as manager of Armstrong's continuing education programs.

"Donna allows you to have independence, to determine what direction you're headed," Voreis said. "Donna is the culture of the company. … She passes that culture on to everybody else."

Gadient said she feels that sense of mutual respect in all her company dealings, even those in male-centered Middle Eastern cultures where her gender might be an issue. The professionals she interacts with in those countries "believe your company wouldn't send you if you weren't an expert," she said.

There was a little apprehension on the part of some local employees when Armstrong expanded into the Middle East, she said, but Gadient read "everything I could get my hands on" about local customs and has since had her belief that "people are people" validated many times over.

Despite her litany of accomplishments, Gadient still regrets not having a college degree. She said she doesn't want young people to think they can duplicate her success without one, and she would like to skip the awkward moments in business dinners when conversation gets around to where everyone went to school.

There are still times, Gadient said, when she's the only woman on a bus in Tripoli, Libya, or when she's gazing at 2,000-year-old ruins or watching a load of camels pass by in the bed of a pickup truck that she asks herself, "How did I get where I am? Why me?" She is, after all, just a west-side girl from a blue-collar family who never went to college. But she worked harder than those around her, she said, to prove herself.

"How else could I have done it, other than hard work?"•