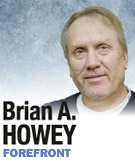 When Mitch Daniels came back to Indiana to run for governor, he saw a state mired in a rut. Creating jobs and growing personal income were two of the loftiest goals.

Now, with just two years left in his second term—and beginning only his third year with Republican legislative majorities—Daniels presides over a state that has been trapped in a jobless rate hovering around 10 percent for two years. He came precariously close to watching the industry that was most responsible for growing the Hoosier middle class—automaking—collapse.

So even though Daniels appears to be on the verge of historic reforms in education and local government, there's a bittersweet quality.

"It was always going to be a three- or four-decade job," Daniels said. "We fell behind three or four decades. It is a mission we couldn't complete."

Indiana was sidetracked in the mid-20th century because key elements of its political structure—captured by ideology and isolationism—failed to balance rigidity with pragmatism.

In a forum on redistricting, former Indiana Supreme Court Justice Ted Boehm noted that, between 1920 and 1960, census data didn't enter into the equation of drawing fair, representative maps.

When Lee Hamilton was elected in his southeastern Indiana congressional district in 1964, it had an estimated population of 100,000, while the principal Marion County district had more than 500,000 citizens. The Hoosier suburbs were dramatically underrepresented.

"The Legislature was incapable of correcting its own flaw," Boehm noted.

During this period, Indiana lawmakers made many dubious decisions, ranging from rejecting federal funds for school lunches to rejecting funds to separate storm and waste sewer systems. The latter is costing current and future Indiana sewer ratepayers tens of billions of dollars.

Another example was the Indianapolis Public School Board's rescinding then-member Richard Lugar's "Shortridge Plan" for voluntary desegregation. Once scuttled, it forced Federal Judge S. Hugh Dillon's mandatory busing order that cost taxpayers millions of dollars in fleet, fuel and operation fees.

In his remaining two years, Daniels wants to pour several foundations he hopes will strengthen the state far beyond his tenure. His Major Moves program, while resulting in only about 20 percent of the construction jobs promised, is giving the state an advanced transportation upgrade that Daniels believes will attract tens of thousands of 21st century jobs. He is hopeful the emerging electric auto sector will follow industry pioneers who a century ago turned Indiana wagon works and bicycle shops into scores of auto companies.

And there is his primary thrust—remaking Indiana education.

"I would start with teacher quality," Daniels said. "This means paying the best teachers more, paying the teachers in the most important subjects more. Pure seniority doesn't work well for kids. We have teachers of the year who get laid off."

He said it would not be fair to hold schools accountable without taking down "all sorts of mandates and handcuffs, whether it's by statute or regulation." Changes in collective bargaining are critical in reducing the "series of manacles we've placed on educators. They need to be lessened."

The governor wants to "take the lid off charter schools." He wants to allow high school students to graduate early. And Daniels will be searching for the best—and worst—of the state's colleges educating future teachers.

"We have some 40 places teaching teachers," the governor said. "I really wish I knew which were the best 10, or the worst 10."

The governor's efforts to improve the state's lot will take years—even decades—to complete. But there are signs of light at the end of the tunnel. Indiana's high school graduation rate reached 84 percent this past year after decades mired in the 70s. In the week before Christmas, Daniels took delivery of 10 new Think electric cars made in Elkhart that Indiana will use in its state parks.

"We want to roll on it," Daniels said of this emerging car sector. "Trillions of dollars are sitting around waiting to be invested. When it comes out, Indiana is right there."

Yes, right there, trying to catch up.•

____________
Howey is a third-generation Hoosier journalist who publishes Howey Politics Indiana. Send comments on this column to ibjedit@ibj.com.