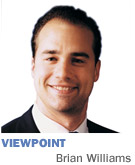 Indy Connect late last year unveiled the Central Indiana Transportation Initiative, a proposed integrated transportation plan for central Indiana. The plan was the result of public and private research, deliberation and multiple forums for public comment. Those who participated in the process and created the plan should be commended for their willingness to address a topic that has been neglected for too long.
The delay in implementing an integrated transportation system has hurt air quality for the metropolitan region. As an Environmental Protection Agency non-attainment area for air quality, Indianapolis must create more efficient and cleaner means of transportation. The data are clear: Indianapolis ranks ninth among the country's most polluted metropolitan areas, according to the American Lung Association, near the top in the amount of cancer-causing toxins released into the air, and first in lung cancer deaths among women.
One study estimated that, if Indianapolis increased the average number of passengers in a vehicle from one to two, the smog in the city would decrease at least 25 percent. A broadly supported, integrated mass transit solution helps address Indianapolis' poor air quality.
However, there are two aspects of the initiative that cause concern: the funding mechanism and the lack of a showcase element to successfully define mass transit.
A successful mass-transit system will cross jurisdictions. Funding must be broad-based and not subject to referenda. For good reason, Indiana's system of government is not based on direct democracy.
If such a measure failed at the ballot box, how would civic leaders advance a cause that is necessary for the region's success? What if the initial measure passed, yet a subsequent measure to repeal funding passed, which would result in halting construction and stranding the city and the taxpayers with an incomplete system? This is what happened in Cincinnati.
The first leg of a mass-transit system should demonstrate effectiveness, encourage broad-based support, enhance the city's image, and be based on a financially viable model. A light-rail line should run from Union Station to the Indianapolis International Airport. While rail lines exist downtown, unfortunately, in an effort to maintain costs, the Airport Authority eliminated some of the infrastructure needed for rail, raising the cost for this solution.
However, the merits are plain. Union Station, a centralized facility designed for such a use, exists and has been financially unstable since trains left the station. Ample parking exists, and a direct line to the airport would offer downtown workers easy access to their offices and the airport, improving productivity.
By linking Union Station to an urban transportation system and extending the rail line from downtown to the Hendricks County border, which is adjacent to the airport, workers in the gargantuan warehouses that populate Hendricks County would have access to a reliable transit system. Those workers would no longer depend on cars to get to and from work, improving air quality and worker reliability.
Finally, the city of Indianapolis has invested hundreds of millions of dollars in its downtown infrastructure to attract and sustain an economy driven in large part by conventions. Taxpayers have funded privately owned hotels and sports palaces and a massive convention center, all of which depend on continued taxpayer-supported marketing programs to bring visitors to Indianapolis.
For conventioneers, one of the greatest expenses is travel from the airport to downtown. A light-rail line allows conventioneers to collect their luggage, purchase a round-trip ticket, and walk onto a train that deposits them at Union Station. Their hotel is a short walk or cab ride away—clean, efficient, simple and direct.
The Indy Connect proposal is a good start, but it has significant operational and financial risks. A simple first step—light rail from downtown to the airport and the Hendricks County border—benefits taxpayers, professional and industrial workers; improves the city's image; and, most important, coddles those who are funding the downtown renaissance: the conventioneers.•
__________
Williams is regional venture partner of Hopewell Ventures, a Midwest-focused private-equity firm. He can be reached at bwilliams@ibj.com.
Please enable JavaScript to view this content.