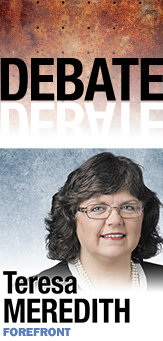 Question: How should teachers be evaluated?

Answer: With four children—the eldest just off to college this year and three roaming the halls of a great public school corporation in Shelby County—I know what I expect from my children's teachers. And since I am a teacher myself, I have high expectations not only of my children but of their teachers and of myself.

I want the best teachers for my children, and I believe certain ideals should be considered when determining whether Indiana teachers meet the definition of the best teachers.

I understand the support necessary to help students be successful—part of that support for my own children is a positive environment outside of school in which education is seen as vitally important as well as a support structure in the school that identifies the strengths and weaknesses of my children.

That structure also gives opportunities for their teachers to gain a better understanding of their needs and how to help them. It's a deliberate plan—find out what the students need, help the teacher meet those needs by providing targeted training and support.

Likewise, for teachers to be the best, it takes a structure that provides regular evaluation and follow-up professional growth opportunities targeted to instructional needs identified by both the evaluator and the teacher. Professional development experiences for teachers are an investment in Indiana's future and should be part of a comprehensive, rigorous and fair evaluation system developed by administrators and teachers.

Teaching is a demanding and multifaceted profession requiring constant professional growth driven by self-reflection and formal evaluation. A system of evaluation for teachers must be built on the highest teacher standards such as those used by the National Board of Professional Teaching Standards.
I believe that all Indiana educators believe in high standards and accountability and do not shy away from a fair system of evaluation. I believe we all welcome constructive feedback and opportunities to improve knowledge and skills that benefit both teachers and students. Targeted professional development designed to improve skills in areas where students are struggling is paramount to successful teaching.

Truly effective teaching evolves every day. It is different from year to year, from subject to subject and from one child to another. An effective teacher knows her subject, her students and how to bring the two together through an appropriate instructional process. Lesson plans, logs of communication with parents, graded work and collections of student samples are just a few examples of how learning progresses in the classroom.

Evaluations should be done consistently so that issues are addressed in a timely manner. If issues arise, a plan should be created that includes thoughts for improvement from both the teacher and the evaluator. The plan should also include an appropriate time line to help the teacher improve or to terminate the teacher if improvement efforts are unsuccessful.

Administrators should be more deliberate in screening potential hires. Many issues that arise in the early years of teaching could be eliminated or minimized if a true teacher induction program were in place, but there is no induction or mentoring program for new teachers in Indiana.

I know Hoosiers want the best educators in the classrooms across the state and I know Indiana needs to make an investment in their professional growth.

The payoff—for me and for all teachers—will be more effective classroom instruction. The real benefit—for my children and the more than 1 million students in Indiana's public schools—will be the opportunity for every child to succeed.•

__________

Meredith is vice president of the Indiana State Teachers Association and has taught for more than 18 years in Indiana schools. Send comments on this column to ibjedit@ibj.com.