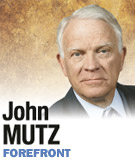 My friend and fellow IBJ columnist Morton Marcus has been urging the state to tax its citizens more to improve Indiana's economic development program. He says the Legislature's "30-year war on local governments" has left local economic development organizations without enough resources. He further declares "this may be the year that economic development in Indiana comes apart openly."

Marcus joins former House Speaker Pat Bauer in condemning Indiana Economic Development Corp.'s annual reports for failing to give LEDOs credit for their assistance in attracting investments.

As an IEDC board member and former lieutenant governor responsible for economic development in the 1980s, I believe IEDC is one of the most successful economic development agencies in the nation. It regularly leads the Midwest in job growth and ranks seventh in private-sector job growth for 2010 at 2 percent, which is nearly twice as fast as the national average of 1.1 percent.

Local LEDOs are essential to landing job-creating deals. When I took office in 1981, there were only six active LEDOs in the state and now there are more than 100. We encouraged their formation and provided financial assistance, a policy that should be renewed in this session of the Legislature. If the IEDC staff is uncooperative with local LEDOs, as Marcus asserts, I would like to know about it. That's not our policy.

Marcus also assails the formation of regional LEDOs in some parts of Indiana. In fact, labor markets are regional and not limited to one city or county. Investors survey the whole region before making an investment decision. Some of the most successful economic areas are built around an individual industry that draws the best talent in the country to one place. Warsaw's prosthetic-device industry and the emerging software and health-related industries in Indianapolis are examples.

Only the state can marshal the resources to solicit overseas investors. It does this through offices in Asia and Europe. This process started during the recession of the 1980s when Gov. Robert Orr and I realized American companies had little appetite for expansions. During the '80s, more than 65 Japanese investments were made in Indiana and today the total exceeds 120 investments creating more than 45,000 jobs.

Like Bauer, Marcus says IEDC tends to be secretive. He admits that in many cases IEDC is only trying to protect the prospective investors' confidentiality. The latest effort at transparency at IEDC is to have yearly audits by an independent CPA firm. Crowe Horwath will update data on commitments made to the state and will revise the stats if jobs are not created in future years.

The most frequent criticism of the Indiana program is that it has not increased average earnings of Hoosiers enough to equal or exceed the national average. Gov. Mitch Daniels emphasized this deficiency in his first campaign for governor against Joe Kernan. What was left unsaid is that even the most potent program imaginable could not accomplish this in less than a decade. We are making progress with the average wage for new jobs created at $23.02 per hour, well above the state average of $18.40.

For Indiana to really accelerate its job and earnings growth, we need a better-educated work force. The state chamber of commerce estimates 800,000 Hoosiers lack basic reading and math skills to earn higher wages.

The recently announced Western Governors University, WGU Indiana, is aimed at adults already in the work force. Eight-hundred students are now enrolled in this online program. What we may need is a state version of the GI Bill of Rights instituted after World War II to correct this glaring problem of undereducated Hoosiers.

There's still a lot of work to do.•

__________

Mutz has held leadership positions including lieutenant governor and president of Lilly Endowment and PSI Energy. Send comments on this column to ibjedit@ibj.com.