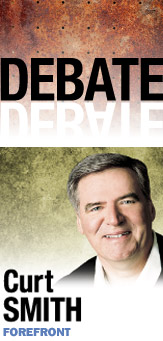 Question: Legislation under consideration in the General Assembly would allow Indiana voters to decide whether to include a ban on same-sex marriage in the state constitution. The legislation also covers "anything similar," such as civil unions. What are the pros and cons of a ban?
Answer: Mountains of evidence from social scientists show with great clarity that marriage is good. It extends our lives, helps children do better, increases the wealth of married couples, and protects us from an array of maladies that would send us to the doctor, mental health counselor or the bottle.
But despite this clear and convincing evidence, the attacks on marriage continue unabated. That's why the Indiana Family Institute is leading the efforts to elevate marriage into our state's highest law, the constitution. The Indiana General Assembly is finally taking the necessary initial steps to allow voters to take an up-or-down vote on this simple definition: "Only marriage between one man and one woman shall be valid or recognized as a marriage in Indiana."
As this debate has unfolded over the past decade, a number of related questions have arisen as well, including whether other living arrangements should be elevated in law. The Indiana Family Institute opposes that. Here's why.
Designating something as marriage when it is not, in fact, marriage is merely sophistry. Conferring a mere definition and legal weight doesn't expand the benefits of marriage. It actually destroys them.
That is because marriage is a unique and distinct institution that predates government. Marriage is marriage because of the most basic biological facts. We are a gendered species, male and female, and throughout time the way the human race has continued is through procreative acts enshrined by marriage. Marriage is not marriage because of our courts, our politicians, or our churches, as good as those things are.
Our goal with this measure is to elevate this question above the courts, which in states such as Massachusetts, Iowa and California have created chaos around the question of marriage. In so doing, we affirm that the state has an interest in channeling potentially pro-creative relationships into stable unions that will help raise the next generation. Marriage is unique and distinct because children need adults to survive. It is best when children's own two biological parents rear them.
Marriage and the "little platoons" of society we call family, to use Aristotle's phrase, also help limit the need for government. We learned this painful lesson when no-fault divorce legislation swept the country in the 1970s. Since then, poverty rates have skyrocketed, out-of-wedlock birth rates have soared, and more and more government spending is needed to care for children who do not have the benefit of a stable family environment enshrined by marriage.
It may seem novel or new to some that we're fighting over the issue of marriage. But it's actually an old question. Utah was denied admission into the union as a state from its territory status until it adopted a state constitution banning polygamy. Today, the 1896 Utah state constitution has a unique feature stating that, unless the United States and the people of Utah both agree, "polygamists or plural marriages are forever prohibited."
Across all time and all cultures, wise leaders and wise societies have recognized that marriage is good, and wise societies have protected and nurtured it. The Indiana Family Institute hopes that we can soon elevate marriage to our state constitution so the message goes forward that marriage is important, we will accept no counterfeits, and that we respect and recognize the hard work it takes to rear and raise the next generation of citizens, taxpayers and leaders.
We urge the Indiana General Assembly to allow the people, who control the constitution, to so define marriage for Hoosiers in our highest law.•
__________
Smith is president of the Indiana Family Institute, a not-for-profit public policy group founded in 1990. Send comments on this column to ibjedit@ibj.com.
Please enable JavaScript to view this content.