Here's a story problem to baffle any high school math student:
At one school, called Fountain Square Academy, half the high school students passed the state English exam required for graduation and nearly half passed the required math exam.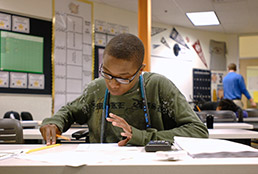 Freshman Deonte Taylor focuses on a test at Indy Met High School, a charter school trying to boost its students' standardized test scores. (IBJ Photo/ Perry Reichanadter)
At a second school, called Indianapolis Metropolitan High School, only one in three students passed the English exam and fewer than one in 20 passed the math test.
If you had to close one of the two schools, which would you choose?
When Indianapolis Mayor Greg Ballard tackled this problem as part of his regular evaluation of city-sponsored charter schools, he granted Indy Met seven more years of life and gave Fountain Square the ax.
IBJ.COM EXTRA
For earlier installments of the Testing Reform series, including photo galleries and videos,
click here.
If that sounds like so much "new math" to you, it's because there's much more story to this problem. There is little agreement—but lots of politics and complex statistics—on how to define success and failure in Indiana's public schools.
That disagreement lies at the crux of the current legislative fight over a series of Republican proposals designed to expand the number of charter schools, which receive public funds but operate independent of traditional school districts. The controversial measures also aim to make all Indiana public schools operate more like charters, with freedom from many state regulations, less influence from teachers' unions, and more competition for students.
Proponents' goal is to make all Indiana public schools perform better against their peers around the world. But performance has proven a slippery notion in an education system designed more than a century ago to give all children access to a school. Whether the school delivers a quality education is another matter.
Nearly all agree that numbers alone—whether pass rates on standardized tests, year-to-year-growth in test scores, or graduation rates—cannot tell the whole story of a school, traditional or charter. Yet without them, legislators and regulators have no way to hold schools accountable or push them to improve.
"We know that the public education infrastructure has done an excellent job of making sure that all kids have a place to go," said Karega Rausch, the city's charter schools director under both Republican Ballard and Democrat Bart Peterson. "But now we're in a global economy, a globally competitive economy, and now we need to make sure that every kid has an excellent place to go.
"Everybody is trying to define that, but there isn't a common definition."
Indeed, legislators, regulators, researchers, principals and even parents voice a variety of visions for success in public schools of all kinds. Oftentimes, those visions are only indirectly related to academic performance.
"The success of schools is that kids do not fall through the cracks," said Danville resident Candy Lefler, who enrolled her son Daniel at Indy Met instead of the public high school there because he wasn't making friends. "A successful school is one that helps the kids function in society when they leave."

Jason Dorsey and his wife chose Indianapolis Public Schools over charter schools for their four kids when they moved here from Seattle in 2003 because he said charters were "unproven," and they felt a sense of "civic responsibility."
"This is our city. These are our schools," said Dorsey, pastor of Redeemer Presbyterian Church at 16th and Delaware streets.
He praised the IPS magnet schools his kids have attended, as well as the social skills they develop interacting with children from backgrounds more troubled than their own.
"Our kids need to learn to live in the real world," he said.
'Tiny, tiny differences'
Despite Republicans' confidence in charter schools' potential to improve public education, quantitative studies have consistently shown their performance to be not much different from traditional schools'.
Charter supporters hailed a March report from Stanford University's Center for Research on Education Outcomes, or CREDO. It showed that Indiana's charter school students overall were showing small—but statistically significant—growth when compared to their traditional-school peers as a group.
The comparison was sophisticated, matching nearly 9,000 charter students against traditional elementary- and middle-school pupils of similar ethnicity, income levels and test scores. It then compared the improvement in test scores of each "matched pair" over four years.
"The CREDO study shows that we have obviously provided options where it has changed kids' lives," said Indianapolis Republican Rep. Bob Behning, chairman of the House Education Committee.
The study also found that, when considered individually, most Indiana charter schools are improving students' results at about the same rate as comparable traditional schools. In math, only one out of every four charter schools produced student growth at rates significantly faster than traditional schools. In reading, two out of every five charters produced gains notably greater than the traditional-school average.
However, Indiana's charters performed much better than charters in 15 other states studied by CREDO. Among charters outside Indiana, fewer than one in five produced significant growth in math. By contrast, more than a third of charters produced significantly worse gains than their traditional school peers.
No charters in Indiana were found to produce significantly worse growth in math.
But Jonathan Plucker, an Indiana University professor who has led several evaluations of Indiana's charter schools, said the gains shown by the CREDO study were equivalent to students' answering just one more question correctly than their public school peers.
That's not much different from the conclusion he and a team of IU researchers drew in a 2008 study of Indiana charter schools, which used a similar "matched-pair" analysis to compare pass rates on the state ISTEP test. It showed a slight advantage for traditional public schools, which Plucker's study called "no practical difference."
"These are tiny, tiny differences," Plucker said of the CREDO study. "There's no way you could look at those differences and say we've reached the Promised Land."
Different definitions
All told, the state's 62 charter schools—clustered mainly in Indianapolis, Gary and Fort Wayne—have 23,500 students, with another 3,200 on waiting lists, according to the Indiana Public Charter Schools Association. Although charters must accept all applicants, they can set a cap on enrollment.
Charters receive about $7,000 in state funding for each student—money that otherwise would have gone to the traditional school district the student attended, fueling additional controversy. But charters can't get public funding for expenses like buildings and transportation, so many schools also try to sign up donors or sponsors to cover costs.
Schools' financial health is another factor officials use to evaluate their success, but no matter the numbers—in budgets or on test results—charters cannot survive without students.
Parents must choose to enroll their children in charters, a reality that means most schools attract a high percentage of students who have struggled in traditional public schools.
Tiffany Montgomery decided to pull her son, Deiondre Bankhead, out of Northwest High School, part of IPS, because she said his grades had dropped and she felt he wasn't being challenged.
"When he was in IPS, he didn't have homework his entire freshman year. What freshman do you know that doesn't have homework?" said Montgomery, a single mother with two other kids. "Do you know what Northwest's explanation was? 'We don't give the students homework because they don't do the homework.'"
She heard about Indy Met when she went to a graduation party for a cousin who had just finished there. She liked what she heard and enrolled Deiondre. She said his grades have now risen from D's and F's to C's, B's and some A's. He also scored in the top 25th percentile on the state algebra exam required for graduation.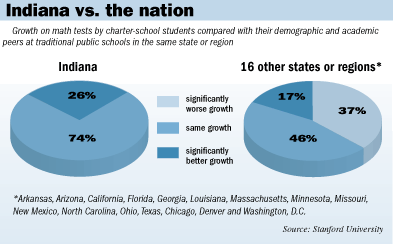 What she really raves about, however, is the individual attention from teachers and counselors. Deiondre's teacher last year, Chad Miller, called while on Christmas break in Florida to give Montgomery the news about Deiondre's test scores. And twice now, counselors at Indy Met have paid Montgomery's utility bill when her finances have been overwhelmed by hospital bills for her 3-year-old daughter, who has cancer.
"Success for me is a teacher, or anyone in that position, when they spend a great deal of time with him," Montgomery said.
Montgomery has since recommended Indy Met to about 15 other people, including her sister Toi Westfield. She enrolled her son Rashaude there after he struggled with behavioral problems at IPS and was sent to the district's Coleman Academy for Alternative Education.
"I felt like I needed to get him somewhere where he could get more attention," said Westfield, a hair stylist. She gets a call about once a week from Rashaude's counselor at Indy Met, updating her on both his struggles and his successes.
That kind of work with troubled kids has helped Indy Met produce graduation rates of nearly 80 percent after six years—a touch below the state average. By contrast, IPS graduates just 51 percent of its students over six years. And at Fountain Square Academy, only 27 percent graduate in six years.
"[Indy] Met is taking some of the least-advantaged students in our city and doing very strong work with them," Ballard said at a March 18 news conference, where he also announced the closure of Fountain Square Academy.
But while Indy Met teachers built close relationships with students, the project-oriented approach was not producing great academic results—at least as measured by standardized test scores.
Parents, students and administrators all say there was a lot of wasted time each school day. Seeing kids "not on task" so frustrated Jim McClelland, CEO of school sponsor Goodwill Industries of Central Indiana, that last fall he said he would pull Goodwill's $250,000-a-year subsidy of the school if things didn't improve.
School officials responded by overhauling Indy Met's approach midyear in hopes that a more traditional class structure would improve students' performance. That's the kind of flexibility supporters say gives charters an edge.
Even so, many charters have struggled with enrollment and retention. Not until this school year did Indy Met exceed its enrollment goal, retaining seven out of 10 students from the previous year.
By contrast, one of Fountain Square's failings was that only four out of every 10 students enrolled for at least two consecutive years. Its enrollment has fallen short of its targets every year. And its rate of parent satisfaction averaged about 10 percentage points lower than that of Indy Met, according to Ballard's office.
"For Fountain Square, really, there's a continuing pattern that we didn't see changing," Ballard said.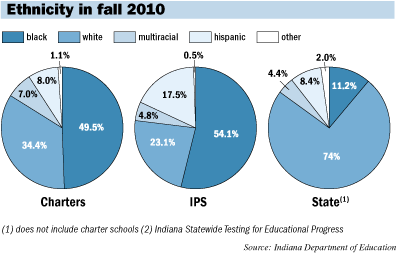 Accountability in action?
Margaret Raymond, the Stanford researcher who authored the CREDO study, acknowledged that "certainly not all" charter schools have lived up to their promise.
But she sees great hope because at least some charters have proven wrong the 40-year-old consensus in education circles that teachers and schools are powerless to overcome the devastating impacts of poverty and broken homes on students' academic performance.
"When Roger Bannister broke the four-minute mile, he produced proof it was possible and opened up a whole new horizon of endeavor," Raymond wrote in an e-mail. "That's what I see with hundreds of charters that are high-performing [both in achievement and growth] with populations that have previously been discounted as incapable."
However, Raymond also has argued that poor-performing charter schools must be closed. That has proven easier said than done, both in Indiana and elsewhere.
"We were supposed to have so many charter schools and then evaluate. That was supposed to happen and it did not happen," said Indianapolis Rep. Greg Porter, the ranking Democrat on the House Education Committee. He added of charters, "Hold them accountable as you do traditional public schools."
Only two charter schools have been forced to close in Indiana: Flanner House Higher Learning Center in Indianapolis and Urban Brightest Community Academy in Gary. In both cases, financial problems were a factor.
Ballard's decision to close Fountain Square is the first time a school will be shut down primarily for academic reasons. But this "closure" might have limited practical effect.
After getting pushback on the closure decision from the leaders of Fountain Square—and fielding questions from the staff of Gov. Mitch Daniels—Ballard agreed to allow the Fountain Square board to apply to launch a new school after the current one closes.
However, Fountain Square leaders grew frustrated with Ballard's handling of the situation, so they have applied to Ball State University—the other charter-school authorizer in Indiana—to open a "new" school in the same building and with the same general program.
Ballard's staff faulted Fountain Square for not having its students improve fast enough to reach grade-level performance within two or three years. The school has averaged fewer than six in 10 students growing on a pace to catch up to the proficiency expected at their age.
At Indy Met, not every student is catching up, either. But Ballard's staff regards the school differently, since, unlike Fountain Square, it is not feeding its high school with students from its own middle school, and therefore has less time to help them improve.
Also, Indy Met helped its case by presenting data showing its students getting better on standardized tests every year they were at the school—growing at rates significantly greater than national averages.
"Average growth isn't enough," said Rausch, Ballard's charter schools chief. "They have to make more than average growth in order to catch up."•
Please enable JavaScript to view this content.