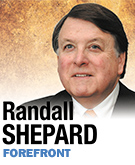 More than a month ago, Wisconsin voters went to the polls to elect a member of their state supreme court. The contest had turned into a multimillion-dollar slugfest featuring massive infusions of cash from interest groups inside and outside Wisconsin.
As a recount process now slogs forward, it becomes more apparent that the actual objective of the contest was to reaffirm or undo what the people's recently elected legislators and executive officer had done. This is bad for courts and bad for democracy.
Wisconsin's turmoil, of course, did not originate in the judiciary or with a judicial election. It began after the most recent general election, when a Republican governor and Republican majorities were elected to both houses of the Wisconsin Legislature. With the two political branches united under the same party banner, they proceeded to advance legislation about unions and public-sector workers that sparked massive protests from labor unions and Democrats, ultimately leading Democratic lawmakers to depart for Illinois.
Eventually, the legislation was passed, a lawsuit was filed, and an injunction was issued barring the implementation of the law. The contending political forces then moved their struggle to a new venue—the upcoming Wisconsin Supreme Court election.
Judicial elections in Wisconsin are supposed to be nonpartisan, but both parties worked hard to place in office a justice they thought would validate or invalidate the legislation. The Republicans found their champion in incumbent Justice David Prosser and the Democrats found theirs in Assistant Attorney General JoAnne Kloppenburg.
This type of activity is contrary to the notion that the judiciary should resolve cases based on the facts and the law. We should not want judges who put their fingers in the air to see which way the political wind is blowing.
Forty years ago, Indiana chose its appellate judges by using good old-fashioned partisanship. Now, we select our appellate judges using a combination of merit selection and retention votes by the public.
When there is a vacancy on an Indiana appellate court, those who want the job submit a lengthy application. A constitutional commission of three lawyers, three non-lawyers and the chief justice of Indiana review these applications. They conduct public "job interviews" and submit the three strongest candidates to the governor, who then appoints one of the three.
Once appointed, the new judge or justice is subject to periodic retention votes by the public. The retention vote is a ballot question that asks, for example, "Should Justice [or Judge] Smith be retained in office?"
This system of merit selection plus retention voting has saved Indiana from converting its judiciary into yet another political arena. Litigants wishing to have a high court invalidate a law or overturn a jury decision must do so with their persuasive skills and legal precedent, rather than by attempting to buy with campaign money a sufficient number of judges so the court will rule their way.
I think some activists who thirst for no-holds-barred, expensive judicial elections tend to assume voters will always vote in a manner consistent with the general center/right posture of most Americans. The experience in Wisconsin shows this may not be the case.
Elected judges can tilt to the left or right the same as appointed judges. And a selection system that attracts candidates and contributors to a judicial political fray will likely produce more judges who deem themselves empowered—nay, encouraged—to impose their own policy choices on society's major issues through judicial opinions. Bad idea.
One thing is clear from Wisconsin. Big-bucks elections diminish the judiciary's image as a neutral body that decides disputes fairly and based on the law. Merit-selection helps prevent such a result. Anything that can lessen rather than encourage a political judiciary is better for everybody—left, right and center.•
__________
Shepard is chief justice of the Indiana Supreme Court. Send comments on this column to ibjedit@ibj.com.
Please enable JavaScript to view this content.