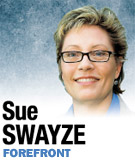 Central Indiana's favorite son is off the reservation in an era of the conservative clarion call. Dick Lugar is going ugly early in his primary fight. Not just toward his opponent, but to his base.
He recently lashed out at Republican county chairmen accusing them of being duped by failed Republican strategy with unelectable candidates (read Richard Mourdock). Oops—I hear they're pretty hot.
To be sure, Lugar has created a strong legacy of service and leadership in Indianapolis and across the state. He's left behind a trail of key leaders who have made their way into the top echelons of state government, including the governor, himself. For this we are grateful.
But if Hoosiers have learned anything over the past two years, it's that our 2008 "blue moment" was a mistake. Lugar must be dizzy from his too-close-for-comfort working relationship with President Obama and the Senate Democrats. He hasn't gotten the message that we want a do-over.
We're thirsty for a conservative senator who wants a strong private sector, pro-American leadership, limited government, pro-family policies and pro-life stalwarts.
Lugar's record as a foreign policy strategist has been critical to U.S. security. But look how far he's fallen on traditional conservative issues.
He was the lone Republican to vote for cloture with the Democrats on Obama appointee James Cole for the No. 2 position at the Department of Justice. This is the same Cole who missed the impending AIG crash while serving as an independent monitor shortly before, costing us a $182 billion bailout, and one who wants to try terrorists in U.S. courts instead of military ones. Is this the guy we want in the Department of Justice?
On the pro-life side of the ledger, Lugar repeatedly misses the mark and, frankly, must be stopped from doing any more damage. He's voted to confirm Obama's pro-choice Supreme Court nominees Sotomayor and Kagan, and also to confirm a local family friend who struck down Indiana's original abortion informed-consent law, David Hamilton, to the federal bench. This is the same not-in-Jesus'-name Judge Hamilton that Christian conservatives remember all too well.
Lugar was also poised to support Dawn Johnsen, a former radical pro-abortion lawyer for NARAL Pro-Choice America and Obama's pick for the Department of Justice who withdrew from the nomination after an outpouring of opposition. It doesn't get any more pro-abortion than that.
There's plenty more, like a D+ rating from the National Rifle Association, a former co-sponsor of the DREAM Act to fast-track amnesty for illegal immigrants (connections to the group in Indiana whose "community organizing" teens were recently arrested at the Statehouse), supported federal funding for research on human embryos and against the first wave of defunding for Planned Parenthood, and, well, he's Obama's favorite Republican. Speaks volumes.
Lugar and the current conservative momentum just don't jive. In addition to his own actions, most conservatives whisper that Lugar's staff in Indiana and on the Hill are highly culpable as moderates, leading him away from the conservative leadership we grew to expect.
With these types of issues at play, Joe Donnelly is a non-starter. We want a do-over, remember? But we're grateful. Donnelly's exit from the congressional race gives conservatives the giggles—he's cleared the way for former state Rep. Jackie Walorski to take his congressional seat and continue Indiana's evolution toward a stronger conservative congressional delegation.
In the last cycle, Republicans swept through the southern part of the state, knocking off long-standing moderate Democrats with a stronger conservative agenda. The likes of Hill and Van Haaften, Bischoff, Blanton and Stillwell fell prey to voter angst with failed Blue Dog policies.
I never dreamed I'd compare Lugar with moderate Democrats, but his record speaks for itself. In this primary fight, Lugar's momentum in the south is gone before it starts.
Mourdock can restore what Lugar used to offer: strong, prudent leadership with Hoosier values. Lugar has rested too long on his laurels and isn't heeding the clarion call.•
__________
Swayze leads the Indiana Family Institute's Hoosier Congressional Policy Leadership Series and has held numerous lobbying positions with not-for-profit organizations. Send comments on this column to ibjedit@ibj.com.

Please enable JavaScript to view this content.