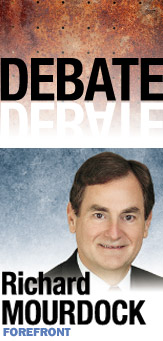 Question: "How do you define conservatism?"
Answer: Conservatism: Activities in defense of the U.S. Constitution so that the federal government is limited in power, individual liberty is enhanced, and American prosperity is assured. Conservatives believe that all have the right to rise according to their abilities and initiatives.
Conservatism's opposite is modern liberalism. Liberals believe the government should serve to provide equality of outcome for all. They see individual achievement as less important than collective achievement.
To enforce this dogma, liberals require the government to grow ever larger. They accept, as the price of larger government, the restrictions of individual freedoms and limits on individual choices.
Constitutionally based conservatism and liberalism offer a clear choice, and it is, in Milton Friedman's words, time to choose for our economy, which is staggering. America's place in the world is being questioned.
In 1981, President Reagan boldly stated his administration's goal to roll back the advancement of communism. Few believed it could occur, but proof of the Reagan doctrine's success is evident in the sweet memory of the falling of the Berlin Wall and the collapse of the Soviet Union.
Just as the Reagan doctrine rolled back the curtains of communism internationally, we must now have a new doctrine of constitutional conservatism to roll back our expansive and overreaching federal government.
If we wish to revitalize our economy, increase the standard of living for our citizens, and reassert American exceptionalism, we must scale back government to more traditional functions. We must end the unrealistic and unsustainable expectation that government exists to provide financial benefits and security to all and replace it with the founders' belief that all Americans, given the opportunity and freedom to do so, can achieve individual prosperity.
Two centuries have passed since our founding, but self-evident truths remain.
All men are created equal. Those words from the Declaration of Independence were taken literally by the founders. We enter the world with equal opportunity but no promise of outcome exists.
Conservatives believe that all should be inspired by our hope for success, and we believe the successful will, in turn, inspire others.
All men have the right to fail. Today, our government endorses "too big to fail" and "crony capitalism" to prevent the risk of loss to some.
But of course, the government isn't preventing the risk of loss to all. It picks those it wants to help while ignoring others. Thus, at the start of the financial crisis, Bear Stearns survived but Lehman Brothers was allowed to collapse.
Government bureaucrats then picked winners and losers in the automobile bailouts and in the insurance and banking industries. If you worked for one of the selected survivors, you won, but other workers lost when their companies were not deemed worthy of the government's selective blessing.
Government's picking of winners and losers is now so institutionalized that Congress debates how individuals might be segregated for special application of the law under the proposed DREAM Act, for it would grant special status to the children of illegal immigrants.
Special status? That one person would be viewed as more special than any other is antithetical to "all men are created equal." The words "equal protection under the law" have no meaning to all if special status is given to any.
Liberals wish to find compassion in such acts, but conservatives rally to remind them there is no separate-but-equal application of the law.
Though our constitution consists of barely 7,600 words, it has led billions to the "blessings of liberty." By restricting the powers and influence of the federal government and by insisting on equality of opportunity to all, it grants individual freedom and the potential for achievement.
It is time to choose and our choice must be constitutional conservatism.•
__________
Mourdock, Indiana state treasurer, is seeking the Republican nomination for the U.S. Senate. Send comments on this column to ibjedit@ibj.com.
Please enable JavaScript to view this content.