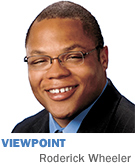 If Indianapolis annually produced a balance sheet, business leaders would rightfully be concerned about the city's long-term asset development.

In Marion County, the hub of central Indiana's regional economy (and parent company to subsidiary counties), only 34 percent of residents hold an associate's degree or higher. This is problematic, considering Lumina Foundation for Education's market analysis. That analysis projects that, within seven years, 60 percent of all U.S. jobs will require a high-quality post-secondary credential. Over 90 percent of Indiana's 50 fastest-growing careers will require some form of postsecondary training. Consequently, the city's projected return on assets is in jeopardy, which should be alarming to business leaders.

According to the Pew Research on States, two-thirds of median family income is determined by education attainment level. The vitality of the central Indiana economic region is principally dependent on its ability to improve worker productivity and shift the bell curve of median family income. Both variables are largely driven by education and skills attainment—or, stated in business terms—infrastructure development.

National research states that low-income students are the least likely to obtain a postsecondary credential. More than 60 percent of all Marion County eighth-graders come from low-income families, a fact that should be keeping our CEO (mayor) and board (community leaders) awake at night, because it presents a major risk to the city's long-term financial position.

Essentially, this means the majority of our city's future assets are projected to make minimal contributions to the vitality (or profitability) of the city—unless we make some significant investments in upgrading those assets. Increasing education attainment rates ultimately increases productivity, thereby increasing the rate of return on our investments/assets. That's right—ROI. Education is an investment in which our city is expected to see a positive rate of return for every dollar invested and every degree earned.

We must make two key strategic investments to increase education attainment rates in Indianapolis:

• Improve college-going rates of low-income students,

• Develop cost-effective methods of providing adult education opportunities that lead to high-quality credentials.

Research indicates that only 10 percent of students from the lowest family income quartile will obtain a bachelor's degree within six years of graduating from high school. In business terms, the majority of our developing assets will have a diminishing rate of return in light of future labor market projections (that indicate a post-secondary credential will be necessary for maintaining adequate productively levels).

Additionally, we must focus on removing barriers to adult education. In central Indiana, nearly 300,000 residents have attended college without earning a degree. Unfortunately, some college attendance does not significantly increase median family income. In fact, I would argue that one would realize a negative return on investment if a postsecondary degree is not obtained due to opportunity cost, debt incurred, and the marginal increase in expected income. Finding ways to upgrade the skills of our work force would add tremendous value to the central Indiana economic region.

Ultimately, it will take the hard work of our mayor, community leaders and central Indiana residents to focus on the business of education to sustain central Indiana's economic position. Simply put, we must improve education efficiency (increasing the number and percentage of total ninth-graders that persist toward postsecondary opportunities) and productivity (increasing the percentage of residents, adults or traditional students that earn a high-quality post-secondary credential).

This is the business of education that is essential to strengthening Indianapolis' balance sheet and maintaining an economically viable regional economy. It is also why one of Central Indiana Community Foundation's three strategic initiatives focuses not just on college readiness—but also success.•

__________

Wheeler is a senior grants officer at the Central Indiana Community Foundation, and serves as lead staff for CICF's College Readiness and Success Initiative and the Summer Youth Program Fund.