In study after study, it ranks as one of the worst freeway bottlenecks in the area: Interstate 69 at 116th Street and State Road 37 in Fishers.

Northbound I-69 can screech from 65 mph to a 12 mph crawl within minutes on a given afternoon, Indiana Department of Transportation data show. Traffic can back up all the way down to 96th Street—curbing profit of commercial vehicles and aggravating commuters.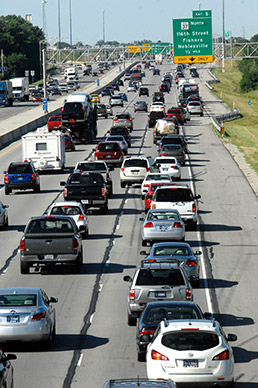 Northbound traffic snarls when drivers approach the 116th Street exit and dart from the left lane to the right lane to reach State Road 37. (IBJ Photo/ Perry Reichanadter)
After years of complaints from motorists, INDOT and its consultants have come up with relatively simple design fixes that address exit and entrance ramps of the notorious interchange.

Plans obtained by IBJ show a combination of additional lanes and moving the southbound I-69 exit to 116th Street farther north, along with new overpasses connecting the interstate to State Road 37.

At the heart of the design changes is the removal of two pinch points. At each of the points, drivers make an art of dodging one another as they shift from the right lane to the left and from the left lane to the right.

One pinch point is within a collector/distributor corridor where motorists who just exited northbound I-69 veer right onto State Road 37. There, they cross paths with vehicles coming off 116th Street and trying to veer left onto I-69 north.

The other is along southbound I-69, where drivers exiting onto 116th must veer right—straight into the path

of southbound vehicles on State Road 37 trying to veer left to I-69 south.

On northbound I-69, motorists at the last minute budge

right into the 116th/State Road 37 exit. Those who've already cued up in the right exit lane slam on their brakes to avoid a collision, which begets a chain reaction among vehicles approaching from farther south.

Quite a few motorists have called INDOT to suggest building a concrete barrier to prevent last-minute merging, said agency spokesman Will Wingfield.

But INDOT says the root of the problem is actually several hundred yards to the north.

There, in the exit's collector/distributor corridor, vehicles swooping down from 116th Street overhead attempt to merge left to enter a ramp leading to I-69 north. As they merge left, other drivers are trying to merge right to the ramp for State Road 37.

That crisscrossing, weaving movement "is the primary cause of that backup" to the south, Wingfield said.

Uncrossing lanes

The proposed solution is simple. Motorists entering the collector from 116th would no longer have to merge left. They'd stay in their lane, which would be curved to the east to tie into I-69 farther north.

Meanwhile, exiting I-69 motorists attempting to merge right into the State Road 37 ramp would continue straight onto a new overpass to be built above I-69 that will swing left and tie into State Road 37. The new bridge will be built just south of the existing one and have two northbound lanes rather than one, as now configured.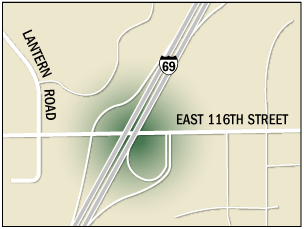 It's so simple that one wonders why the interstate wasn't designed "uncrossed" decades ago.

Back then, though, Fishers wasn't among the fastest-growing towns in the nation. Planners likely didn't anticipate the traffic volumes of today caused by the flight from Indianapolis to countless residential developments sprouting in the Fishers and Noblesville areas.

"We think a lot of those traffic backups are going to be addressed" by eliminating the pinch points, Wingfield said.

Meanwhile, northbound I-69 motorists exiting onto 116th would continue to veer right from the interstate, in the current configuration. But additional exit lanes will be added to 116th to improve traffic flow.

Southern squeeze
The other fix involves eliminating a pinch point that tangles the southbound I-69 exit at 116th.

Currently, southbound State Road 37 traffic attempting to enter I-69 must merge left into a collector/distributor lane of cars exiting southbound I-69 and trying to merge right to the 116th Street exit ramp.

To eliminate the nail-biting ballet, INDOT plans to build a new southbound I-69 exit to 116th Street.

Vehicles would exit the interstate farther north—just south of Cumberland Road—and travel on a new ramp lane that ties directly to 116th.

Southbound State Road 37 traffic, meanwhile, would travel on a new bridge over the new southbound ramp to 116th and down onto the existing collector/distributor leading to I-69 south.

The INDOT plan also calls for changes in lane configuration atop the 116th Street bridge to reduce congestion on the busy street. The bridge has its own share of congestion issues, said Dan Canan, executive director of the Fishers Chamber of Commerce.

Canan said businesses would welcome improvements to the interchange, categorizing the congestion, at best, as "an issue most people have learned to deal with … That [interchange improvement] would be a very positive impact on the business community."

INDOT has put the project on a fast track. It plans to let the project for bidding in the spring, Wingfield said. Earlier this month, a drilling rig was taking soil samples on the site of the planned new bridge for the northbound State Road 37 ramp.

INDOT estimates the project could be done for $30 million to $40 million. The department estimates that the ongoing slump in the construction industry should make for favorable pricing, which it has enjoyed for other highway construction, including the I-69 extension project in southwestern Indiana.

Change in priorities

The projects are so pressing that INDOT has pushed them up the list of priorities—so far, in fact, that they now eclipse the massive planned reconstruction of the interchange at I-69 and I-465.

The I-465/I-69 project, announced in 2007, is part of a roughly $500 million makeover of the interstates on the far northeast side of Indianapolis. The project would feature sweeping flyover ramps and shunt local traffic to new collector/distributor corridors at 82nd Street to improve traffic flow.

The massive project was not supposed to include work as far north as 116th at I-69.

One reason for the change in priorities might be lack of money.

INDOT has already spent much of the money it received from the state's leasing of the Indiana Toll Road five years ago, which netted nearly $4 billion. INDOT was the big recipient, receiving more than $2 billion for Gov. Mitch Daniels' Major Moves highway program.

Much of that was spent on the new-terrain I-69 being built between Evansville and Crane, in southern Indiana, that someday could be linked to I-465 south of Indianapolis.

INDOT has already spent $100 million on northeast-side projects, including additional lanes to I-465 and rebuilding interchanges at Keystone Avenue and, soon, a new Allisonville Road interchange.

Wingfield said INDOT's plans for the I-465/I-69 interchange depend in part on the federal budget coming out in September. "That will give us a better picture for the years ahead."

But INDOT does have additional work south of 116th that might take place in the next few years, including possibly adding another lane to southbound I-69 all the way down to 82nd Street.

In recent years, INDOT rebuilt the median shoulder of northbound I-69 to serve as an additional lane, and such a lane could be added to the southbound shoulder along the median. A contract on that could be let in 2013.•