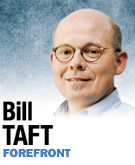 I have become increasingly confused by the parade of Republican governors falling all over themselves to cancel high-speed rail projects and oppose local transit initiatives. Since when has opposing government investment in big transportation projects been a credo of the Republican Party?
Indiana legislators have refused to even let central Indiana residents vote on whether to fund an expanded transit system that could help revitalize urban neighborhoods and relieve traffic congestion. This attitude is not grounded in traditional conservative attitudes toward transportation investments.
History actually shows that Republicans have been the authors of the largest publicly funded transportation projects in U.S. history because they believed infrastructure investment was an important way government could be a catalyst for economic development.
The first big federal push into transportation investment was through the creation of the trans-continental railroad. The Pacific Railroad Act of 1862 was passed by the Republican Congress and signed by President Lincoln. This act provided for 100-percent financing to the railroad companies through federal bonds and also transferred 10 square miles of land to the companies for every mile of rail line constructed.
The federal government eventually transferred 175 million acres to the railroads for their own development, which equals over 10 percent of the U.S. land mass, an area larger than Texas.
The transcontinental railroad linked the previously isolated West Coast to the union and opened up the plains states and mountains to tremendous economic development over the following 50 years.
The second massive Republican-initiated transportation initiative was the Interstate Highway Act of 1956, which was signed by President Eisenhower. This act authorized a 50-percent increase in the gas tax so the federal government could fund 90 percent of interstate highway construction undertaken by states within strict federal design standards.
The 46,000 miles of highway eventually constructed was estimated upon adoption to cost $27 billion, but actually cost $128.9 billion ($425 billion in current dollars). Economists estimate this investment generated a 3-to-1 return, and it resulted in a dramatic expansion of the automobile industry that eventually employed one in seven American workers.
Here in Indiana, Gov. Daniels' Major Moves initiative and the resulting Interstate 69 construction is an excellent example of the party of "small government" reaching beyond means at hand to launch massive public transportation investments. The $3.8 billion invested in repairing and expanding Indiana highways through this initiative is one of the largest state expenditures on transportation occurring nationally during a recession.
So, what does this have to do with the current Indy Connect debate over authorizing central Indiana to develop a robust public transit system? I believe this historical framework should allow Republicans to embrace the economic development opportunity that a fully functional transit system would create for Indianapolis.
Just as Lincoln's transcontinental railroad opened up fallow land for development and unified our nation, a dense network of light rail and high-speed buses would open up existing urban neighborhoods for reinvestment, give residents access to new employment opportunities, and link together isolated portions of our region into a truly urban community.
Just as Eisenhower's interstate system enabled development of new geographies and economic sectors, transit will enable Indianapolis to maximize its urban land and become a truly livable city attractive to people who don't choose to depend on a car. Becoming a region of walkable communities linked together by convenient and efficient transit will be essential if Indianapolis is to compete internationally for economic growth in coming decades.
So let's vigorously debate the true merits of funding an excellent transit system without the distractions of conservative posturing about the evils of government supporting large transportation projects. History shows that Republicans have repeatedly led the creation of visionary transportation systems and they should do so again.•
__________
Taft is Indianapolis executive director of Local Initiatives Support Corp., a not-for-profit that invests in neighborhood redevelopment projects. Send comments on this column to ibjedit@ibj.com.

Please enable JavaScript to view this content.