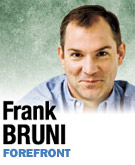 It's a foolish question, asking how smart a politician is.
It's too vague. It ignores all the different wrinkles of intelligence and ways to measure it, along with the debatable link between brain power as it is typically defined and skilled governance in terms of actual results.
And yet it comes back around almost every election cycle, as it's doing now.
Meet Rick Perry. At Texas A&M University, his grades were so poor he was on academic probation. He flunked advanced organic chemistry, which sounds eminently flunkable. He got a C in animal breeding, which doesn't.
His academic background, coupled with his rejection of climate change and fondness for gauzy generalities, prompted a story in Politico with this subtle headline: "Is Rick Perry Dumb?"
Based on grades alone, it seems so. But even a politician as outwardly cerebral as Al Gore has some explaining to do. Gore got his very own college D—in a course about man's place in nature, no less.
Perry can't dazzle in policy discussions. When the radio talk show host Laura Ingraham recently tried to get him to say something specific—anything specific—about how America should deal with China, he clung so tightly to banalities that she was forced twice to plead: "What does that mean?"
I'm less troubled by how thickheaded Perry may be than by how wrongheaded we already know he is on issues like evolution, which he says is just a theory, and homosexuality, which he has likened to alcoholism.
President Barack Obama has those issues right. And can talk authoritatively about them and most others. In this one poised man, erudition and eloquence join hands.
But they don't save him. Recently, he set himself up once again to look like the nation's deferrer in chief by proposing a date for his jobs speech that had the possibility of provoking Republican opposition and did precisely that, at which point he retreated.
Worse, this was only the latest in a long series of questionable calculations. Was it smart to lavish all that precious post-election political capital on health care reform rather than economic revitalization and job creation?
Was it smart not to head off a debt-ceiling showdown by settling the matter during last year's lame-duck session of Congress, before Republicans took the reins in the House?
That's a failure of some kind, and intelligence may be one word for it.
Many Republicans complain that journalists tend to equate the anti-intellectualism and populist affects of many of their party's candidates with outright stupidity. And they say that Democrats get a greater pass on gaffes than Republicans do. There's merit to the argument.
Then there's the whole matter of whether we're well served by a brainy president. In an excellent piece in Slate in 1999, Jacob Weisberg explored a growing body of thought that a president's supposed brilliance (or lack thereof) has no bearing on success in office. By this theory, relatively ordinary smarts yielded extraordinary accomplishment (Reagan, Franklin D. Roosevelt, Harry S. Truman) while extreme intelligence led to defeat (Jimmy Carter, Richard Nixon, Herbert Hoover).
Weisberg rightly noted the huge flaws with this analysis, including the small sample size and the subjectivity involved in judging achievement. Here's another: What makes Carter more brilliant than Roosevelt—or, for that matter, Reagan?
That assessment reflects a narrow, traditional understanding of smarts as a sort of academic aptitude. But a whole genre of best-selling books insist—correctly, I think—that there are various ways to be clever: "Emotional Intelligence," "The Wisdom of Crowds." None requires exemplary SAT scores.
Instead of talking about how smart politicians are or aren't, we should have an infinitely more useful, meaningful conversation about whether we share and respect their values and whether they have shown themselves to be effective. Someone who rates high on both counts is someone to rally unreservedly around.
Right now, neither Perry nor Obama fits that double bill.•
__________
Bruni is a New York Times columnist. Send comments on this column to ibjedit@ibj.com.
Please enable JavaScript to view this content.