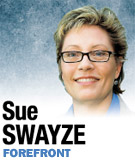 IPS Superintendent Eugene White may not have realized recently that he hit the crux of the school reform issue. White said in a Sept. 13 Indianapolis Star story that the disappointment of families and community members with the takeover of Arlington and Howe High Schools was the hardest part of his decision not to sue.
"They were really counting on it because that's all they had to hang on to," he said. "It represented their last hope."
Their last hope. Really?
If White and the education establishment had their way, their failing schools would be all they had to hang on to. With liberal education officials keeping a death grip on "their" failing public schools and without school choice, vouchers and other options, he is exactly right: They have no other choice.
I'll be transparent. I've likened the Indiana State Teachers Association and others to whom teachers must cede control to the mafia. They've wielded unreasonable power in our state and they've bullied lawmakers—even their friends.
Finally, Gov. Daniels and Superintendent Tony Bennett (Rock Star!) and the General Assembly took the reins and got the job done. And what does the mafia do? Shield themselves behind families who "have no other hope" and resort to labor-movement thug talk of "taking the SOBs out."
Change is hard, for sure. But the stirring of citizens' souls in this country is exciting.
"Take it back!" I shout. Whether it is reclaiming public schools, holding elected officials accountable for tax-and-spending issues (cup of tea?), moving elected officials out of the way so we can reform Indiana government, or removing funds from entities that provide abortions, we are finally starting to say, "You know, that ain't right."
Liberals cling to the government systems they count on for their own incomes and ideological nurturing. They file suit, cry foul, and even invoke that ridiculously errant "church and state" mantra. As a former member of the social work community, I know the well-meaning claim that we're advocating for those who can't speak for themselves.
Not true. We want to help families when they "need" what we want to give them. But when their needs challenge our sacred cows, in this case the education system and its boss the ISTA, we cry that's not in their best interest.
The people are finally being heard. A January survey on school choice commissioned by the Friedman Foundation found that Hoosiers have a large disconnect between their preferred school type and actual enrollment patterns.
While 9 percent of children attend private schools, 41 percent of parents would choose a private school as their first option. Conversely, while 90 percent of Indiana schoolchildren attend regular public schools, 38 percent of parents would choose a public school as their first option.
In White's county of Marion, 80 percent of voters are most favorable to charter schools. Statewide, those who strongly favor charters outnumber those strongly opposed 4-to-1.
And there's more to this choice thing. Recent research by Friedman fellow Greg Forster showed that 18 of the 19 existing empirical research studies across the country on the impact of vouchers (letting people choose where to spend their tax dollars) shows overwhelmingly that vouchers help public schools. In the 21 years since vouchers began in Wisconsin, almost 200,000 students nationwide are choosing private schools with their vouchers and public schools have actually improved.
I would, too, if I had competition.
It appears White may be reading the tea leaves. All future whining on the part of the public school system is now suspect. We're finally getting the picture, except for those sad families at Howe and Arlington who, according to White, want to keep the only failed system they know.
It's time to stand up for the victims of a failing regime. Oh, I mean schoolchildren, not township taxpayers.•
__________
Swayze leads the Indiana Family Institute's Hoosier Congressional Policy Leadership Series and has held numerous lobbying positions with not-for-profit organizations. Send comments on this column to ibjedit@ibj.com.
Please enable JavaScript to view this content.