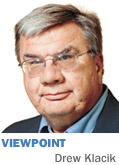 The financial news and opinion site 24/7 Wall St. recently ranked Indianapolis No. 2 in its list of America's 10 sickest housing markets. And NAHB/Wells Fargo ranked Indianapolis as one of the 10 most-affordable housing markets a few weeks earlier.
Top-10 lists are popular. Fellow Hoosier David Letterman delivers one every evening. Purdue University fans get excited when their basketball team makes the top 10. Indiana University fans have renewed hope because of a top-10 recruiting class. Then, of course, there's the Big Ten, which is so enamored of top-10 lists that it retains its name despite having 12 teams.
The Big Ten (12) example points to a big challenge for top-10 list makers. Sometimes, there's little difference between No. 10 and No. 11—or even No. 25 for that matter.
A second challenge is that two different organizations, each ranking the same thing, can come to different conclusions. Take football, for example. The various polls often disagree as to who's No. 1.
Given these list-making challenges, how can Indianapolis rank as one of the sickest and most-affordable housing markets? Do we deserve these rankings? And what do they mean?
To start, I compared some of the 24/7 Wall St. data for Indianapolis to other top-10 places as well as some other places in the Midwest.
The key criteria in this ranking were homeowner and rental vacancy rates for the 75 largest U.S. cities or, more likely, their metropolitan areas.
Of the 75 areas considered, Indianapolis' metro area had the fifth-highest home vacancy rate and 10th-highest rental vacancy rate. Tucson, the one place deemed to have a sicker housing market, had the highest home vacancy rate and sixth-highest rental vacancy rate.
But here's where it gets confusing: When considering some other housing-market fundamentals, Indianapolis appears sound. For example, from 2008 to 2010, the median sale price for a home in the Indianapolis metro area increased $12,100, or 10.9 percent.
The only community on the 10 sickest-housing-market list to experience a greater increase in median sales prices was Oklahoma City (13.7 percent). Only two others had any increase at all.
To further confuse matters, Cincinnati, Milwaukee and Minneapolis didn't make the sick-housing-market list, yet all three metro areas experienced a decline in median sales prices—Minneapolis with a precipitous 15.5-percent drop.
Additionally, Indianapolis was one of six sick-housing markets to experience a decline in unemployment in the core county (from 10 percent in June 2010 to 9.1 percent in June 2011). Meanwhile, Milwaukee's, Minneapolis' and Nashville's core counties (none of which made the top-10 "sick" list) all experienced an increase in unemployment during the same period.
Then there's population growth. From 2000 to 2010, Indianapolis (Marion County) grew 12.6 percent—fourth-fastest among the sick-housing-market communities. Meanwhile, Cincinnati's and Milwaukee's core counties lost population—but didn't make the sick list.
By now, you might be asking how Indianapolis can increase employment and gain population yet still have high vacancy rates and a sick housing market?
At least part of the answer is that, from 2000 to 2010, while Marion County added 39,963 people, it also added 36,893 housing units. And that is why we rank so high in affordability. In fact, it might be best to not be in the top 10 in either the "sick" or "affordable" lists. Then, Indianapolis would have more balanced market fundamentals, fewer vacant houses and better price appreciation.
As for top-10 lists in general, they're about image. The data provide the real substance and inform policy. And substance matters, as the Butler University men's basketball team taught us the past two seasons by proving that you don't need to be in the top 10 to make the Final Four.•
__________
Klacik is a policy analyst for the Indiana University Public Policy Institute at IUPUI. He focuses on public policy related to economic development, state and local taxation, affordable housing and neighborhood development.
Please enable JavaScript to view this content.