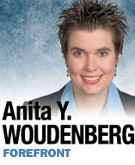 The state of Indiana is trying to dodge its responsibility for what happened at the state fair in August. At least that's what some would have us believe.
The concert stage collapse was a tragedy, taking seven lives and injuring more than 60 others. Understandably, wrongful death and other tort actions have been initiated against private parties to compensate for those losses and injuries. But because of the Indiana Tort Claims Act and some prompt action by the governor and attorney general, the process against the state looks a bit different.
Indiana has a $5 million aggregate limit on what can be recovered at any given event, with a $700,000 limit on any individual's recovery. In an effort to get that money out promptly, Gov. Mitch Daniels and Attorney General Greg Zoeller set up a website through which claims can be processed and funds distributed quickly.
But some of the victims are crying foul play. On Sept. 26, a federal lawsuit was filed, claiming this effort to process claims quickly in fact was an effort to circumvent the judicial process and keep those injured from getting a fair shake at litigating their claims to recover the money they rightfully deserved. The lawsuit also claims that the $5 million limit encourages carelessness by making it economical for the state to take risks with Hoosiers' lives.
Now I admit, $5 million divided among more than 60 people, the bulk of whom suffered injuries, in many cases serious ones, does not go far to help with medical expenses. And certainly a basic sense of justice dictates that those who lost a husband, wife or immediate family member ought to receive something meaningful for their loss, even though no amount could ever truly rectify that loss.
Maybe the Legislature should revisit the cap amount in light of this to determine whether the law needs to be retooled for situations where a sizable group needs to draw from the same $5 million pot.
But establishing a damages cap of some kind for lawsuits against the state makes sense. The state most certainly should be accountable for any harm that occurs on its watch, but given how hard-won every state dollar is in this economy, that accountability must be balanced with the fiscal reality that our government needs to function to provide basic needs for its residents.
Indeed, it is this very function that makes the argument that the cap promotes negligence unreasonable. Unlike businesses, government is designed to be for the people. That the government exploits damages caps to justify harming its people through some sort of cost-benefit analysis is doubtful.
The people are always watching, and will hold government officials accountable, most significantly at the ballot box. And our officials know that.
That the state's effort to expedite the process is an effort to undermine the constitutional rights of the victims is also unlikely. The goal of the process set up by our state leadership is to ensure that any state money spent addressing this matter is properly directed to the victims, rather than line litigators' pockets.
There is a trade-off, certainly—the victims may wind up with a bit less than if they litigated their claims in court (although they'd be out attorney's fees going that route). But they also receive the money quickly, and there may be those who cannot wait.
Fortunately, the state is not the only source of financial remedy for those injured. Private companies involved with the fair are on the hook, too.
But most heartening of all is the more than $800,000 in private money coming in from Hoosiers all over the state toward a relief fund for the victims.
Such an outpouring of support is commendable. It is great to see that everyone—public or private—wants to look after the victims as promptly and realistically as we can.•
__________
Woudenberg practices constitutional law at Bopp Coleson & Bostrom in Terre Haute. Send comments on this column to ibjedit@ibj.com.
Please enable JavaScript to view this content.