The Mind Trust is launching a program this month that will dole out million-dollar grants to teams of education entrepreneurs to help them start local chains of charter schools.
The education innovation group already has nearly $3.9 million in hand—including donations from the city of Indianapolis and the Eli Lilly and Company Foundation—to fund the grants, and says it has two more national funders interested. Mind Trust plans to hand out three to five grants in June 2012, and one or two annually for a few years after that.
Mind Trust CEO David Harris was Indianapolis' first director of charter schools.
Mind Trust CEO David Harris hopes the hefty grants bring the most talented teachers and education entrepreneurs possible to launch charter schools that will enroll students with challenged backgrounds and push them to achieve at levels equal to the best schools—public or private—in Indianapolis.
"If we're going to start changing systems, we need to flood the zone," Harris said. "We thought that if we could get the next generation of charter management organization leaders, at least some of them, to start a school here in Indianapolis, then if we could get one school, we could get five or six or seven."
To help the schools launch and replicate, Mind Trust will also form a charter school incubator to help the startup teams develop school plans, apply and receive charters, find real estate, hire staff and recruit students.
Several cities around the country—including Denver; Detroit; Minneapolis; Nashville, Tenn.; New York; New Orleans; Sacramento, Calif.; and Washington, D.C.—operate charter incubators. But Mind Trust's $1 million grants will get people's attention, some charter leaders said.
"Is this a game-changer that would put Indianapolis on the map, that would cause people who had not been looking there to focus their energies there? The answer is yes," said Jonathan Schorr, a partner at the San Francisco-based NewSchools Venture Fund, which has funded charter school replication in other cities.
The incubator concept is a joint effort between Mind Trust and the city of Indianapolis, which Mayor Greg Ballard announced Sept. 14. Ballard committed $2 million toward the efforts, using RebuildIndy funds the city received from its sale of the Indianapolis Water Co. to Citizens Energy Group.
"This is infrastructure and that's why we're using the RebuildIndy funds for it," said Ballard spokesman Marc Lotter. "This is the infrastructure for the schools and the next-generation options for the kids."
Ballard has set a goal of launching 20 new charter schools over the next five years, a big increase from the eight charter schools he had approved so far in his nearly four years in office.
Just this month, city officials gave the OK to the leaders of Charles A. Tindley Accelerated School to launch three more schools in Indianapolis. And six other charter schools hoping to open in Indianapolis have applied to the newly created Indiana Charter School Board. Those six, if approved, would be in addition to the 20 schools Ballard wants to approve.
Ballard's office estimates those 20 schools would enroll 6,000 students, on top of the more than 10,000 Marion County students already enrolled in charter schools. Lotter said not all those schools would open within the borders of the Indianapolis Public Schools district, as most Indianapolis charters have to date.
Quantity over quality?
But IPS Superintendent Eugene White isn't convinced. He said he thinks Ballard and other city leaders have concluded that traditional public schools are incapable of serving kids in tough neighborhoods, and he expects the additional charter schools to congregate in IPS' territory.
"Maybe their goal is to put IPS out of business and make us a whole charter city," White said, saying he fears Ballard is now pushing quantity over quality, which could result in inferior schools. "These people are being gun slingers out here. They need to slow down and follow a process."
Harris, however, said the Mind Trust is not looking merely for more charter schools, but for schools that will be "world-class." By that, he means schools that enroll a vast majority of students who live in poverty, are minorities and have difficult home lives, and yet graduate all their students, get all of them to pass the state standardized tests, and get all of them to go on to college.
Harris said Indianapolis has many excellent charter schools, but few to none that produce results at that highest-caliber level. But the driving belief of Harris and the community of education reformers around the country is that it is possible for schools to get the most challenged students to perform at the highest levels of any students.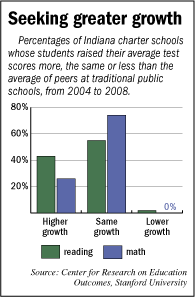 Harris points to such school networks as YES Prep, which operates eight charter schools in low-income neighborhoods in Houston. Among its students, 96 percent pass all sections of the Texas state exams, 90 percent graduate on time, 100 percent of graduates enroll in college, and 80 percent of them earn a degree.
Similarly stellar results have been achieved and replicated by Uncommon Schools, which has 28 schools in Boston, New York and Newark; by Achievement First, which has 19 schools in New York and Connecticut; by Mastery Network, which operates seven campuses in Philadelphia; and, more recently, by Rocketship Education, which has five schools in San Jose, Calif.
Such schools are still more the exception than the rule among the 5,300 charter schools nationally. A 2009 study by Stanford University found that only 17 percent of charter schools were producing better results than their traditional school peers, and 37 percent were producing worse results. Subsequent studies in Indiana and New Orleans have showed better performance by charter schools, but at best only half are producing better results than traditional public schools.
Harris and other education reformers insist that schools can and should be expected to change the trajectory of students' lives. But they also acknowledge that it's time for charters to show they can create many more world-class schools, and fewer that are roughly equivalent to traditional public schools.
"We want people here sending their kids to the top colleges in Indiana and the country, regardless of their economic circumstances," Harris said.
Attracting talent
The key to starting such schools here is getting the most talented, passionate people here, Harris said. He expects the $1 million grants to attract teams of three to four people, who will live in Indianapolis, develop a business plan for their charter networks, then become the management team of their charter schools.
Each team will commit to starting at least five schools in Indianapolis before it can start one outside the city. Once up and running, charter schools get roughly $7,000 per student annually from the state. Harris wants the schools to be able to replicate with only minimal reliance on further private money.
White said it will take extraordinary leaders to create not just one great school, but mini-districts of them.
"When you start multiplying that from one school into five schools, you better know what you're doing," he said. "You can't just throw up schools overnight and expect them to perform."
But Harris is confident the Mind Trust can attract people with the right stuff. Since 2007, the Mind Trust has offered $250,000, two-year fellowships for individuals with an innovative education idea. That program has attracted 1,300 applications from 48 states and 31 countries. The Mind Trust has awarded six fellowships.
It is also pitching the fact that city and state administrations have been supportive of charter schools, and that the employer community has been supportive of the Mind Trust's work.
The Lilly Foundation gave $1 million toward the charter school incubator. The Mind Trust also has secured $750,000 from the Richard M. Fairbanks Foundation, which also pays for some of the Mind Trust's operating expenses, and $105,000 from Mind Trust board member Jane Pauley and her husband, Garry Trudeau.
Rob Smith, president of the Lilly Foundation, said the company backed the Mind Trust effort because the historically poor graduation rate and poor college-going rates of Indianapolis high school students have prompted concerns from many of its prospective employees.
"We're working to attract and retain the very best and brightest around the world. They want to live in a strong and vibrant community," Smith said. "We all ought to be in the business of thinking about, how do we create great schools that serve our kids?"•
Please enable JavaScript to view this content.