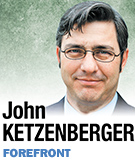 Nearly two-thirds of the General Assembly's members are Republican, but that just means House Speaker Brian Bosma and Senate President Pro Tem David Long have their hands full.
With a 60-40 majority in the House and a 37-13 super-majority in the Senate, Bosma and Long will have a tough time riding herd on some legislators who resemble sugar-addled youngsters with one hand in the candy bin and the other in the cookie jar.
The challenge before Bosma and Long is to strike the phrase "because we can" from the vocabularies of fellow Republicans with long lists of divisive legislation, especially measures meant to regulate social behavior. Despite the zeal, for instance, to limit human rights in the state's constitution by defining marriage, lawmakers should use this year's short session to tweak tax policy to encourage job creation.
Years ago, a wise Republican in the Senate lamented his party's electoral gains that, at the time, pushed the majority from 26 to 31 seats. More seats meant more difficulty maintaining party discipline, he said.
A big majority means three or four caucus members can begin to free-lance legislation that might not jibe with leadership's more mainstream agenda. These bills usually are the ones that attract attention because they're divisive, which means they can distract the General Assembly.
A Dec. 18 story in The Times of Munster highlighted a trio of measures that fit this description. Senate bills 590 and 411, along with House Joint Resolution 6, all cleared the General Assembly last session. Senate Bill 590 is a tough anti-immigration measure, while SB 411 makes it illegal to ask prospective employees about guns. The joint resolution echoes a law already on the books that marriage in Indiana is between one man and one woman, but would place this in the state's constitution. The resolution must pass in the next General Assembly before it can be considered by voters.
These are "because we can" bills. Business is stuck with enforcing immigration laws in SB 590 that ought to be handled by the federal government. Senate Bill 411 adds regulatory wrinkles to the employment process, ironic since it is Republicans who rail against "intrusive" government regulations on business.
Meanwhile, the current General Assembly seems bent on amending Indiana's constitution, which used to be a relatively compact statement of rights granted by the state.
Business leaders in Indiana don't often get credit for progressive thinking, but they have risen to the occasion more than once when it comes to legislation meant to regulate social behavior.
Shaun Hawkins, chief diversity officer at Eli Lilly and Co., told the Times, "The business community in general is saying, 'Let's focus on some higher-priority issues. Let's focus on things like job creation, economic development and the appropriate tax incentives.'"
Hawkins is exactly right. Lawmakers are wasting their time if they spend a single minute on anything but bills meant to improve business conditions.
So let there be a titanic struggle over the right-to-work bill. Lawmakers should clash over whether Indiana should enforce its sales tax on electronic transactions. They'd better disagree over whether to reduce or eliminate the inheritance tax and they ought to argue the merits of returning surplus funds to taxpayers versus restoring funding cuts to education, Medicaid or other programs.
These are pocketbook issues consistent with the conservative values espoused by Republicans and, in Indiana, many Democrats. The General Assembly shouldn't get sidetracked by attempting to limit the freedoms of gay Hoosiers, for instance, in the guise of protecting the rights of others. That's the kind of inconsistent thinking that has gridlocked Congress, which faces withering criticism from fellow Americans.
And that's the challenge Bosma and Long face with big majorities. Their ability to thwart "because we can" legislation will be tested.
Hoosiers can't afford for them to fail.•
__________
Ketzenberger is president of the Indiana Fiscal Policy Institute, a not-for-profit dedicated to non-partisan research into the state's tax policies and budget practices. Send comments on this column to ibjedit@ibj.com.
Please enable JavaScript to view this content.