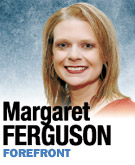 Gov. Daniels made his eighth and final State of the State address Jan. 10. State of the State addresses, much like the national equivalent, the State of the Union, are an opportunity for the chief executive to tout his or her accomplishments from the previous year(s) and lay out a legislative agenda for the upcoming session. These speeches are meant to reach out to the public as well as other public officials.
The last State of the State in a term—and especially the last in a governor's administration—is particularly significant.
Governors in their last year of service might go in two directions (at least). Being a "lame duck," they might throw caution to the wind and attempt to achieve every policy goal they brought with them to office but were too timid or too constrained by politics to pursue.
Or, they might be carefully circumspect, knowing they have limited political capital—after all, nearly every legislator sitting in the chambers of the General Assembly will continue to serve after the governor leaves office.
So really, what motivation have they to follow the governor's lead? This argues for a tightly limited final legislative agenda rather than a wildly ambitious, "better do it now cause I won't have another chance" strategy.
I find myself therefore reflecting on Daniels' final formal message to the General Assembly and wondering which strategy it reflects. The agenda is about consolidating and incrementally building upon what he views as his accomplishments in office. He called for expanding the public-private partnership in welfare intake (which has had a rocky path to put it mildly), completing work on Major Moves, building more bike paths, protecting more wetlands, and making more money available to compensate victims of the state fair stage collapse.
It's interesting that he also called for a statewide smoking ban, just weeks after the city of Indianapolis failed to expand our local ban. The governor introduced his agenda by saying his administration has made out a long list of "self-assignments" but in truth, this is a rather modest list of goals.
Daniels seems, therefore, to have chosen the second path. Facing a divided general assembly, he has mostly adopted a consolidating rather than expanding legislative strategy. The vast majority of what the governor advocates can find support in both parties and large segments of the population.
There is, of course, one major exception.
Unlike last session when the governor tried to discourage his party from engaging in a battle with unions, Daniels is now wading deep into the so-called right-to-work debate. Perhaps recognizing that his opportunities are limited, the governor has chosen to plow all his remaining political capital into pursuit of this one, highly volatile issue.
It could be that his leadership on the other non-controversial items will allow him to make small deposits into his reservoir of good will, but one wonders what this issue will do to the legacy of a governor who just a few years ago won re-election by a comfortable margin. Further, it is hard to reconcile the governor's recitation of the economic successes the state has enjoyed under his tenure with his lately adopted belief in the necessity of this legislation.
This issue has already ignited a fiery debate that will likely only get hotter if the experiences of our neighboring states are any guide. Much like last year, some members of the Democratic caucus in both chambers have already boycotted the General Assembly. But unlike last year, the Republican leadership has the governor's backing.
Governors of the states that attempted similar policy changes have not fared well. One faces a potential recall and another saw the public almost immediately overturn legislation he spearheaded and signed into law.
Daniels is not unaware of the experiences of his fellow governors, of course. Whether this strategy is evidence of principled leadership or foolhardy over-reaching remains to be seen.•
__________
Ferguson is an associate professor of political science in the School of Liberal Arts at IUPUI with expertise in state politics. Views expressed here are the writer's. Send comments on this column to ibjedit@ibj.com.
Please enable JavaScript to view this content.