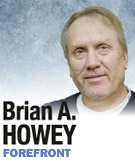 A fact of life for a governor of Indiana is that the walls are full of eyes from the past, peering down from bygone eras.

Over the governor's conference table peers Gov. James Putnam Goodrich, who presided over the state beginning in 1917, overseeing the World War I efforts, along with planning the state's highway system while creating the Department of Conservation. There is Gov. Harry G. Leslie, the former Republican House speaker elected in 1928 after the scourge of Gov. Ed Jackson's Ku Klux Klan era and who presided over the beginning of the Great Depression, pioneering in Indiana what would become known under President Roosevelt as the Workers Progress Administration.

And, of course, there is Gov. Thomas R. Marshall, who attempted to write a new Indiana constitution after the General Assembly refused his call for a Constitutional Convention. The proposed Marshall Constitution would have increased state regulatory powers, set minimum wages, protected unions and provided for referendums.

And directly across the room from Daniels' desk is Gov. Robert D. Orr, who offered Daniels the U.S. Senate seat being vacated by Vice President-elect Dan Quayle in December 1988. Did Daniels, the first 21st century Hoosier governor reformer, order the eyes of Marshall, Goodrich and Leslie in?

"Honestly, no," Daniels said in December, hours after unveiling his reform-drenched final legislative initiatives. "The only one I wanted, I said, bring Bob Orr in here. Orr was one of those who came after me to run in the first place." With the others, Daniels had one simple criteria: "Make sure they are all reformers, and no crooks."

Daniels now faces his final legislative session. He made headlines this month by backing the controversial right-to-work legislation, before launching one last stab at the Kernan-Shepard reforms, a statewide smoking ban, and possibly but unlikely, criminal sentencing reforms.

Daniels is coming off of seismic education reforms that position the state as a leader in a category.

But, like Marshall, Daniels has learned that the static forces know it's easier to defeat an idea than to get one passed.

"I've come to the conclusion in this particular area that we're going to have to eat the elephant one bite at a time and move forward incrementally," Daniels said.

He responded to complaints by mayors to advocate the conflict-of-interest scenarios for municipal employees who also are elected to the councils and commissions that set their own salaries.

"If you talk to the mayors around the state, they really believe it's a problem and it's just wrong to have people in essence double dipping."

He will push for a single county executive to replace the three commissioners, reduce nepotism, and seek to eliminate township advisory boards.

He also observed that the property tax caps are now permanent and were devised to crimp the flow of money to government, which he envisioned would prove to be a catalyst for consolidation.

"You're beginning to see townships talk about consolidating, towns and townships consolidating," he said.

Repeatedly in speeches before the Indiana Association of Cities and Towns and the Association of Indiana Counties, Daniels has urged local officials to reform from the "ground up." But he realizes it's not happening. There are merger talks in Evansville, Brownsburg, Kokomo and Posey County, but it is hardly the "freight train of change" he envisioned.

"I underestimated the tenacity of the system and the attachment of folks on both sides of the aisle to the system," he said. "Nobody starts a torchlight parade for something like this. Therefore it's easier to stop it."

A century ago, Marshall pressed the General Assembly for a new constitution and watched it pass only to see it rejected by the Indiana Supreme Court. Leslie struggled to put Hoosiers back to work as the Great Depression lingered.

And Orr? He used the 1987 session to pass the first major education reforms with his Primetime and A Plus plans.

All eyes are now on Daniels in his gubernatorial twilight.•

__________

Howey is a third-generation Hoosier journalist who publishes Howey Politics Indiana. Send comments on this column to ibjedit@ibj.com.