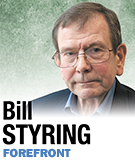 "Any favorable report advocating new public spending and taxes by an interested party should be viewed with extreme skepticism." Milton Friedman


Our Legislature in the next few weeks will be asked to vote on authorizing an income-tax-hike referendum in Marion and Hamilton counties.

Lawmakers would be well-advised to give this one a second look before giving the OK. Maybe a third look.

Especially Rep. Jeff Espich, R-Uniondale, chairman of the House Ways and Means Committee and author of the bill, and Sen. Luke Kenley, R-Noblesville, chairman of the Senate Appropriations Committee. Both have indicated a willingness to listen but remain noncommittal.

Voters in the November general election would be asked to approve a 0.3-percent increase in the County Option Income Tax. The COIT money would fund a mass transit plan that would eventually extend to all the "collar" counties surrounding Marion (if at some future date they approve their own COIT hikes).

Initially, the plan, the brainchild of something called the Central Indiana Transit Task Force, is heavy on buses, particularly in the central quarter of Marion County. Express buses would run to the airport and from downtown Indianapolis to Carmel. And it naturally includes that hardy perennial of heavy rail (trains) from Noblesville to Union Station, making "multiple stops" in Marion County and Fishers.

Mass transit schemes for central Indiana have been floated for decades. Few paid much attention because they were obvious non-starters.

But this one is serious. It actually has a mechanism for taking our money to pay for it!

Transportation economics is one of the things I do for a living. Let's see how this plan stacks up.

First, just what is the "plan"? I, and some others I asked to help, tried for 10 days before writing this column to get a copy. To date, nothing back but a map showing proposed routes and a gaudy, press-release-type statement about high-sounding, wonderful things (less congestion, less carbon, etc.).

Presumably, a real plan must exist somewhere. Ya know, such minutiae as projected ridership, cost projections—things that can be rigorously analyzed before we're each asked to cough up a couple hundred bucks annually in perpetuity.

Ridership is particularly important. My experience is that transit planners colossally overestimate how many people will use the doggone thing.

Indiana once had a fantastic interurban transit system. In the decade after WWI, that is. In 1920, you could go from Indianapolis to almost anywhere in Indiana via electrified rail car or trolley. The downtown Indianapolis hub handled 2 million passengers and 500 "trains" a day.

The automobile killed it. We love our cars. They're what's called "point-to-point on-demand" transit. You start your car whenever you wish and drive it to where you want to go.

Mass transit means you have to go to the bus, train, trolley, whatever stop. Get there a few minutes early to make sure you don't "miss the bus." And you likely won't be taken to exactly where you want to go.

Getting people out of their cars to use something more time-consuming and less convenient is a tall order. Time is valuable. Numerous studies have concluded that people behave as if they value their travel time at about one-half of what they make when working.

Transit planners try to get around this inconvenient problem with a concept called "haul capacity." This usually means counting a lot of empty seats as if they were a good thing.

Then there's the question of people who work in Marion or Hamilton counties but live elsewhere. If COIT goes up in these two counties, they pay, too.

I haven't begun to address all the questions that need answers. No doubt the CITTF members are noble people with good intentions. But pay heed to Friedman's dictum, and also to the old adage about the paving material on the road to hell.•

__________

Styring is an economist, a former Indiana Chamber of Commerce lobbyist, and a former senior fellow at the Hudson Institute. Send comments on this column to ibjedit@ibj.com.