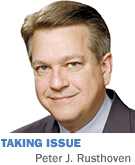 Robin Winston, my friend and Democratic counterpart in TV political commentary, sent a typically thoughtful e-mail last week in advance of Martin Luther King Jr. Day, noting that Dr. King "blazed a trail that all of us walk today," and asking simply that we "take a few moments this weekend to honor his legacy."

Taking Robin's advice (as he thinks I should do more often), I was struck by how far along the trail we've come, reflecting on the dramatic changes in the half century since I was a youngster on the south side and King spoke at the Lincoln Memorial of his dream for America.

Fifty years ago, the "N" word was often heard in casual conversation. Segregation was law in many states and reality in many others. The Supreme Court had outlawed segregated schools in 1954, but countless such schools remained—and not just in the South. These included our own Crispus Attucks High School, created as an all-black institution in the 1920s by a Klan-dominated school board.

Fifty years ago, the legislation that would become the Civil Rights Act of 1964 was deeply controversial. Absent a strong (and strong-armed) push by Lyndon Johnson after President Kennedy's death, the bill would likely have stayed bottled-up in congressional committees chaired by long-serving Southern Democrats.

Anti-miscegenation laws survived in 17 states, down from 30 in 1948 but still over a third of the Union. The Supreme Court would not declare such laws unconstitutional until 1967. Today, most students likely do not even know that "anti-miscegenation laws" barred interracial marriages.

In 1963—the year of King's "I have a dream" speech—George Wallace was first sworn in as governor of Alabama, proclaiming, "I draw the line in the dust and toss the gauntlet before the feet of tyranny and I say segregation today, segregation tomorrow, segregation forever." Wallace's inaugural would also "invite the negro citizens of Alabama to work with us from his separate racial station," while warning "those of any group who would follow the false doctrine of communistic amalgamation."

Such rhetoric from a serious political figure is unimaginable today—just as it was unimaginable then that an African-American would, in our lifetimes, be elected president of the United States.

In making these observations, I do not for a moment suggest we have reached the end of the trail and may rest on our laurels, having extirpated racism from American soil. But the vast majority of white people and the vast majority of black people in this country want to live together, want to improve the quality of our life, and want justice for all human beings that abide in our land.

The last sentence is not mine. It was spoken by Robert Kennedy in Indianapolis on April 4, 1968, when he had the heartbreaking task of informing a largely African-American audience, gathered to support his presidential candidacy, that King had been assassinated.

We honor King's legacy by recognizing that challenges remain, and by continuing to work for an America where people are judged "by the content of their character, not the color of their skin." But we honor it, too, by reflecting without complacency on how very far we've come.

It was King, after all, who refused to "wallow in the valley of despair," who said "that, in spite of the difficulties and frustrations of the moment, I still have a dream"—one "deeply rooted in the American dream." Today's difficulties and frustrations are fewer than those faced by King. His dream is closer to reality. He deserves an enormous share of the credit, and our lasting gratitude.•

__________

Rusthoven, an Indianapolis attorney and graduate of Harvard College and Harvard Law School, was associate counsel to President Reagan. Send comments on this column to ibjedit@ibj.com.