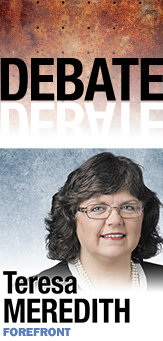 Question: State Superintendent of Public Instruction Tony Bennett is proposing that all high school students take at least one online class before graduation. Is this a good idea?

Answer: Across the country, students increasingly might walk into the first day of class greeted by row after row of computers, not a classroom teacher. Virtual classrooms, e-learning labs and online courses are being developed or required by several states.

Indiana State Superintendent of Public Instruction Tony Bennett is proposing that all high school students take at least one online class before graduation.

Yet, studies show that students might not fare as well if online learning is required even in today's tech-savvy world. Perhaps using the technology available to enhance learning might be a first step before requiring online education.

Virtual-learning students are supposed to log on to a website to gain access to lessons that consist mostly of text with some graphics. They can call, e-mail or text online instructors for help.

The process sounds simple but is not always easy, nor does the method click for every student.

A 2009 survey conducted by the Indiana University Center for Evaluation and Education Policy found that virtual education can help some students. Students with credit recovery issues, at-risk students, homebound students, those in criminal justice programs, pregnant teenagers or those who seek advanced placement classwork might benefit.

Unfortunately, it does not work for all students, and completion of an online class should not be a graduation requirement.

The IU study found that the greatest barriers in offering online courses were concerns over funding, course quality and academic integrity.

Students in a Florida e-learning lab complained that most students did not choose to be placed in online labs, and without self-motivation, the chances of failure were greater.

I have witnessed the frustration of two of my children with online courses. Their programs lacked safety measures to ensure that they were actually doing the work or that their final exams would be administered by a pre-approved proctor. The required coursework was returned but feedback was minimal. Questions were submitted online but it took weeks to get answers.

I felt like I had to teach the coursework myself. Yes, they could call a help line, but they would land in an automated system, leave a message and days later might get a response.

Some tout that online education is a great equalizer. No matter what their social, economic, religious, ethnic or physical or mental differences, virtual education gives all students the same opportunity to reach their full potential.

I question whether that can be true. Are all homes across our state equipped with equal access to technology? Homes in our most affluent suburbs are certainly more technologically advantaged than those in Indianapolis inner-city neighborhoods.
I do believe that every child—regardless of socioeconomic status, ability or geography—should have equal access to a quality education, but I am not sure Indiana can provide that for all children. With the push for more e-learning upon us in this legislative session, an audit of the existing technology is a must before new requirements be made.

Recently, my youngest came home from school and said she was not able to complete an online practice in preparation for ISTEP because too many students were online at the same time. I fear those situations exist at many of our schools across the state.

Let's proceed with a cautious outlook for technology. Let's seek out more funding and better online providers and let's work with the technology that exists before increasing requirements.•

__________

Meredith is vice president of the Indiana State Teachers Association and has taught for more than 18 years in Indiana schools. Send comments on this column to ibjedit@ibj.com.