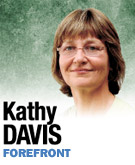 Indianapolis put on a great Super Bowl. Thanks to the leaders, workers and knitters. You had the vision, the team, the plan and the execution. You gathered and made room for people and you delivered. You offered many experiences, each executed down to the last detail. You were ready for contingencies. And while we know you can't control the weather, it's great to be lucky.

As someone who appreciates her home city, great leadership and good process design, I am impressed and grateful for the planning and seamless delivery of Super Bowl XLVI.

How do we bring a Super Bowl level of collaboration and operating excellence to the investments that our schools and governments make in people? There is a tool and technology—created right here in Indiana—that can help. It is called Simulated Environment for Analysis and Simulation (SEAS), and it can raise our game.

Indianapolis had high expectations for how people would experience our city. Allison Melangton orchestrated the event so everything was covered. She gave credit to the people who did the work. Her team quickly responded as things changed—more Porta Potties, changing traffic patterns, no problem.

It's no surprise that some people think Melangton should run for public office. She says that's not her plan. But her M.O. may be something government can use:

• Go for it, aim high—it's energizing.

• Have a specific vision and make a plan from here to there.

• Make room for collaborators at the table. Everyone shares their best information and ideas.

• Execute the plan, watch your indicators, and be ready for contingencies.

• Pray for good luck. Share and enjoy the victory.

So how do we bring that level of excellence into the public sphere?

Government is a 365, 24/7 enterprise—the "big game" plan is executed daily. It's tricky—creating security, building skills, fostering good health and building prosperity. There are lots of pieces and players. Government's influence is big in some goals and small in others.

It's hard to connect actions with results, especially when we are investing in people and the results come from their individual decisions and actions.

SEAS is an Indiana-grown, internationally acclaimed technology that simulates individual decision-making around a goal in a geographic area. It is changing the way leaders in diplomacy, business, schools and health do their work.

It was created by Alok Chaturvedi, a Hoosier, a professor of management and computer science at Purdue University and founder of Simulex Inc.

SEAS uses Daniel Kahnmenan's Nobel Prize-winning work in behavioral economics to model individual people, and anticipate their actions, in a computer. It has been used to assist the U.S. Joint Forces Command on the streets of Baghdad, to design retail systems in India, and to improve outcomes for Indiana students. SEAS puts the analytical power of the U.S. military on our desktops.

With funding from the Lumina Foundation, Indiana has assembled five years of student and economic data, research in education, into SEAS to build a virtual world of Indiana students around the goal of increasing academic success and completing higher education.

Through a dashboard, users insert actions into the virtual world and watch students respond over time. Users see what actions worked and how results differ by school district or student background. Sometimes financial aid works; in other cases, it's better preparation or mentoring that has the most impact.

Imagine experiencing through a computer dashboard the likely outcomes and unintended consequences of your decisions—before you take actions?

The more complex the problems and the more limited the resources, the more we need the best tools to design our strategies. Better schools, better jobs, better health, better communities.

We need good leaders and good judgment, but leaders and judgers need the facts that help connect actions to outcomes. This Hoosier innovation is making a difference far outside our borders and far into the future. Like a great Super Bowl.•

__________

Davis is a former Indiana lieutenant governor who owns and operates the Indianapolis technology firm Davis Design Group LLC. Send comments on this column to ibjedit@ibj.com.