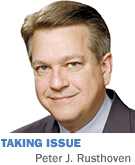 Jim Irsay's cutting Peyton Manning—among the biggest Indianapolis sports stories ever—has spawned remarkable uniformity among local sports commentators. With few exceptions (e.g., Dan Dakich), most are singing the same song, with lyrics by Indianapolis Star columnist Bob Kravitz and titled "Head vs. Heart."

In this view, keeping Manning was the "sentimental" choice of unsophisticated fans. Those who really understand football (Kravitz et al.) knew that cutting him and moving on to Andrew Luck was the tough, smart, necessary decision.

Perhaps. This fan certainly claims no expertise on running an NFL team. But some who do, notably Bill Polian, seem to agree Peyton should still be here.

Polian also understands salary caps inside out. He says the Colts' cap challenges are far less daunting starting in 2013. He also says both Manning and Luck could have been on the 2012 roster with contract restructuring. There's little doubt that's what Polian had planned to do—and little mystery now why Irsay fired him.

And let's put the dollars in perspective. Rick Reilly, a fabulous sportswriter, points out that without Manning, there is no Lucas Oil Stadium, no Indy-hosted Super Bowl, no brand new JW Marriott downtown. Reilly adds: "Forbes figures Manning improved the Colts' value by $233 million. Compared to that, $28 million to keep him doesn't seem like much, does it?"

Once the deed was done, Kravitz urged, "Colts fans, please don't blame Irsay or Manning." Well, Bob, I think many fans will go you half-way on that one. They won't blame Manning. But Irsay has made a gigantic, enormously risky bet, and will pay if he's wrong.

ESPN's Gene Wojciechowski describes the wager: "Irsay would rather roll the bones on Andrew Luck or Robert Griffin than on Manning. Luck and RG3 have a combined zero NFL snaps. Manning has a Super Bowl ring and four league MVP awards."

ESPN's Ashley Fox summarizes the stakes: "For Irsay's tweeting sake, Manning had better be done. In a Midwestern city that loves its quarterback's loyalty, his charity, his family and his professionalism, Irsay had better be right or he will never be forgiven."

Fox compared the Colts cutting Peyton to "the Chicago Bulls waving goodbye to Michael Jordan, or the Edmonton Oilers saying farewell to Wayne Gretzky." Good analogies, but not quite on the mark. No, this is as if Red Sox-owner Tom Yawkey had cut Ted Williams in the late 1950s—which Yawkey would never have done, and (if he had) would have made the Boston Tea Party look like, well, a tea party.

When the Colts were deciding whether to draft Manning or Ryan Leaf, Manning told Polian, "I'd really like to come here if you want me. But if you don't, I promise you I'll come back and kick your ass for the next 15 years."

Peyton doesn't have 15 more years. But it's looking like he's got another three or four. His talent is exceptional; his determination and self-discipline are off the charts. Think he wants to prove the Colts made a mistake?

Get ready next year, if Peyton is winning for a new team and the "rebuilding" Colts are struggling, for Kravitz columns instructing fans to be "patient" with what football experts know was the "right decision" that will take time to pay-off.

Count me, and more fans than Kravitz or Irsay may realize, among the unpersuaded. When it comes to cutting Peyton, our response is the same as the kid in the famous New Yorker cartoon refusing to eat what was "good" for him: "I say it's spinach, and I say to hell with it."•

__________

Rusthoven, an Indianapolis attorney and graduate of Harvard College and Harvard Law School, was associate counsel to President Reagan. Send comments on this column to ibjedit@ibj.com.