The N.K. Hurst Co. is an anachronism in pretty much every sense of the word. Perched on the edge of the Lucas Oil Stadium parking lot, it's the centerpiece of a grimy, blue-collar neighborhood that's short on trendy restaurants but long on welding shops, lumber yards, car repair places and the occasional tavern.

It's the perfect setting for a company whose chief product—some might believe—would be better-suited for a time capsule than the 21st century. Hurst, headquartered in an industrial building built in 1906, doesn't write software or manufacture medical devices or sell insurance. It packages dried beans and dried bean soups, just as it has since 1947.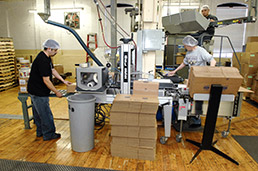 Workers package 20 million bags of beans and soup mixes each year at N.K. Hurst Co. Inc.'s plant on West McCarty Street, in the shadow of Lucas Oil Stadium. The fourth-generation, family-owned firm says its revenue grows 3 percent to 5 percent each year. (IBJ Photo/ Perry Reichanadter)
"We're pretty much under the radar," said company President Rick Hurst, 53.

Yet appearances are deceiving.

While Hurst is a small company, it isn't tiny. It sells roughly 20 million packages of its 40 soup mixes and bean varieties annually. And it's achieved market penetration that other companies can only dream about. Its goods can be found in every state, and are distributed around the world via the U.S. Armed Forces Commissary System.

The company, which won't reveal revenue, has only about 50 employees. But its products are ubiquitous in the grocery industry. Visit any Kroger, Walmart or regional supermarket chain, locate the dried bean section and look down. All the way down. On the bottom shelf, you'll almost inevitably find Hurst products—maybe some one-pound bags of pintos, along with its flagship HamBeens 15 Bean Soup, complete (in its traditional version) with a ham-flavored seasoning pack.

"That 15 Bean Soup is the No. 1-selling package of branded beans in the country," Hurst said.

It's the iPad of the dry soup biz, and Hurst is its Apple. Just don't look for soaring, Apple-esque stock prices (the firm is family owned) or vast increases in market share. In good years, the company increases revenue perhaps 3 percent to 5 percent.

"Some people hit home runs; we hit base hits," Hurst said.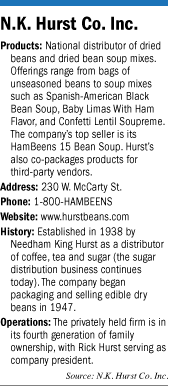 Still, tacking on 3 percent to 5 percent, year in and year out, is nothing to sneeze at. Credit the fact that the company knows how to roll with the punches and change with the times—occasionally almost beyond recognition.

Founder Needham King Hurst started the business in 1938 as a coffee, tea and sugar distributor. Nine years later, he began selling five-pound bags of dried beans to grocers. Seasoned dry beans joined the mix in the 1960s.

The iconic HamBeens 15 Bean Soup, introduced in the 1980s, was the first Hurst product to gain national distribution. The latest addition is the Hurst Family Harvest line of dried soups, available (among other places) at Whole Foods.

The Whole Foods items were developed by the company's marketing manager (and Hurst's nephew), Matt Huntley, 29. Beans aren't glamorous, but he thinks they've actually become a bit trendier in recent years. After all, they're cheap and undeniably good for you. Huntley has overhauled the company's Web presence, loading the site with recipes, adding a blog, and inviting outsiders to review the company's wares.

"I think it would have been a lot more intimidating to market this product in years past, when consumers weren't nearly as health-conscious or willing to try new foods to help stretch the budget," Huntley said.

Perhaps to no surprise, times are best for the company when they're tough for everyone else.

"Economics play a big part in our sales," Hurst said. "Last year, we had an economy that was questionable, with high unemployment, relatively high gas prices and a really cold winter. Those are all the things that everybody hates, but for us it was kind of the opposite."

In other words, nothing heats up demand for cheap (about 50 cents per serving), bean-intensive comfort food quite like hard times and cold weather. During the frigid winter of 2010-2011, Hurst moved some 25 million to 28 million units. This season's mild weather chopped that figure down to about 20 million.

The sales drop was painful, but hardly an existential threat. Indeed, as far as Hurst can tell, there's nothing like that on the horizon—no deep-pocketed big fish trying to muscle in on his small pond. Plus, experts contend that the specialized, nichey nature of the company's wares insulates it from mass-market competitors.

The trend in business, in fact, is for food ventures to seek out their own niches, rather than bang heads with an existing player with a large market share.

"I think we'll see more specialized producers coming up," said Katie Clayton, food science extension specialist with Purdue University. "I work with a lot of entrepreneurs looking to open up small retail shops somewhere. I think we'll see a lot more smaller, specialized things in years to come."

Plus, dethroning Hurst wouldn't be simple. Its signature products are, after all, kind of a pain to create. Especially that 15-bean variety. Available in six flavors ranging from chili to Cajun to chicken, it requires the assembly and mixing of an array of legumes from producers ranging from New England and Washington state. Of interest, no dried beans come from Indiana. Hurst says conditions here are "too moist."

"That's not a commodity anymore," Dave Fusaro, editor-in-chief of Food Processing magazine, said of the finished product. "I don't think Campbell's tries to talk you into believing that they've handpicked 15 varieties of beans to put in their bean soup. This company went that extra mile."

It also doesn't hurt that pretty much everything about Hurst—from its family ownership to its picturesque headquarters—is marketing gold. Gold that management mines in various ways. For instance, the only reason the building wasn't razed to make way for Lucas Oil Stadium is because of a public outcry that saved it from destruction (something that wouldn't have happened if the space were occupied by, say, a fast food chain or dry cleaner). Now the two coexist peacefully, with the bean factory providing local color.

"We added flavor to the neighborhood that they wouldn't have had if they'd bulldozed us," Hurst said.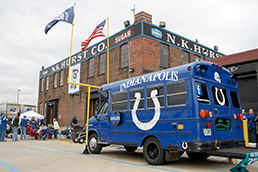 N.K. Hurst Co. rents its parking lot to tailgaters during Indianapolis Colts games and other events at neighboring Lucas Oil Stadium. (Photo courtesy N.K. Hurst Co. Inc.)
The firm got as good as it gave, renting its parking lot to tailgaters during the Indianapolis Colts season and hosting tours and parties during special events such as Final Fours and the FFA convention. A pre-Indianapolis-500 function was held among the bean-cleaning machines and packaging lines, as was a party for the opening of Peyton Manning Children's Hospital, attended by Manning, the governor and mayor, and John Mellencamp.

Rick Hurst takes a great deal of pride in the old structure, which on most days smells quite strongly of the soup seasonings included with his various products. Little (at least cosmetically) has changed since the days when Needham King Hurst ran the place. Beans are still stacked in 100-pound bags on the second floor, except that these come in paper sacks and on pallets, instead of in burlap as they did back in the day.

This summer, the company will add to the structure's antique patina by removing industrial-grade metal plates on the second level's floor and replacing them with wooden planks to more or less match the honey-colored, high-school-gym-quality floors in the rest of the building. The wood is easy on workers' feet and a breeze to clean, but it also looks cool.

The Hurst family plans to continue packaging its products in the old building for the foreseeable future. After all, the building is paid for, and truckers exiting nearby Interstate 70 have no problem finding it.

The company expects to continue to increase market share, and it may explore other niches such as restaurant supply. As for non-bean operations, the company still acts as a sugar wholesaler and packages products for a variety of clients, including tanning lotion purveyor Australian Gold.

There's a lot of possibilities, and plenty of time.

"We're a small company, so there's a long way for us to grow," Hurst said.•