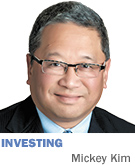 It is impossible to make an intelligent assessment of the investment merit of an asset without accounting for its price. In fact, there is no such thing as a good or bad investment idea regardless of price.
Oaktree Capital Management Chairman and co-founder Howard Marks is renowned for his ability to explain important investment concepts with clarity and insightfulness. An archive of his memos can be found at oaktreecapital.com, but Marks' thoughts also were compiled in "The Most Important Thing—Uncommon Sense for the Thoughtful Investor."
It's a terrific book that I refer to often. Though Marks tackles weighty topics and concepts, his presentation is one of common sense, not abstract theories. Far from being an intimidating academic tome, it's a quick read at a sprightly 180 pages.
One of the best chapters, "The Most Important Thing Is …The Relationship Between Price and Value," explains how to evaluate potential investments and discusses factors that can affect the price-value relationship over time. Marks says, "No asset class or investment has the birthright of a high return. It's only attractive if it's priced right. No asset is so good that it can't become a bad investment if bought at too high a price." Conversely, "there are few assets so bad that they can't be a good investment when bought cheap enough."
Assume the asset we are evaluating is a stock. What determines the price of that stock at any given time? As Benjamin Graham, Warren Buffett's professor in business school and mentor early in his investment career, famously said, "Though the stock market functions as a voting machine in the short run, it acts as a weighing machine in the long run."
What this means is that, while a stock's fundamentals (such as earnings, cash flow or dividends) ultimately determine the value of the stock, short-term fluctuations in the price are frequently driven by technical and psychological factors.
"Technical" factors affect the supply and demand for a stock. For example, at the depths of the financial crisis, many investors were forced to sell stocks to repay obligations, regardless of price. The typical stock price chart looked like a waterfall as the frenzy fed on itself.
The academic body of work on investor psychology/behavioral finance has exploded in recent years. Marks says it is impossible to overstate how important these factors are. Investor psychology can cause a security to be priced just about anywhere in the short run.
In fact, he says, "The discipline that is most important is not accounting or economics, but psychology." It's also the most difficult. First, psychology is ethereal and can change on a dime. Second, in this age of 24/7 media bombardment, it's difficult to tune out noise. Most investors can't, and do the opposite of what they should do.
According to Marks, "Investing is a popularity contest, and the most dangerous thing is to buy something at the peak of its popularity. At that point, all favorable facts and opinions are already factored into its price, and no new buyers are left to emerge. The safest and most potentially profitable thing is to buy something when no one likes it. Given time, its popularity, and thus its price, can only go one way: up."
Try to buy when technical and/or psychological factors have caused an asset to be significantly underpriced relative to its fundamental value. As Buffett says, "Price is what you pay. Value is what you get." That's true whether you're talking about a stock or the top pick in the NFL draft.•
__________
Kim is the chief operating officer and chief compliance officer for Kirr Marbach & Co. LLC, an investment adviser based in Columbus, Ind. He can be reached at (812) 376-9444 or [email protected]
Please enable JavaScript to view this content.