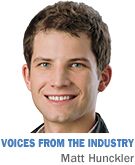 How can my startup get funded? It's a question I hear from many Indianapolis software entrepreneurs who are hungry for their first big win. That's when I have to tell them the truth. They're searching in the wrong place—and asking the wrong question.
We're not in Silicon Valley. Investor funding sources for early-stage software startups are rare to nonexistant in central Indiana. But that hasn't stopped role models like Angie's List and ExactTarget from building impressive businesses and creating enormous wealth. And there's a whole new generation of early- and idea-stage software companies that are realizing success despite the absence of pre-revenue investment.
These companies asked themselves the right question: How do I fund my startup?
There's a huge difference between the questions. "Getting funded" assumes founder dependency on outside investment, while "How do I" looks itself in the mirror with an entrepreneurial resourcefulness that inspires action. And persistent action is the only way startups ever reach the promised land of profitability.
Profitability is that pivotal point at which a company can fund itself. It's an empowering position reached only by software startups that sign on a critical mass of customers. This creates a gap that gets scrappy entrepreneurs asking, "How do I get my first few paying users?"
Take, for example, MyJibe—a personal finance Web application that entered into the ring with established goliaths like Quicken and Mint.com. MyJibe launched to the public in January of 2011 and was acquired by Utah-based Money Desktop by the end of the year. But what may not be apparent from reading the published stories on MyJibe's success is that the founders spent years accumulating personal savings before they set off on their own.
Mike Langellier and Brandon Dewitt used their cash reserves to support their families and fund their business while they built their product with the help of Bloomington-based startup accelerator SproutBox.
For all of 2011 (and the better half of 2010), Langellier and DeWitt evangelized their software and personal finance philosophies to anyone and everyone who would listen. They used at-hand resources—relationships from years of experience in the banking industry and their ability to sell—to create a network of channel partners that fueled a compelling customer base.
Some of the savviest startup founders sign their first customers before they invest any of their hard-earned dollars in building something. Even though Max Yoder spent over a year saving 67 cents for every dollar he earned, he wouldn't let a line of code be written for his software product Quipol until he had orders.
Fast forward six months of determined focus, and today Yoder has developed a network of passionate evangelists and waves of national press—including Tech Crunch, The Next Web, and Mashable—for his design-centric social polling application.
Not all startups need the halo effect of media coverage to reach profitability. When I met Matt Gordon two years ago, he had just relocated his young software consultancy from Cincinnati, but he wasn't sure how much longer the firm would stick around.
No one in Indianapolis knew about Gordon's four-person shop, Expected Behavior. The company had some national clients that kept the business in the black, but like many new businesses, it found an initial hurdle in establishing its reputation in a new market.
I watched closely as Gordon and his team plugged into the active tech-related groups in Indianapolis like Indy.rb and Verge. They sought out opportunities to add value to the business community, and in doing so, developed reputations as trusted contributors.
The customers and awareness followed. Gordon and his team helped build the community in which they wanted to grow their business. And that's only half the story.
After months of building other people's software, the team used its service-based business to fund the release of its own product—DocRaptor, an elegant software tool for developers to add file exporting functionality to Web applications. Without any prior marketing experience, Expected Behavior tapped into high-leverage marketing activities like search engine optimization and strategic partnerships to engineer a steadily growing stream of customers.
In less than two years, DocRaptor not only reached profitability but also recovered all the time and capital the team invested to self-fund its startup. Gordon and his team would be the first to tell you they couldn't have done it alone.
They found gold in the rich pool of service providers and top-tier talent grown in Indiana. By partnering with complementary service providers, Expected Behavior amplified its earning potential and swung the probability of success in its favor.•
__________
Hunckler is president of Verge, a networking group catering to technology entrepreneurs. Views expressed here are the writer's.
Please enable JavaScript to view this content.