Josh Springer likes to daydream. And he likes beer.

In March 2008, Springer sat at a table in a Mexican restaurant in Aberdeen, Wash., during a birthday bash for his father. Springer's mind wandered to beer pitchers. Filling them had to be a drag for bartenders, he thought. Too slow, too much foam. Isn't there a better way?

"In my daydream, I saw this pitcher of beer filling up through the bottom," Springer said. "I literally stood up at the table and said, 'Hey, you know what would be a good idea? A pitcher of beer that fills up through the bottom.'"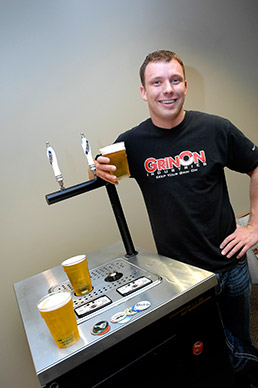 The Bottoms Up system, masterminded by Josh Springer, can fill a pint cup from a sealable hole at its bottom in three seconds. (IBJ Photo/ Perry Reichanadter)
"That would be cool," Springer remembers his father saying. "But I don't think you can do it."

Four days later, he had a working prototype.

Four years later, the 29-year-old entrepreneur has moved from Washington and set up shop in Park 100 on Indianapolis' northwest side, selling a draft-beer-dispensing system used in dozens of sports stadiums and event venues across the globe.

GrinOn Industries LLC, which started as a project in Springer's gravel-floored garage, posted revenue of nearly $5 million in 2011 with 600 dispenser units in commercial use. It now counts 16 employees—a dozen of whom relocated from Washington.

Springer based the system—appropriately named Bottoms Up—on his original idea for pitchers. The defining principle is as elegant as it is counterintuitive: A specially designed cup is placed on a nozzle to fill it from the bottom, eliminating the too-foamy head that slows traditional tap pours and ultimately can waste beer.

A magnetic disc at the bottom of the cup instantly seals the nozzle hole by adhering to a metal ring surrounding it.

Yeah, Springer concedes, it's kind of hard to visualize. (Click the video below for a demonstration.)



"You couldn't explain it over the phone and you couldn't even explain it in person," said Ike Richman, spokesman for Global Spectrum, a venue-management firm that operates the Wells Fargo Center in Philadelphia. "You had to show people what you were talking about."

The Wells Fargo Center, home of the Philadelphia Flyers and 76ers, began using the dispensers in January 2011 to supplement its traditional taps. Sensing the system's crowd-pleasing potential, Richman invited local media for a preview, which generated buzz.

"It was a phenomenon. People came through the door asking, 'Where's the beer?'" Richman said. "People line up to watch it. People like their beer, and now they like to watch us pour it."

Faster and mostly foamless

Local residents might have seen it in action. Beer distributors placed several temporary units in downtown venues, including the Slippery Noodle Inn and Lucas Oil Stadium, during Super Bowl festivities earlier this year.

Springer, who quit his job as a production manager for a sign company to get GrinOn off the ground, scraped together about $6,000 in startup capital for the fledgling firm from friends and family. Further growth has been funded by private investors. Springer has a 70-percent share in the firm, which counts about 75 others with ownership stakes.

Speed is the essence of the system's appeal for customers. A server can fill a pint-sized cup in about three seconds. Under controlled conditions with a multinozzle dispenser, Springer has clocked an eye-popping 62 pints in one minute.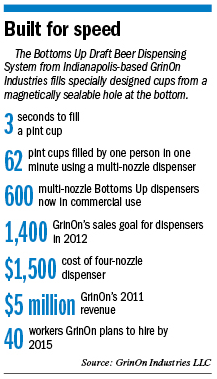 "We used to have horrendous beer lines for our outdoor events," said Bill Walshe, beverage manager for Cocopah Resort and Casino in Yuma, Ariz. "We've knocked our lines way down."

Shortly after buying a four-nozzle dispenser in March 2011, Walshe put it to use during an outdoor concert at the venue. Working by himself, he served 5,000 beers in five hours—an average of about 17 beers per minute—while other employees handled the monetary transactions.

"We probably would have sold half of that [with a traditional tap system]," Walshe said. "We wouldn't have been able to keep up with demand."

Speed also factors into Springer's ambitious outlook for the business. He hopes to quintuple revenue this year to $25 million, while more than tripling the number of dispensers in commercial use to at least 2,000.

That means dramatically expanding GrinOn's customer base to "anywhere you've ever had to wait in a beer line," Springer said. "A busy bar on a Saturday night, or a concert venue, or at a festival."

That kind of turbocharged growth is not just a daydream. GrinOn moved its operations to Indianapolis in January to be closer to the lion's share of its customers and its mostly Midwest-based suppliers. In its successful application for a local property tax abatement in late 2011, GrinOn pledged to hire 40 more employees—on top of its current 16—and invest more than $2.5 million in new equipment by 2015.

The five-year goal is to continue GrinOn's push past the United States. Dispensers already are in use in a handful of countries, including Germany, Brazil and Belgium.

"We're going to take it global," Springer said.

Less waste, more profit

A supplier in Cedar City, Utah, manufactures the dispensers. The approximate size and shape of a camping stove, they come in models with two and four nozzles (customer price: $1,000 and $1,500, respectively) and connect to traditional beer kegs.

Electronic controls in the dispenser allow users to set the exact amount of beer injected into each cup. Filling from the bottom up helps eliminate foam and the need to pour off the excess.

Less waste means more profit from a keg, Walshe said. The typical keg holds 1,984 ounces, and with traditional taps "it's nothing to waste a gallon [128 ounces] of beer," he said.

With the Bottoms Up system, waste for Walshe is down to about 60 ounces, or 3 percent of the keg.

Beverage operators at EverBank Field in Jacksonville, Fla., saw similar results. With typical taps manned by inexperienced concessionaires, about 13 percent of kegs were going down the drain. Waste with GrinOn dispensers has been limited to less than 5 percent, said Thomas Anastasia, regional vice president for Lutz, Fla.-based Ovations Food Services, which runs food and beverage concessions at the stadium.

"You go from what would have been a couple gallons of waste to just ounces," Anastasia said.

GrinOn actually loses money on sales of the dispensers, Springer said. The key to the Bottoms Up business model is the cup, which is assembled in the GrinOn facility in Park 100.

"We are a cup company more than we are a beer-dispensing company," he said. "It's a very different way of thinking about it."

The dispensers require the specially designed disposable cups with the magnetic discs at the bottom. That can easily triple the dime or so that customers typically would pay for a normal concessions cup.

"When you're talking 36 cents for a cup, that will stop the conversation right there," Springer said. "[Customers] don't care about keg yield and speed of service. They get stuck on how much more the cup costs."

The magnet can help diffuse the cost issue. GrinOn can print an image on the disc, creating a tiny, can't-miss-it billboard. Venues can use that real estate to promote themselves or a resident team, or sell it to advertisers.

The cost per cup with a custom-printed magnet starts at 36 cents, Springer said. Customers not wishing to go that route have an alternative. Anheuser-Busch Cos. Inc. has purchased the rights to be the exclusive malt beverage advertiser on the GrinOn magnets, making a Budweiser-related image the default option. That reduces cup costs to 12 cents for customers, well within the normal range.

During recent NFL seasons for the Jacksonville Jaguars, GrinOn cups at EverBank Park have featured custom magnets in the shape of football jerseys. Each season features magnets for a handful of players, making them collectibles for fans.

"It's pricey; there's no doubt about it," Anastasia said of the custom cups. "But it's a means of keeping fans coming back and buying another unit from you. … I think we make it up in the back end."

A cup of one's own

Using a cup of one's choosing is a selling point for one of GrinOn's competitors in the fast-pour market.

Digital Dispense USA, based in North Tonawanda, N.Y., manufactures a product line named Exactap that boasts many of the same speed and waste-reducing advantages as GrinOn. The system dispenses pre-programmed amounts of beer through an elongated top-down nozzle, effectively filling any cup from the bottom up.
Custom-printed magnetic discs can drive promotions and become collectibles. (IBJ Photo/ Perry Reichanadter)
Founded in 2006, Digital Dispense has sold Exactap units totaling more than 3,800 nozzles to sports venues and other customers worldwide, according to North American Sales Manager Greg Clarke.

Another advantage of Exactap, Clarke said, is the ability to collect data on pours. That allows operators to track just how many glasses of whatever size have been dispensed and compare that information with sales reports.

"[Servers] can't give beer away anymore," Clarke said. He conceded that GrinOn dispensers allow servers to fill more than one beer at a time, while their hands are free for other tasks. GrinOn will introduce data collection in its systems late this year, Springer said.

Clark sees potential for "tremendous growth" in the fast-pour market. "There's room for both GrinOn and Exactap," he said. "Even in small cities and towns, we have a culture of sports, music and entertainment."

Springer, who wasn't aware of Exactap when he began developing Bottoms Up, welcomes the competition.
"Customers aren't dumb," he said. "When they get pitched by Exactap, they're going to do their due diligence to see what else is out there, and they'll find us."

GrinOn's plans for expanding its market include returning to Springer's original idea. The firm plans to roll out beer pitchers and custom glassware in the fourth quarter in a bid to appeal to bars and restaurants. Dispensers designed for home use are slated for 2013.

"We've come up with our own technology, and we're making our own marketplace," Springer said.•