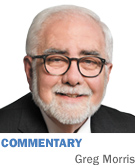 On May 8, the time for talk is over and it's time to vote. I know many of us are thankful for this as we're all tired of the constant barrage of negative ads. It's been an especially brutal primary season.
Most people I talk with tell me they highly resent the tone in the Lugar/Mourdock race in particular. Add to that, there was so much money poured into the market for these two candidates, there was no way to escape unless you unplugged your television.
After all the negative campaigning, you may be disgusted with the process, but you can't stick your head in the sand and not participate. There are many local, state and national offices at stake, along with important issues to decide. We can't be so jaded and, frankly, sometimes downright depressed, about all the dysfunction and lack of agreement on anything in government that we fail to go to the polls and vote.
That's my message. Please vote. I'm not suggesting whom you should cast your vote for. I'm just asking that you participate in the process. I want everyone to do their civic duty and vote. This is an important primary election. Sometimes primaries are pretty bland and nondescript. This is not one of those occasions.
In this week's IBJ, you'll find an advertisement encouraging voter turnout. The main message delivered is to "Speak Up—Vote" and the reader is directed to IndianaVoters.com to find their polling place. The ad offers an advance look at the soon-to-be-announced "Get Out the Vote" newspaper campaign made possible by the Hoosier State Press Association Foundation. The kickoff ad is one of several versions I hope you will see in most of the more-than-170 HSPA-member newspapers in the state leading up to the November election.
The ads developed in the coming months will be geared to the general election and contain more specific information for November. But, the message will be consistent: VOTE! As the newly elected president of the Hoosier State Press Association, I'll be encouraging all our member newspapers to run these ads as often as possible leading up to the November election.
The effort ties in with the HSPA Foundation's partnership with the Indiana Bar Foundation, along with other groups, on the Civic Health Index to measure Hoosiers' commitment to civic engagement, political knowledge, community service—and understanding of the First Amendment. I've covered the poor showing by Indiana residents in civic engagement in previous columns. There's a lot of work to be done to improve the percentage of participation in the voting process.
While I'm at it, I want to offer a thought about our tolerance of people whose opinions we don't share. It seems that, far too often these days, if someone doesn't agree with us, they become the enemy. It's not just a difference of opinion to be discussed in a civil manner, it's some sort of betrayal. Everything has become personal.
Remember when Ted Kennedy could rake Republicans over the coals in a blistering speech on the floor of the Senate, then put his arm around his political opponent and ask them to go have a beer later that evening? Unfortunately, those days appear to be gone. We're heading for a day, and we may already be there, when the only way to get elected is to be an extremist on the right or the left with no tolerance for middle ground and compromise. To my point, it seems like Richard Mourdock has forced Sen. Richard Lugar to look like an extremist to combat attacks that he's not conservative enough.
Any politician, like Lugar, who tries to work earnestly with both parties to accomplish a task appears to be in no man's land today as far as electability is concerned. It's very dangerous ground. The extremists on both sides seem to be getting all the attention. Everything I'm hearing is that if you think Washington is dysfunctional now, you haven't seen anything yet. It's only going to get worse.
So, everybody needs to be a part of a respectful discussion on how to get us out of this mess. The ultimate expression of your opinion is offered when you go to the polls and vote. Thanks for participating.•
__________
Morris is publisher of IBJ. His column appears every other week. To comment on this column, send e-mail to gmorris@ibj.com.
Please enable JavaScript to view this content.