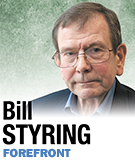 Jobs, jobs, jobs. This recovery isn't generating many.
President Obama's inbred talent for scaring business to death is one explanation. Who wants to hire when no one knows where the next federal shoe will drop?
But there's another reason for sluggish job growth. It's one we've baked into hiring decisions and one that any CEO of a smallish Indiana business would tell our politicians if they would bother to ask.
We hear all the time that smaller firms are the job generators. That's a fact. Consider the recovery from the 1980-1982 recession. (Despite all the rhetoric about 2008-2010 being the "worst recession since the Great Depression," Ronald Reagan in 1981 inherited 20-percent interest rates, 14-percent inflation and 12.5-percent unemployment. Barack Obama should feel so lucky.) From 1982-1988, the Fortune 1000 lost 4 million jobs. But net employment rose 17 million because the smaller guys added 21 million.
To be precise, it isn't exactly all "small" business. Some small businesses grow to fill a niche, feel comfortable there, and grow no more. The big job growers are newer small businesses on the way up the employment ladder. Microsoft didn't start with 10,000 employees.
Consider the hurdles, though, as a firm climbs that ladder. There are trip wires at 15, 20, 25, 50 and 100 employees that trigger coverage under various federal statutes. These are huge disincentives for hiring that additional worker.
Suppose you have 14 employees and are considering hiring No. 15. With 14, you're exempt from the Americans with Disabilities Act. The marginal cost of adding No. 15 isn't just the additional salary and benefits of the employee. It's also the hassle and potential legal exposure of being subject to the ADA because the 15th employee automatically "trips" you into coverage.
Since almost anything can be considered a disability these days, from depression to a learning disability to a bad back, the CEO is apt to think hard before hiring the 15th and jumping into the uncertain ADA black hole. Who knows what creative mischief an aggressive trial lawyer might whisper to one of your employees?
The 20th employee buys you into the Consolidated Omnibus Budget Reconciliation Act, or COBRA, and age discrimination. Good ol' Fred has been with you six years, but he is getting along in age and soon won't be able to cut it. Is that 20th employee really worth it if you soon have to let Fred go and Fred might claim age discrimination?
At 50 employees, you get a monster. It isn't so hot that the federal government now gets to determine your family leave policy. But unless the Supreme Court strikes down the totality of Obamacare (one can always hope), employee No. 50 entangles you in that mess, too.
Suppose you don't have a health plan, which is common for smaller firms, especially startups. The marginal costs of that extra employee are astronomical. Either you buy a health plan—hugely expensive—or pay a "penalty" of about $2,000 per employee. Times 50 equals a cool hundred grand. That 50th employee would have to be one productive son of a gun.
No. 100 buys you into the Business (Plant) Closing Act and also requires you to fill out about eight more pounds of Equal Employment Opportunity Commission paperwork.
It's a good thing small business has successfully lobbied to be excluded from these federal dicta up to certain employment levels. After all, it makes no sense to subject a couple of guys working out of a garage to all of this stuff.
These trip wires exist, though. And things like the ADA aren't going to be repealed anytime in this millennium. At each trip wire, the marginal cost of hiring another employee is vastly more than just the direct cost of the additional person. Some businesses will just say, "We're big enough. We don't need that hassle."
And maybe Microsoft would still have just 14 employees.•
• Styring is an economist, a former Indiana Chamber of Commerce lobbyist, and a former senior fellow at the Hudson Institute. Send comments on this column to ibjedit@ibj.com.
Please enable JavaScript to view this content.