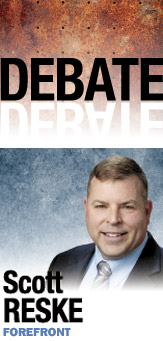 Question: Some economists urge cutting federal government spending immediately to tackle the nation's rising debt. Other economists warn that imposing austerity now would undermine a weak economy, and should be delayed, or delayed and combined with tax increases. When is the best time to take action on the debt, and how should Congress proceed?
Answer: We are at a point in history where America haphazardly took on debt, added poor policy to the mix, and now struggles to recover from the resulting economic crisis. Americans are right to be outraged.
For any true corrective action to occur, Congress has to fundamentally change. The attitude of polarization must be eradicated and replaced with a commitment to innovation and real problem-solving. This is the time to demand nothing less than a total reboot of our Congress and for Americans to be empowered by our system of capitalism to turn this ship around.
We can neither tax nor cut our way out of this mess. Too much taxation stifles growth and results in a weak economy with smaller revenue. At the same time, blindly hacking away at the federal budget will damage the economy.
Trying to fight our budget problems with catchy sound bites complaining about government will not fix this problem. Such dialogue also shows a lack of preparation for the thoughtful consideration required to produce a result that both helps our economic recovery and sets the United States on a course for long-term sustainability.
We need to hold the line on additional spending while finding responsible and innovative ways to grow our economy. The resulting increased revenue will allow us to pay down our debt. To grow our way out of this situation, we must also overhaul our tax code, which I believe serves as an impediment to entrepreneurship and small businesses.
Small businesses are imperative to our economy and, as I know from my experience as a small-business owner, they deserve a level playing field. They are responsible for half the gross domestic product and over half the nation's total employment. Small businesses create over 60 percent of new jobs and generate the overwhelming majority of patents and new technologies, yet pay twice as much in taxes as big businesses.
The revised tax code must be simpler and fairer, eliminating loopholes that do nothing to stimulate the economy.
Manufacturing must also be supported. We have to level the playing field by revising unfair trade agreements. Estimates vary, but at least 10 million manufacturing jobs have been lost in America since 2000, at least half of them since the recession hit in 2008.
In making the case for growth, it should still be recognized that waste must be eliminated from our federal budget and we must also find savings and efficiencies in necessary programs. For example, as a Marine Corps colonel assigned to the Pentagon, I saw defense expenditures forced by Congress that were unneeded and unwanted by our military.
Now is also the time to put into place permanent measures that will prevent this out-of-control debt from occurring again. I support passage of a balanced budget amendment. Indiana and other states have had balanced budget amendments in their constitutions for over 150 years and the result is a statutory commitment to fiscal restraint and planning for a rainy day that allows government to adjust to a downturn in the economy without the added drag of a large debt. It must be written in such a way that will not tie our hands in the event of war or an unanticipated and severe economic crisis.
If we do not take decisive steps now, we will leave this mess for future generations. We must rekindle the spirit of innovation and optimism that created this country and pair fiscal restraint with thoughtful measures to grow our economy. All of this will require a commitment to cooperation that is lacking in our Congress today.•
• Reske, a Democrat from Pendleton, is running for the 5th District seat in the U.S. House of Representatives. Send comments on this column to ibjedit@ibj.com.
Please enable JavaScript to view this content.