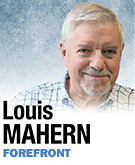 Tammany Hall leader William M. "Boss" Tweed once famously remarked, "I don't care who does the electing so long as I get to do the nominating." He knew that New York City was a safely Democratic stronghold where there was little chance Republican candidates would prevail in the general elections. All he had to do was control the outcome of the Democratic primary and his hold on the city was assured.
It is no different today, at least when it comes to Indiana legislative races. Of the 150 seats in the General Assembly, a generous count would put the number of competitive districts in normal years at no more than 15. In the other 135 districts, the election is over when the primary election votes are counted.
This year, all 100 House seats and 25 Senate seats are up for re-election.
In the 100 Republican primaries for the House, 19 had no candidate. Why? The districts were overwhelmingly Democratic. Another 51 districts had only one Republican filed. In only 30 districts did Republican voters have a primary choice for state representative.
The Democratic primaries were even less competitive, with 21 districts without a candidate filed and 67 districts with only one candidate. Early in May, there were 200 primary elections for state representative. In 42 of them, voters were offered a choice between two or more party candidates.
In only three districts was there a competitive race in both the Democratic and Republican primary. Not exactly representative democracy at its best.
In the Senate primaries, the record was even worse, with 16 percent of the primaries competitive, 20 percent with no candidate filed, and 64 percent with single-candidate primaries.
Nine out of 10 Indiana House districts' representation is decided in May of election year. In at least 80 percent of those districts where representation is decided in the primary, there is only one candidate. Voters flatter themselves that they are selecting their legislators. Nothing could be further from the truth. The winners in those 200 state representative primaries received 12.3 percent of the voting universe. One in eight voters decided the political makeup of the House of Representatives.
There is another way. It is called a Top Two Vote Getter (TTVG) primary. It is in use in Washington, California and Nebraska, and will be on a referendum in Arizona this fall.
In TTVG, the primary is open to all voters and they are not required to declare a party. This alone should substantially increase participation. The top two vote getters advance to the general election. In many districts, the top two vote getters will be a Democrat and a Republican. Many of the most lopsided districts (don't forget only 10 House districts are competitive) will send two candidates of the same party to the general election.
As it stands, if you are a Republican living in a heavily Democratic district, your vote in November will mean almost nothing. But what if one of the two Democratic candidates on the fall ballot actively supported local government reform and was not completely in the thrall of the ISTA? Now all of a sudden, you are not shut out of the game. In fact, you might even vote in the primary for the more moderate Democrat to assist his getting on the fall ballot.
In politically safe legislative districts, the 35 percent to 45 percent of voters who lean the wrong way are essentially disenfranchised. What impact can a Democratic voter possibly have in an election where she knows her candidate has no chance?
Ask her, "Would you rather have a true blue Democratic candidate who stands no chance or a pro-choice Republican candidate who actively solicits your vote while appealing to moderate GOP and Independent voters as well?" She'll take the latter every time.
Who knows? We may even see the return of pro-labor Republicans and pro-business Democrats. Worse things have happened.•
__________
Mahern has been an assistant to U.S. Rep. Andy Jacobs and U.S. Sen. Birch Bayh and served in the Indiana Senate. Send comments on this column to ibjedit@ibj.com.
Please enable JavaScript to view this content.