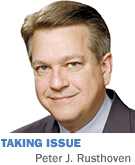 Chief Justice Roberts' ObamaCare opinion has spawned heated reactions. Here's a CliffsNotes summary of why liberals shouldn't celebrate and conservatives shouldn't despair.
1. Five justices, including Roberts, rejected the president's central claim that the Commerce Clause gives Congress power to make Americans buy a product. The left's view that there is no real limit on what Congress may do is dead.
This revitalizes a core principle, under assault since the New Deal, that ours is a government of limited powers. This is a major constitutional victory that will long outlast ObamaCare.
2. Seven justices ruled Congress cannot force states to accept major Medicaid expansion by threatening to eliminate current funding. Another big win, limiting the routine method for coercing states to obey federal mandates.
3. ObamaCare survived, but on the narrowest ground. Its linchpin is the "individual mandate," requiring almost everyone to buy health insurance or pay a penalty. Roberts joined the four liberals in upholding this under Congress' taxing power.
Yes, that's debatable. Four dissenters argued strongly that Congress wasn't exercising "tax" power in imposing what it repeatedly called a "penalty." But the act's effect is identical to a tax on those not buying health insurance, or (alternatively) raising taxes while giving corresponding "credits" for buying insurance—something Congress plainly has power to do.
4. Whoever's correct on that debate, two other principles—noted by Roberts—are that courts are reluctant to invalidate legislation, and (if possible) read statutes to render them constitutional. Conservatives should not devalue these principles because they dislike a statute.
5. Upholding ObamaCare under the tax power is far different from finding Commerce Clause authority. The latter is sweeping, and can include prison and punitive fines for disobeying federal commands. The tax power, as Roberts made clear, is more limited. The act's penalties cannot exceed cost of insurance; and there is no consequence for ignoring the mandate beyond paying the IRS the penalty.
Changing this (e.g., by substantially raising penalties) would transform a "tax" into an actual, impermissible "penalty," even under Roberts' reading of the tax power.
6. Obama's signature program is thus doomed in practice even if he is re-elected and Democrats win Congress. Current penalty amounts are insufficient to make people buy insurance or generate enough revenue to sustain the scheme. As the act is valid only under the tax power, Congress cannot materially alter this math or otherwise force participation. And even Democrats know it's political suicide to directly raise taxes by the required amount.
7. Meanwhile, odds of Democratic electoral success have dropped. ObamaCare is unpopular among most voters. Instead of being eliminated by the court, the issue is back in the political arena, which is where it should be decided—and where the president must defend it (while also rationalizing dismal economic performance).
8. Worse for Obama, he must defend it as a tax hike. ObamaCare is now exposed as ObamaTax. The president, knowing candor would defeat the bill, repeatedly denied it was a tax. His lawyers then defended the act because it was a tax. The court upheld it solely on that basis.
This was bait-and-switch. Voters now know it.
9. Voters also will not credit liberals calling the Roberts Court "activist" or "partisan." Preserving the court's legitimacy is a vital responsibility of any chief justice. Doing so will pay dividends as the court takes on other controversial issues (e.g., whether to end race-based preferences).
Even his friends say Obama, who publicly must rejoice in his Pyrrhic victory, thinks he's the smartest person in any group. Perhaps sometimes—but not when John Roberts is in the room.•
__________
Rusthoven, an Indianapolis attorney and graduate of Harvard College and Harvard Law School, was associate counsel to President Reagan. Send comments on this column to ibjedit@ibj.com.
Please enable JavaScript to view this content.