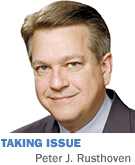 Several Indiana House Democrats tried to revolt this month against Minority Leader Pat Bauer, but were foiled by his favorite tactic—preventing a quorum.
In recent years, Bauer fought legislation he disliked by staging Democratic walkouts so the House would lack sufficient members present to do business. This gained Democrats little more than temporary delay of bills they opposed, at cost of considerable, well-earned public distaste.
Now Bauer has used the same device to save (for now) his leadership position, getting enough Democrats to stay away so the caucus meeting at which he was to be challenged couldn't act.
It's unclear if Bauer can hang on after November. Gov. Daniels says the South Bend lawmaker has "been a survivor" and "I wouldn't bet against him." I tend not to bet against the governor on political insight.
But there's much pointing the other way. As analyst Brian Howey points out, in 2008 House Democrats represented districts touching all or parts of 57 counties, with 17 having exclusively Democratic representation. The 2010 election, for which Bauer set Democratic political strategy, reduced those numbers to 37 and five.
Republicans also emerged with a 60-40 majority—yielding, as Howey notes, education reforms, a right-to-work bill and other legislation most Democrats consider anathema. It's possible 2012 will yield enough new GOP seats that the House can conduct business whether Democrats show up or not. If so, it's hard to see Bauer remaining Democratic leader.
I'd miss him, and not simply because he's the kind of personality one wants as the public face of the opposition. True, I won't miss him as much as Indianapolis Star cartoonist Gary Varvel, who delights in drawing a price tag dangling from Bauer's famous toupee. But I admire politicians who have convictions and fight for them, even when I think they're mistaken.
That said, Democrats should realize Bauer needs to go. My friends on the other side regularly offer unsolicited advice, most of it ignored, on what the GOP should do. Here's some gratuitous counsel for them, to which they'll surely pay the same careful attention.
Bauer personifies where the Democratic party is stuck, and—after the successful Clinton-era flirtation with a more centrist approach—has become more entrenched under Obama. It is locked in a past that never worked well and no longer works at all—and is increasingly rejected by voters.
Two examples directly involving Indiana and Bauer: One, he is in lock step with the agenda of a union movement that is moribund in the private sector and hanging by a thread in the public sector. Oft-proclaimed Democratic love for workers has become love for the ever-shrinking percentage who are unionized, including government employees with unsustainable benefits—paid for by working-class and other taxpayers who can't afford it.
That's one reason the Bauer-led walkout over "right to work" was a legislative and political failure. Nobody's buying this kind of thing anymore beyond the declining unionized faithful (and some old-school media sorts).
Two, Bauer Democrats are stuck, at the insistence of the strongest public employee union of all, on the wrong side of education reform. To quote Star columnist Matt Tully (no conservative shill), the House Democratic caucus is a "wholly owned subsidiary" of the Indiana State Teachers Association and its take-no-prisoners opposition to merit pay, charter schools, vouchers or anything else that would inject competition and accountability. Most of the public's not buying that anymore, either.
Bauer is a feisty poster child for old-style Democratic "interest group" politics and policy. His is the wave of the past. Sooner or later, other Democrats will quit riding it.•
__________
Rusthoven, an Indianapolis attorney and graduate of Harvard College and Harvard Law School, was associate counsel to President Reagan. Send comments on this column to ibjedit@ibj.com.
Please enable JavaScript to view this content.