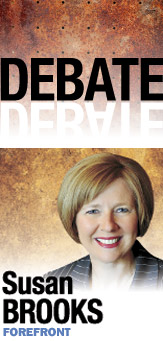 QUESTION: With the U.S. Supreme Court upholding the constitutionality of the Affordable Care Act, what action, if any, should Congress take in response?

ANSWER: Like many Hoosiers, I was disappointed that the Supreme Court upheld the mandate provision of the Affordable Care Act. From its inception, the 2,700-page law was ill-conceived and rammed through Congress without consensus and against the will of most Americans.

Since launching my campaign for Congress last year, I have traveled the district meeting with many voters who have a stake in affordable, accessible health care—doctors, nurses, hospital and medical facility leaders, small-business owners and their employees, life sciences and agri-business leaders, public policy leaders, and most important, current and future patients.

The vast majority believe the law as written was the wrong prescription for real reform and ultimately bad for patients, doctors, job creators, state governments and taxpayers, with the potential for weakening the most advanced health care system in the world, resulting in severe consequences to those who rely on it. Most believe it should be repealed and replaced. I agree.

Here are a few reasons why:

• It's costly. According to the Congressional Budget Office, it will cost $1.7 trillion over 10 years, nearly double the projected cost when signed into law.

• It's a job killer. Twenty new or increased taxes totaling $500 billion-plus and 13,000 (so far) pages of regulations have a devastating effect on job creation, causing the loss of 800,000 jobs, according to the CBO. One is the punitive excise tax assessed on medical devices, hurting Hoosier workers in 300-plus device firms in Indiana—driving jobs, innovation and economic prosperity out of Indiana and potentially overseas.

• The CBO also projects that up to 20 million Americans will lose their employer-sponsored insurance by 2014 due to increased cost to business.

• Instead of lowering the cost of health care, costs are expected to continue to increase annually because the new law does not address the most significant cost drivers.

• An unelected panel called the Independent Payment Advisory Board is charged with achieving savings in Medicare. If the board makes bad decisions around reimbursements, it will be nearly impossible to fix and could severely affect the doctor-patient relationship and result in fewer physicians' taking Medicare patients.

I will work to repeal the law and replace it with common-sense, free-market policies that actually solve America's health care challenges.

During debate on the bill in 2009, many good ideas were offered by Republican leaders that would aggressively control costs, guarantee Americans can keep their existing plans, and increase competition in the insurance industry. They were turned away by the Democratic majority and President Obama.
Solutions that deserve reconsideration include strict limits on medical malpractice lawsuits, expanding health savings accounts, allowing consumers to buy insurance from out-of-state companies, providing tax breaks for insurance purchases to make it easier for small businesses to offer insurance, and reducing barriers to coverage for those hardest to insure.

We need sensible solutions without adding to the federal budget deficit and without requiring a massive new government bureaucracy to administer them.

Unfortunately, the majority opinion of the Supreme Court affirmed the constitutional right of this president and his congressional colleagues to expand the size and reach of the federal government to unsustainable and unaffordable levels, reasserting the government's limitless power to tax citizens and businesses.

The only alternative for Americans who disagree is to support candidates in November who will work hard to repeal it and replace it.•

• Brooks is the Republican candidate for the 5th District congressional seat. She lives in Carmel. Send comments on this column to ibjedit@ibj.com.