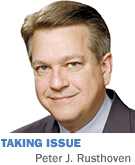 GOP gubernatorial candidate Mike Pence is proposing a 10-percent state income tax cut, a growth-spurring step that would benefit more than 90 percent of Hoosier businesses that pay individual income tax, and would give Indiana the lowest combined tax burden in our region.
Pence's website gives remarkable detail showing the cut makes sense. Equally remarkable is that Pence, unlike many in politics, happily gives credit to others. The person Pence rightly credits for making tax cuts possible is Mitch Daniels.
The Indiana success story under Daniels merits book-length treatment. Here's the briefest of outlines.
When Daniels took office, the state's structural deficit (the difference between annual revenue and spending) was $820 million. Indiana now has a structural surplus of $500 million. In 2005, state financial reserves had all but disappeared. Today, reserves are over $2 billion.
This has been achieved without tax increases, while the national economy has been stagnant or worse, and other states have taxed and spent themselves into disaster.
California is Exhibit A, but one needn't look that far west. Next door in Illinois, run by folks who reflexively hike taxes and spending, the auditor general has announced that the state's deficit has doubled in five years, to a staggering $43.8 billion.
From 2002 to 2004, Indiana's credit rating was lowered twice. Under Daniels, Indiana is one of nine states with the top credit rating from all three major rating agencies. Among our contiguous neighbors, Ohio is one step lower; Michigan and Kentucky are three levels back; and Illinois takes the booby prize, "earning" a rating four steps behind Indiana's.
Fiscal turnaround is but one chapter. Daniels' education reforms, including vouchers that enhance choice and opportunity for those most in need, are a model for the nation.
Motor vehicle bureaus are a standard focus of citizen frustration with government bureaucracy. No longer so in Indiana. Under Daniels, BMV has been transformed. Tasks that once meant trips to a license branch are now done via Internet. When a branch visit is required, it is measured in minutes, not hours. This has been achieved with 20 percent fewer employees.
Overall, Indiana has fewer state employees per capita than any other state. By decertifying public employee unions his first day in office, Daniels also put an end to forcibly paid union dues being used to elect union-friendly candidates, with whom the unions would then "bargain" for unsustainable wages and benefits at taxpayer expense. At the same time, Daniels made health savings accounts available to state workers, 70 percent of whom chose that cost-saving option.
The governor faced intense criticism, which political foes sought to exploit, for leasing the Indiana Toll Road. You don't hear that now, when the fiscal and other benefits of that decision (which Daniels foresaw) include major transportation improvements throughout the state.
Political opponents also tried to capitalize on Daniels' decision to move the entire state to daylight-saving time. This at last ended the twice-yearly, "What time is it?" disconnect between Hoosiers and folks elsewhere with whom we want to do business.
Here, too, most critics have gone silent. And a 2011 study by Rose-Hulman Institute of Technology professor Dale Bremmer found an average increase of 170 employees in the 76 counties not previously on DST.
There's more, but the conclusion is clear: Daniels has been an outstanding governor, the best in the country and among the most accomplished in Indiana history.
We'll miss him. It's reassuring, however, that Pence, the candidate most likely to succeed him, understands, appreciates and will be able to build on Daniels' accomplishments.•
__________
Rusthoven, an Indianapolis attorney and graduate of Harvard College and Harvard Law School, was associate counsel to President Reagan. Send comments on this column to ibjedit@ibj.com.
Please enable JavaScript to view this content.