The latest U.S. Army Corps of Engineers plan for a $14.4 million floodwall and levee from Butler University to Kessler Boulevard is both good and bad news for woodland advocates.

First, the bad: The corps needs to remove five more acres of wooded area than it first thought.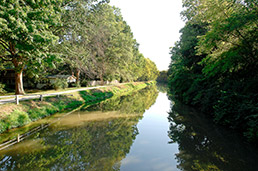 A proposed 4,200-foot floodwall paralleling the Central Canal would remove some trees from the scenic area. Here's the canal at Westfield Boulevard and 53rd Street. (IBJ Photo/ Perry Reichanadter)
But federal environmental mitigation rules will require the city to replace the 14 acres to be taken with at least 90 acres of new plantings—three times more than originally projected, according to the corps' Draft Supplemental Environmental Impact Statement issued in June.

The removal-to-replacement ratio is so high because many of the trees to be removed are mature hardwoods that would take a century to grow back and create the same habitat for birds and animals.

Self-proclaimed tree-hugger and local environmentalist Clarke Kahlo already is drawing up a list of sites where the city could consider planting more trees.

"There's no reason we shouldn't be optimistic," said Kahlo, known for his inquisitive missives to city and business leaders when trees are cut down around town.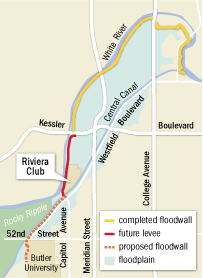 The corps is seeking comments on its latest flood-control plan and scheduled an Aug. 23 public meeting to gather additional input.

It is proposing to build a 4,200-foot floodwall with removable panels along the Central Canal from Butler north to Capitol Avenue. From there, a levee of similar length would extend farther north to Kessler.

Just where the city would plant replacement trees remains to be seen. The corps report says the city "most desirably" would locate new trees in the White River area, although it's not required.

"It's way too early" for specifics, said Kara Brooks, spokeswoman for the city's Department of Public Works.

For one thing, the corps hasn't made a final decision on the floodwall and levee configuration.

Its latest report leaves out a floodwall around the hamlet of Rocky Ripple, noting that residents opted out of the plan several years ago and that costs to provide that floodwall would be higher than a wall paralleling the canal.

Some residents want the corps to reconsider that decision.

"Right now, at DPW, we've not selected which option we think is the best," Brooks said.

Sea of saplings

Whatever the option, it's clear that more trees will have to be planted or conserved to comply with federal environmental rules.

Original plans were to plant in two locations: a 14-acre site along the west bank of White River downtown, between the zoo and Riley Park, and at Lake Sullivan, along Interstate 65 near Cold Spring Road and West 38th Street.

The latter proposal—which called for planting "aquatic wetland species"—was axed after the city decided to drain Lake Sullivan, where silt was accumulating.

The downtown location also was scrubbed after Indy Parks Greenways prepared a master plan for developing the west bank of the river with trails and ornamental trees that allow a view of the waterway and downtown.

Whatever the eventual locations for replanting, "the final mitigation acreage required is expected to be substantially more than the previously identified 29 acres, more likely in the range of 90 to 150 acres," the corps said.

That was welcome news to Ruth Hayes, president of the Nora-Northside Community Council, which has fought the removal of tree canopy north of the city.

"We're really sick about the losses of trees we've had in medians and along the streets," Hayes said.

She rattled off a long list of tree cutting in her territory, including the notorious 2009 removal of mature trees along the Monon Trail to make way for a Kroger store near East 86th Street, which was OK'd by the city.

Hayes has tried to get the city to follow up on a number of tree-cutting complaints, to no avail.

"There's a lot of bitterness over the tree situation in Indianapolis," she said.

Kahlo also can tick off a long list of locations where developers and others have mowed down trees. For the second time in recent years, someone has cut down vegetation near Broad Ripple High School that obscured the view of White River, he noted.

"It's a small area, sure. But it provides kind of an 'Exhibit A' in the city as to how things get done to the detriment of the river and the ecology," Kahlo said. "Take that site and re-vegetate the hell out of it."

In fact, he'd like to see the city fulfill some of its mitigation obligations from the future floodwall by planting trees near the river to help prevent erosion and stabilize river banks. One site he suggests is along White River at Coffin Golf Course, off of Cold Spring Road south of West 30th Street, where trees have been removed over the years to improve the views.

Acknowledging the sway commercial interests have had over municipal officials, Kahlo said the city could at least plant new trees within existing public parks—where they wouldn't be vulnerable to developers seeking to build another strip mall or housing development.

Century to restore

But even if the city replants far more trees than the floodwall and levee project takes, "there are some things you don't replace by just going out and planting little saplings," said Tim Maloney, senior policy director at Hoosier Environmental Council.

It can take a century for trees to mature and for birds and animals to return, Maloney said. "These are pretty complex habitats."

In fact, Maloney said the corps' project deserves more scrutiny, and planners should find ways to minimize tree losses.

He noted that, years ago, when other sections of floodwall were built to the north, residents worked hard to preserve forests. Leaving trees helps minimize water runoff and can help stabilize riverbanks.

"I think the corps needs to look at that experience and do everything they can do to minimize [forest removal] there," Maloney said.

Ironically, some of the trees preserved years ago may be among those cut down.

The corps' report noted that in recent years federal regulations have been updated to require a wider vegetation clearance—a minimum of 15 feet on either side of the floodwall.

If such a clearing isn't made, properties behind the levee would not be included in the National Flood Insurance Program, making them ineligible for federal assistance in the aftermath of a flood.

And the White River flood-control project isn't the only threat to the area, said Kahlo, a member of a group known as Save Our Scenic Central Canal.

He noted that a plan to turn the canal towpath into a walking art gallery, known as Art 2 Art, proposes so-called "view sheds" that would allow walkers to better view the river. That likely would require some trees to be removed, he lamented.

The Art 2 Art concept, whose backers include arts groups and the Central Indiana Community Foundation, has yet to be fully developed, however.•