In June, Ivy Tech Community College had a problem.
Applications for its fall semester were down 15 percent from the same time the year before—meaning the school faced a potentially huge hit to revenue.
So the state-funded college rolled out a nearly $1 million marketing campaign that stressed Ivy Tech's affordability versus other higher education options.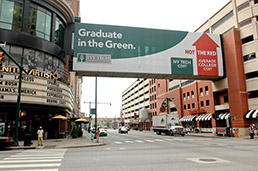 Billboards, like this one downtown, are a big part of Ivy Tech's campaign.(IBJ photo/Perry Reichanadter)
The campaign, which featured the tag line "Graduate in the Green, Not in the Red," directly compared Ivy Tech's average annual tuition of $3,334 per student with the more than $12,000 it claimed students pay at an average college.
That message—sent out via TV, direct mail, web ads, YouTube videos and phone calls to existing students—appears to have hit home.
Applications to Ivy Tech doubled from 29,000 in June to 60,000 when classes started on Aug. 20. About half of those students actually enrolled, allowing Ivy Tech's fall enrollment to come in at just 5 percent below last fall's level.
"Higher education has priced itself out of the market," said Ivy Tech President Tom Snyder, sitting in his office at Ivy Tech's Indianapolis headquarters at the intersection of Fall Creek Parkway and Meridian Street. He added, "There are congressional hearings on the cost of college. That means it has huge play."
Ivy Tech isn't the only community college experiencing a dip in enrollment this year, according to the American Association of Community Colleges. Norma Kent, the association's senior vice president of communications, said many are reporting dips of 3 percent to 5 percent.
That's potentially a troubling sign for national and state leaders, who have been trying to boost the percentage of adults with postsecondary degrees—in large part by ramping up enrollment at community colleges.
"Community colleges have always been the most affordable option for college, and if people in this recession have reached the point where they can't even afford community college, it should be worrisome for the nation," Kent said. "Employers are already saying, 'I can't find the workers that I need.'"
There were already signs that enrollments were slowing at community colleges—they saw a 1-percent dip nationwide last year, according to an analysis by an association of community colleges and the National Student Clearinghouse.
Some other colleges are suffering enrollment declines, too. Carmel-based ITT Educational Services Inc., a for-profit college operator, has 15-percent fewer students now than it did a year ago.
There are two obvious reasons for this trend. First, the number of high school graduates nationally peaked in 2009 at more than 3.3 million and has been declining slightly the past three years. In addition, the recession sent a wave of adults back to school from 2009 to 2011—with many of them flooding into for-profit and community colleges.

Snyder
That flooding is now ebbing but is far from receding. Ivy Tech's enrollment this year of nearly 108,000 is still 20,000 higher than it was in 2008. And some schools have seen enrollment bumps this year, including Indiana State University, Butler University and the University of Indianapolis.
Sticker shock
But a larger problem for all kinds of colleges is that their sticker prices have soared—more than doubling since 2000 at every public college in Indiana except Ivy Tech and Vincennes University. Ivy Tech's tuition and fees are still up 74 percent since 2000.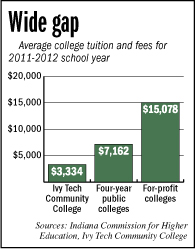 "Colleges and universities need to address the issue of affordability. We were on a path that's not sustainable," said Teresa Lubbers, Indiana's commissioner of higher education.
The Indiana Commission of Higher Education has been pushing Indiana colleges and universities to rein in their prices for several years, publishing recommended limits on year-to-year tuition increases.
And now students and parents seem to be pushing colleges in the same direction.
"Increasing numbers of students and families are making decisions based on value. This is especially true for the middle class," Lubbers said. "They're making decisions more based on cost than they have in the past."
Snyder and his staff at Ivy Tech think more students need to know about the cost of going to Ivy Tech. Surveys conducted in Indiana and nationwide have shown that a majority of parents overestimate the cost of college—at least they guess it's more expensive than Ivy Tech actually charges.
And Snyder never misses a chance to stress what he calls his Kokomo plan—which notes that students can earn a low-cost bachelor's degree in almost any field by starting at Ivy Tech for two years, then transferring to one of the satellite campuses—such as Indiana University Kokomo—of the state's major universities.
The total, four-year cost of that pathway would average $19,500 in tuition and fees—compared with an average of $38,000 for four years at either Purdue-West Lafayette or Indiana University's residential Bloomington campus.
In fact, Snyder emphasizes, students who qualify for the maximum amount of funding under the federal Pell grant program—which is $22,000 over four years—could earn a four-year degree and pay no tuition out of pocket.
Ivy Tech student Elisa Muir is pursuing exactly that course. She hopes to earn an associate's degree from Ivy Tech in nursing, then go on for her bachelor's at the Indiana University School of Nursing.
Muir, 41, turned to Ivy Tech after she lost her job at health insurer Aetna Inc. She qualified for a $4,000 retraining grant through one of Indiana's work-force development centers and saw that the money would stretch further at Ivy Tech than at IUPUI, Indiana University, Indiana Wesleyan University or a for-profit college.
Muir plans to apply the grant money toward clinical training in nursing—provided she wins admission to the program at Ivy Tech. She paid for a series of prerequisite courses over the past year through a student loan and by working as a student ambassador at Ivy Tech.
"I did seriously consider IU, and then also Indiana Wesleyan," Muir said. "But some of the things you have to do or classes you have to take, it would have cost me more. Also, it took me a little longer to complete. Ivy Tech, it's affordable, but you can also see the light at the end of the tunnel."
Muir also has a 25-year-old daughter who is close to finishing a degree at Ivy Tech—something she was able to fund on her own via part-time work, without help from her mom.
"It definitely helped me, because I thought I would have to help her pay for classes," Muir said.
More graduates
State leaders such as Lubbers say far more Hoosiers need to earn college degrees. The Indiana Commission for Higher Education wants 60 percent of Hoosier adults to hold a postsecondary degree or certificate by 2025. Only 33 percent met those criteria in 2010.
President Obama and national leaders have similar goals as they push the nation to regain the lead in college it enjoyed beginning with the GI Bill after World War II and running until the 1980s. Since then, many nations have passed by the United States in the percentage of their people with college degrees.
Snyder thinks community colleges are the only institution with the capacity and low-cost business model to educate large numbers of new students.
"We're kind of the GI Bill for the 21st century," Snyder said. He just needs more students to recognize it.•
Please enable JavaScript to view this content.