A Noblesville startup is setting out to revolutionize phone banks with a Web app that allows advocacy groups to manage virtual campaigns, getting instant results from calls volunteers make through their home computers.
Manship
VolunteerYourVoice founders Jayson Manship and Matt Turow developed the application for political uses—their 13-employee digital media firm InSourceCode has quite a following in GOP circles—but soon realized it could be beneficial to any group seeking to connect with stakeholders.
They launched the product late last month at the Blackbaud Conference for Nonprofits in Washington, D.C., which draws thousands of charity executives and industry leaders. Manship said they returned with enough interest to merit scheduling biweekly webinars to show off the technology for small groups of prospective clients.

Turow
"No one takes a 'see it and buy it' approach," he said. "It's a 'see it and see how it fits into my business's process.'"

The app provides an alternative to a conference room filled with volunteers clutching a script in one hand and a telephone in the other, campaign organizers hovering helplessly as they await the first wave of results.

VolunteerYourVoice moves the process online. Organizers write questions using a so-called "campaign creation wizard," upload their call list, and recruit volunteers. When phone bank volunteers log in, they're fed information as they need it, clicking through the script and recording responses administrators can access in real time.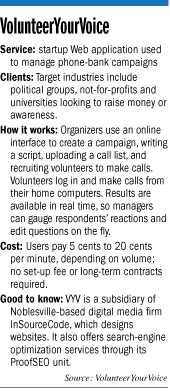 Instant results allow organizers to edit scripts on the fly, and the technology is advanced enough to permit something almost unheard of in telephone surveys: open-ended questions.

Andrew Greider appreciates the difference between VolunteerYourVoice's patent-pending technology and the "bubble scripts" of days gone by. Greider, executive director of the Hamilton County Republican Party, has been using the software to recruit volunteers during the busy election season. Instead of flagging willing helpers for follow-up, callers can schedule volunteer shifts before hanging up.

"It is a lot more efficient," Greider said. "They can just type in 'Tuesday at 6 p.m.' and avoid having to connect again."

The app is easy to use, he said, an important consideration when working with users with a range of technical skills. Interactive training allows volunteers to get started at any time, and they can click through a practice call whenever they need a refresher.

"It is a very valuable tool," Greider said.

Turow and Manship are accomplished website developers with a client list that includes the Republican National Committee and gubernatorial candidate Mike Pence, but their passion is building apps that solve problems.

"We think we can change the world," said Manship, 30.

The partners expected the technology to appeal to small charities, but they got plenty of interest from large not-for-profits at the Blackbaud conference. Manship hopes to sign 10 clients by the end of the year and sees 1,000 users as a reasonable long-term goal.

Although the product was released too late for the current election cycle, the 2014 congressional races are just around the corner. VolunteerYourVoice also is exploring commercial uses for the technology.

Serial entrepreneur and angel investor Michael Cloran called the product a "phenomenal idea" that simplifies call campaigns, potentially eliminating barriers for volunteers. He said it's important for the partners to quickly test their assumptions about the business and make any necessary adjustments.

"Prove it's effective, that organizations will pay for it, that volunteers will do it—test everything as fast as you can," advised Cloran, managing partner at Indianapolis-based DeveloperTown. "Measure everything."

That's the plan. Releasing the product is nowhere near the end of VolunteerYourVoice's story.

"We're still building," Manship said.

"It's never done," said lead developer Turow, 27.•