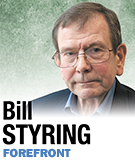 Battle lines for the next General Assembly are evident already.
A lot of important but peripheral issues will crop up. But the big fight will be over money. And Medicaid.
Money first. Gov.-elect Mike Pence ran on his Roadmap for Indiana. The few Hoosiers who read it might remember a pledge to cut the income tax rate 10 percent, from 3.4 percent to 3.04 percent.
Bravo. I confess that, in my brand of economics, cutting marginal income tax rates is superb economic growth policy. Income-tax rate cutting is so potent that it also cures the common cold and shows promise in cancer research.
But House Speaker Brian Bosma has prudently warned that any such cut must be sustainable. I'm sure Pence would agree with that. The feasibility of any income-tax cut depends on how much they decide to spend.
Arrayed against the tax-cutters is pent-up demand by the spending lobbies. They think they've suffered horribly over the last four years of "austerity."
Chief among these are the K-12 public (government) school educrats who represent some 40 percent of the state budget. They're emboldened by the upset election of teacher union honcho Glenda Ritz as state superintendent of public instruction. They argue war, famine, pestilence and the general breakdown of society will come to pass if we don't restore the cuts and further gun public school spending.
Legislators tempted to fall for this siren song should be reminded that—since 1972, where my detailed data series on school finance starts—Indiana has tripled after-inflation per-pupil spending, cut the average pupil-teacher ratio from 24 to 16, and tripled the number of administrators. Are our kids three times better educated?
Still, prudence is required. All depends on the revenue forecast.
A first-cut forecast comes out in mid-December. This time around, the document is so much toilet paper. If anyone right now can predict what will come of the fiscal cliff mess in Washington and its impact on the economy (and Indiana government revenue), he's a wizard with a large crystal ball. So everything is in limbo until the updated forecast comes out before conference committees start in early April.
Here's the scenario: The House passes its version of the budget and the Pence income tax cut at 3.06 percent. The Senate passes a different version of the budget and amends the income tax cut to something other than 3.06 percent (how about 3.0 percent?). The bills go to conference committee and the conferees look at the new revenue forecast and decide what to do.
If this weren't enough, along the way legislators have to deal with Obamacare. Pence seems disinclined to set up a state-run exchange where the health-uninsured can purchase subsidized health insurance.
Let the feds administer the exchange and pick up the tab. They will set the rules, anyway.
The bigger policy question is Medicaid. In Sebelius v. Florida (aka the "Obamacare case"), the Supreme Court ruled that states are free to ignore the mandate to expand Medicaid coverage. In Indiana, we could add 300,000-plus Hoosiers to the rolls.
While there are issues of federal subsidies and other questions, such as where all these folks would find docs, my opinion is that it boils down to a simple question. Absent Obamacare, would we even be thinking of expanding Medicaid? I think not. After all, these are Republicans with super-majorities in both the House and Senate.
But then, no one elected me.•
• Styring is an economist, a former Indiana Chamber of Commerce lobbyist, and a former senior fellow at the Hudson Institute. Send comments on this column to ibjedit@ibj.com.
Please enable JavaScript to view this content.